Volcano news: Mauna Loa volcano (Big Island, Hawaii)
Mauna Loa volcano (Hawai'i): HVO weekly report
Do, 30. Jul 2020, 22:31
22:31 PM | VON: MATTHEW
Location of earthquakes under Mauna Loa over the past week (C) U. S. Geological Survey
The depth of earthquakes under Mauna Loa over the past week (C) U. S. Geological Survey
Tiltmeter data from Mauna Loa (C) U. S. Geological Survey
The Hawaiian Volcano Observatory recorded 105 small-magnitude earthquakes on Mauna Loa's summit and upper-elevation flanks over the past week. Most of these earthquakes occurred at shallow depths of less than 8 kilometers (~5 miles) below ground level.
There is continued slow summit inflation, consistent with magma supply to the volcano's shallow storage system. Gas concentrations and fumarole temperatures at the Summit and Sulphur Cone monitoring sites remain stable (below 2 ppm SO2, ~98 C respectively). Webcams show no changes to the landscape.
---
Links / Quelle:
https://volcanoes.usgs.gov/vhp/updates.html#calvo
Vorherige Nachrichten
Mehr auf VolcanoDiscovery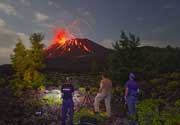 Spezialreisen zu Ausbrüchen
: Touren, die in der Regel einem einzigen Vulkan gewidmet sind, der gerade ausbricht. Diese Reisen sind oft last-minute und werden u.a. über unseren Newsletter annonciert. Sie gehören zu den abenteuerlichsten und beliebtesten Reisen in unserem Programm.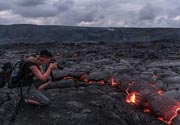 1-3 Tagesausflüge
: Wenn Sie sich für Vulkane interessieren, gibt es eine Reihe von Ausflügen, die Sie nicht verpassen sollten, wenn Sie sich in der Umgebung befinden: Wandern Sie zu den Kratern des Stromboli, erklimmen Sie den Ätna, lernen Sie die einzigartige Vulkangeschichte von Santorini kennen - einige Beispiele von kürzeren (1-3 Tagen) Touren und Exkursionen bieten wir an.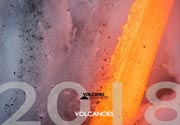 Vulkankalender 2018
: Wir freuen uns, unseren 6. gedruckten Vulkan-Kalender vorzustellen - 13 Farbfotos von Vulkanen weltweit. Eine perfekte Geschenkidee!