Kilaua volcano (Hawaii): activity March 2017 - lava flows and fire hose ocean entry
For almost 3 months, a spectacular "fire hose" - a jet of lava shooting out from the exposed lava tube at the sea cliff - was feeding the ocean entry at Kamokuna. During our
Kilauea Volcano Special tour
in March 2017, we visited the volcano with small groups in order to document its activity.
Video of the eruption (lava flow and fire hose):
Mehr auf VolcanoDiscovery: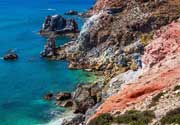 Island of Venus
: Milos Island in Greece is one of the most beautiful and photogenic islands of the Mediterranean. Its boasts breathtaking scenery of colorful volcanic rocks, some of the finest beaches of the country, a rich archeological heritage, great hospitality and delicious local cuisine. Come join us to explore this magical island on a 6-days geological tour!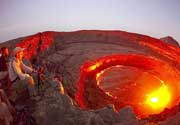 Tours to active volcanoes
: Watching a volcanic eruption is one of the most impressive natural displays. We have a wide selection of tours to active volcanoes worldwide at different activity and difficulty levels.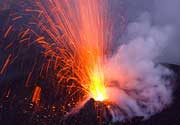 Besteigung des Stromboli
: Stromboli bietet eine der bemerkenswertesten Gelegenheiten, Vulkanausbrüche gfanz aus nächster Nähe zu beobachten: eine natürliche Aussichtsterrasse befindet sich nur 150 m oberhalb der aktiven Schlote und einen der besten Blicke auf Vulkanausbrüche weltweit. Eine klassische Tour und "all-time favorite" für jeden Vulkanfan!