Pico de Orizaba
Stratovolcano 5675 m / 18,619 ft
Central Mexico, 19.03°N / -97.27°W
Aktueller Status: normal / ruhend (1 von 5)
Pico de Orizaba volcano (Volcán Citlaltépetl) is a large active stratovolcano, Mexico's highest mountain and the highest volcano of North America. It is located at the southern end of Citlaltépetl–Cofre de Perote Volcanic Range, and the only volcano in this area with historic activity.
Historical eruptions have consisted of moderate explosive activity and the effusion of dacitic lava flows. The latest eruption of the volcano were in 1545, 1566, 1630 and 1687.
Typische Tätigkeit:
Explosiv
Ausbrüche:
1157(?), 1175, 1187(?), 1260, 1351(?), 1533-39(?), 1545-55, 1566, 1569-89, 1613, 1687, 1846
Letzte Erdbeben in der Nähe:
Zeit
Stärke / Tiefe
Entfernung / Lage
Mittwoch, 18. Mai 2022 GMT (1 Beben)
18. Mai. 2022 16:04 (GMT -5)

(18. Mai. 2022 21:04 GMT)




3.4


3 km
51 km (32 mi)
10.4 km südöstlich von Tecamachalco, Puebla, Mexiko
Freitag, 13. Mai 2022 GMT (1 Beben)
13. Mai. 2022 16:51 (GMT -5)

(13. Mai. 2022 21:51 GMT)




3.4


26 km
172 km (107 mi)
16 km nördlich von Cuautla, Morelos, Mexiko
Beschreibung
Pico de Orizaba volcano was formed in 3 stages beginning during the mid-Pleistocene. Orizaba lies at the southern end of a volcanic chain extending north to Cofre de Perote volcano and towers up to 4400 m above its eastern base. Construction of the initial Torrecillas and Espolón de Oro volcanoes was contemporaneous with growth of Sierra Negra volcano on the SW flank and was followed by edifice collapses that produced voluminous debris avalanches and lahars. The modern Citlaltépetl volcano was constructed during the late Pleistocene and Holocene of viscous andesitic and dacitic lavas, forming the current steep-sided cone. Repetitive explosive eruptions beginning during the early Holocene accompanied lava dome growth and lava effusion.
Pico de Orizaba Fotos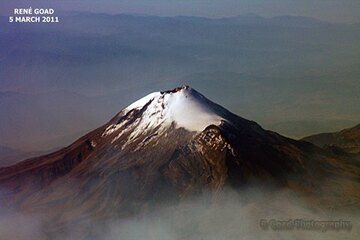 Pico de Orizaba as seen from a plane. It is currently a dormant volcano having last erupted in 1846 but at 5564m asl it is also the highest peak in Mexico and the highest...

Siehe auch: Sentinel hub | Landsat 8 | NASA FIRMS