Pontine Islands
Lava dome(s) 283 m / 928 ft
Italy, 40.9°N / 12.95°E
Aktueller Status: (wahrscheinlich) erloschen (0 von 5)
Typische Tätigkeit:
unspecified
Ausbrüche:
None during the past 10,000 years
Less than 2.58 million years ago (Pleistocene)
Letzte Erdbeben in der Nähe:
Keine jüngeren Beben
Beschreibung
The Pontine Islands are Plio-Pleistocene in age, ranging from 4.2-1.0 Ma (Scandone, 1987, pers. comm.; Peccerillo, 2005). The islands are mostly formed of Pliocene rhyolites and Pleistocene trachytes and alkaline rhyolites. Volcanic products also consist of obsidian lava flows, domes, dykes, breccias, and hydromagmatic products. The rhyolitic volcanic activity on Ponza occured between 4.2 and 3.0 Ma, followed by trachytic activity at about 1.0 Ma. The eruptive activity on Palmarola occured around 1.6 Ma (Peccerillo, 2005).
---
Smithsonian / GVP volcano information
Pontine Islands Fotos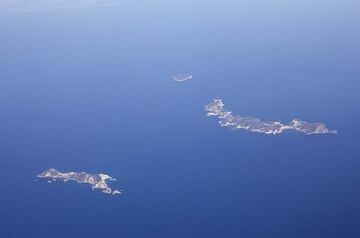 3 of the small volcanic Pontine Islands in the Thyrrenian Sea, seen from the plane towards Catania where the tour starts: Palmarola (l), Ponza (c) and tiny Zannone . (Pho...

Siehe auch: Sentinel hub | Landsat 8 | NASA FIRMS