Reventador volcano, Ecuador: news & activity updates
Do, 25 Aug 2005, 14:45
From the GVP/USGS Weekly Volcanic Activity Report 17-23 August 2005:
Read more...
alles lesen
Sa, 9 Jul 2005, 00:16
The eruptions at Reventador volcano in Ecuador's eastern cordillera continues into early July with the emission of overlapping, thick blocky lava flows, occasional vulcanian explosions, new fumarolic activity on the N flank of the cone, and the emission of steam, gas and ash. 
Read more...
alles lesen
Mi, 22 Jun 2005, 17:56
Reventador Volcano in Ecuador has started to erupt again on Tuesday. According to Hugo Yepez, director of Geophysics Institute of the National Polytechnical School (IGEPN), a lava flow inside the crater has appeared. There is an increased possibility of explosive events in the near future.
Reventador, 3,485 meters high, is a symmetrical stratovolcano that had a major explosion on November 3, 2002, when a thick layer of ash reached the capital Quito.
Mehr auf VolcanoDiscovery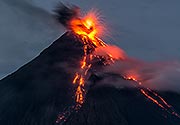 Mayon volcano photos
: Mayon on Luzon Island, towering above Legazpi city is famous for being one of the most perfectly symmetrical stratovolcanoes in the world. It is also one of the most active and most dangerous volcanoes (not only) in the Philippines.
Krakatau volcano photos
: Hundreds of photos from active Krakatau volcano in the Sunda Strait, Indonesia. Most of them taken during our various expeditions to this fascinating volcano.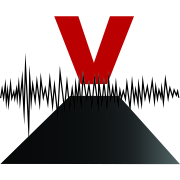 Try our new app!
: Volcanoes & Earthquakes - our new free App for Android shows the latest earthquakes and active volcanoes on a map and as list, as well as volcano news from all the world. You can filter the data shown in various ways, e.g. by magnitude or age of earthquakes, the distance from your location, the status of volcanoes and so on.