Tofua volcano news & activity updates
Tue, 14 Aug 2012, 09:16
Yesterday's report of a possible eruption turned out to have been cause by fires on the island by locals during a wild boar chase.
Mon, 13 Aug 2012, 12:05
A pilot observed an ash cloud rising from Tofua volcano to 3,000 ft (ca. 1 km) in the Tonga Islands today at 04:42 GMT, VAAC Wellington reports.
Mehr auf VolcanoDiscovery: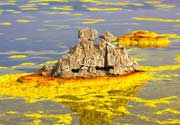 Dallol hot springs
: One of the most bizarre landscapes on earth: Dallol is a vast and very active hydrothermal field creating a colorful array of hot springs, small geysers, salt towers, colorful lakes and ponds in the middle of the deepest part of the Danakil desert and the Karum salt lake.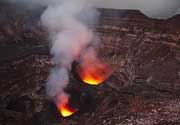 Ambrym volcano photos
: Ambrym (Vanuatu) is one of the most active volcanoes in the world. Its vast caldera has an amazing moonscape and several active vents that contain boiling lava lakes, most famous Marum and Benbow.