Umrechnen

Vulkane im Land der Mayas
14-tägige Studien- & Expeditionsreise zu den Vulkanen Guatemalas
Pacaya volcano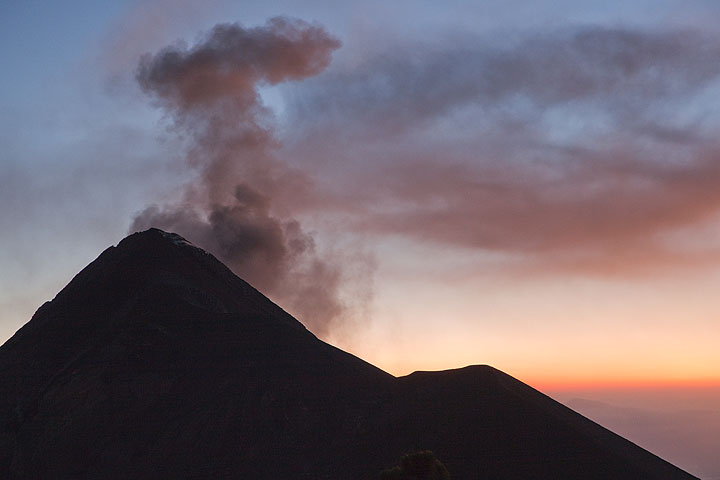 Ash eruption from Fuego at dusk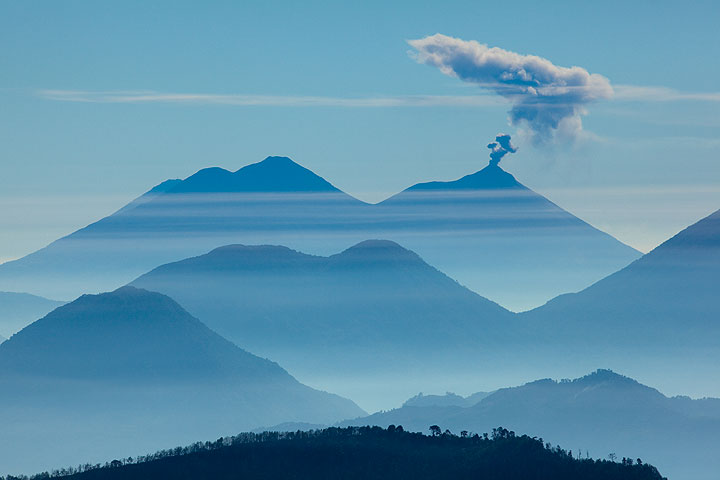 Silhouettes of Acatenango, Fuego and Atitlan volcanoes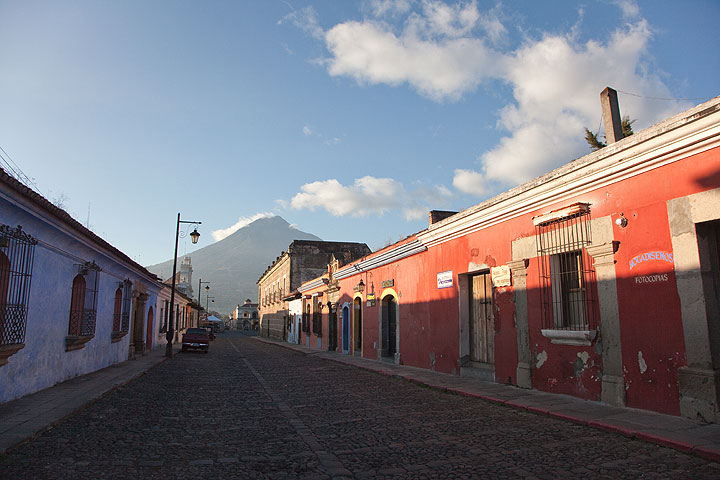 View towards Agua volcano from Antigua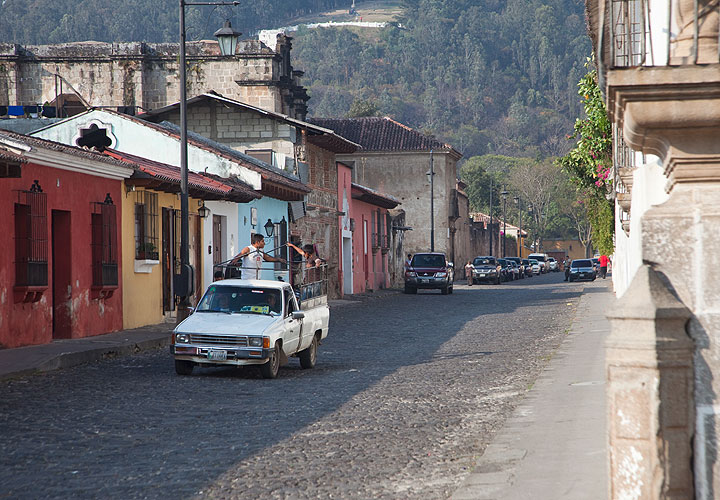 Street in Antigua town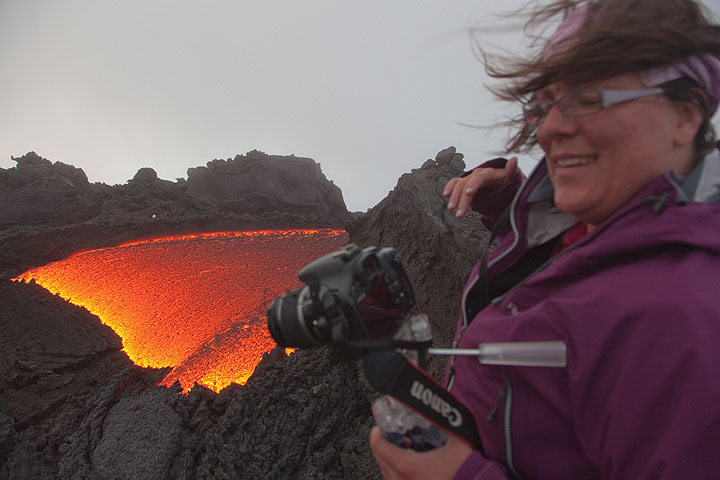 Lava flow at Pacaya volcano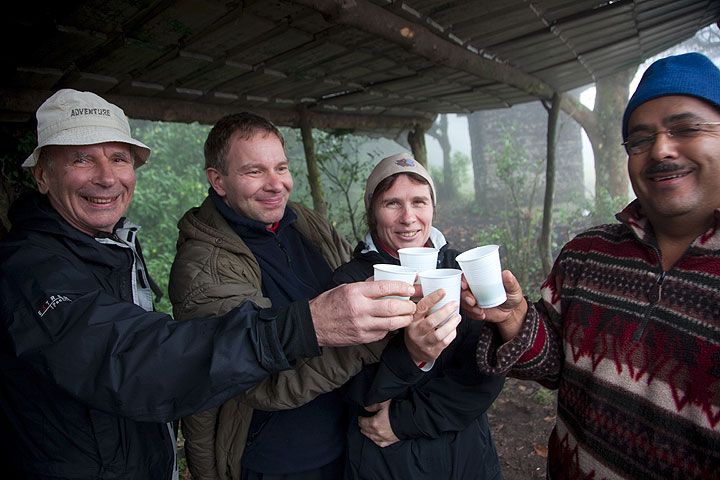 Aperitif at the base camp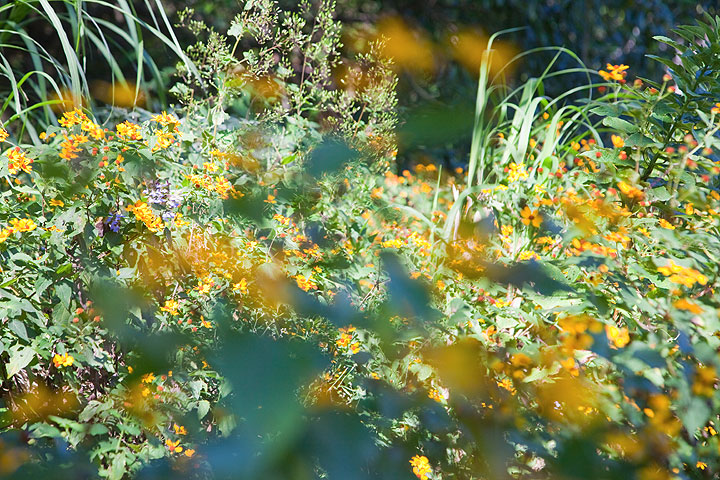 Yellow flowers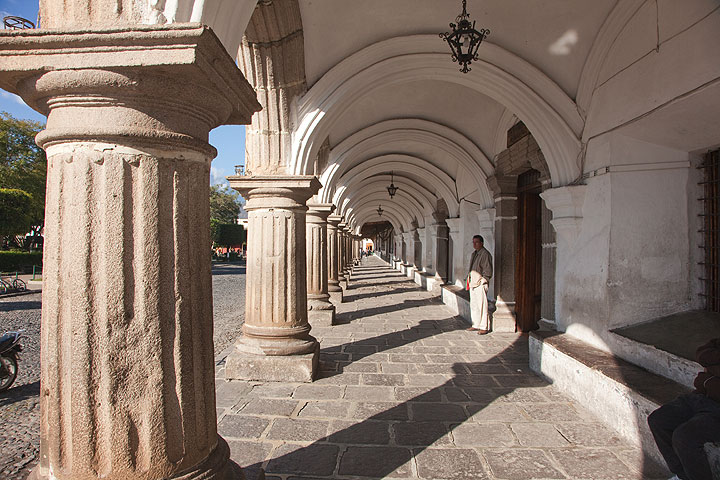 Colonade at Antigua's town hall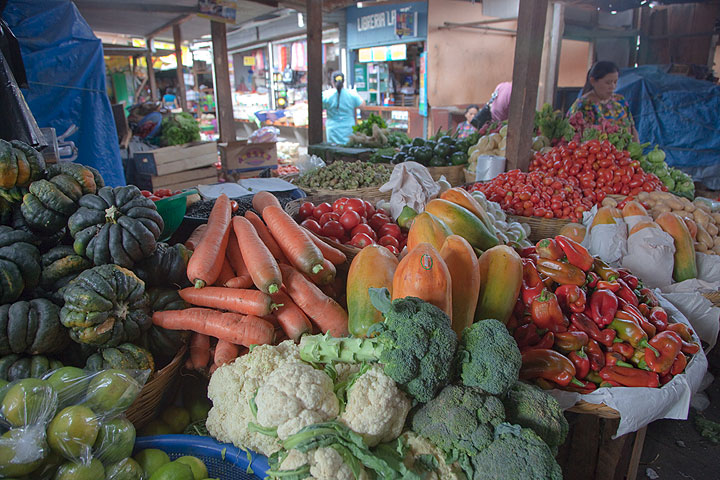 Farmer's market in Antigua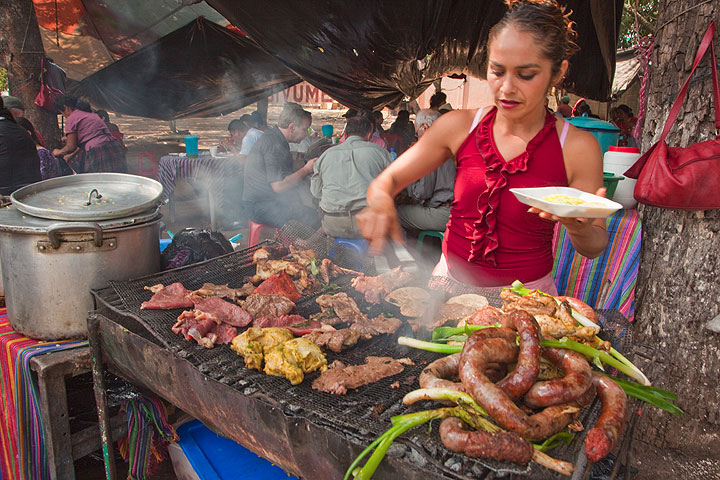 Typical lunch (grilled meat and sausages)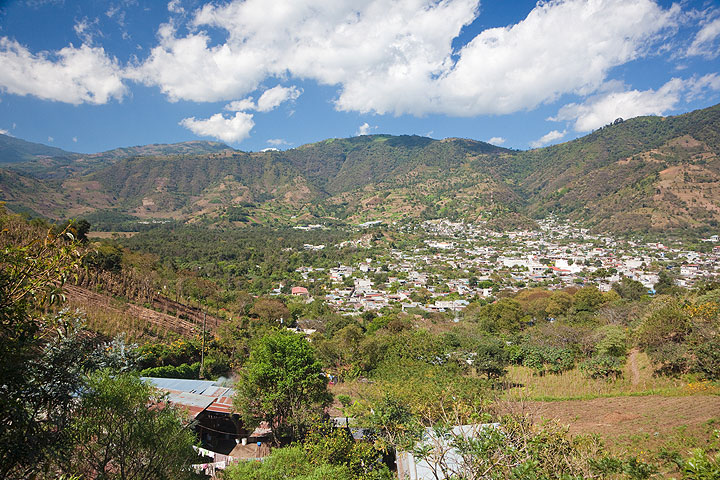 Agua Calientes town inside an old caldera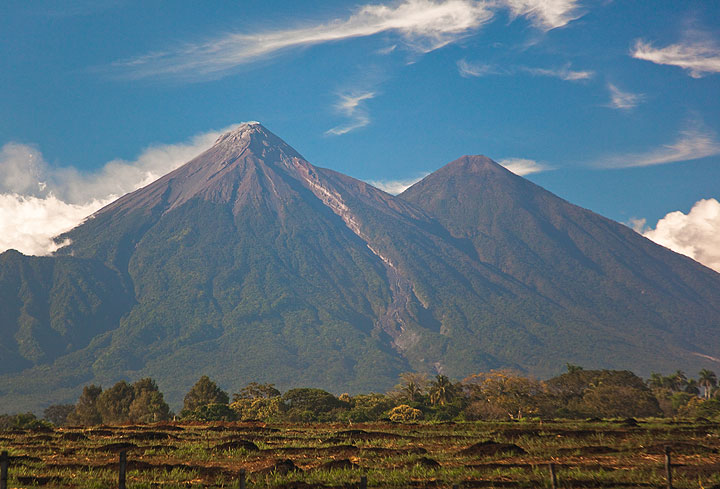 Fuego and Acatenango seen from the south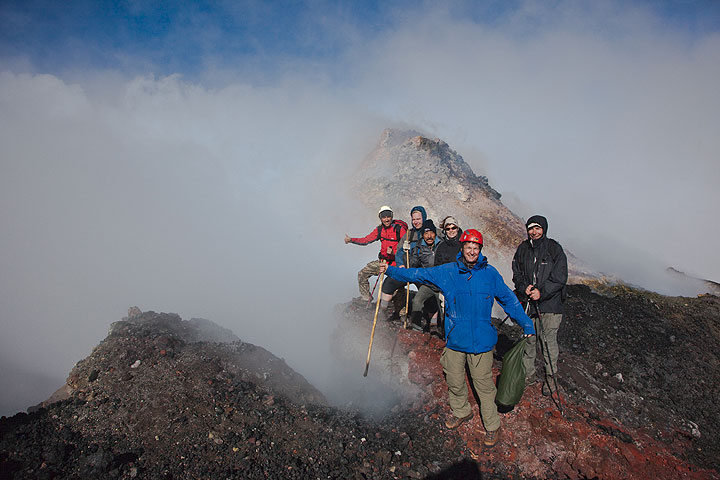 In front of an active hornito on the summit of Pacaya
Explosion at Fuego volcano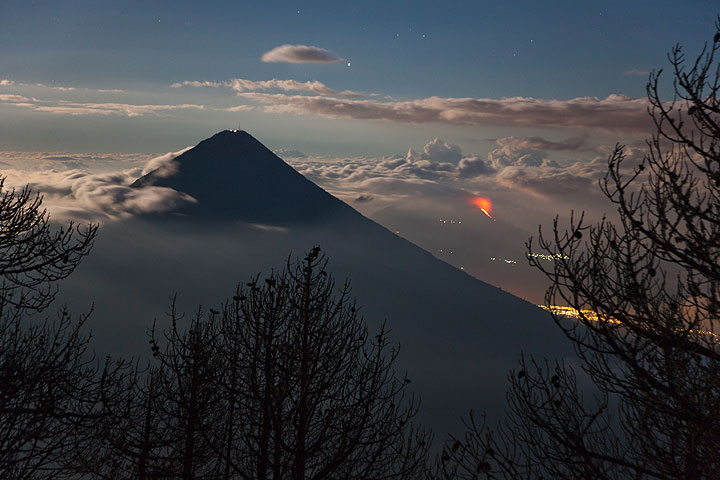 Agua and Pacaya volcano with its lava flows at night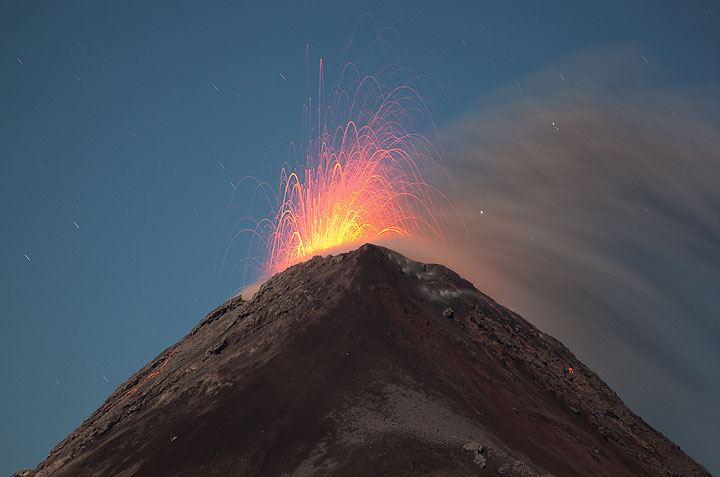 Strombolian eruption at Fuego volcano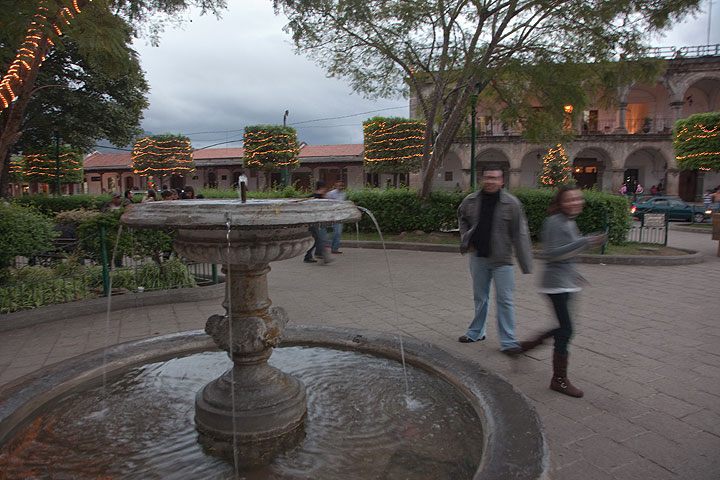 Evening at the Plaza Mayor of Antigua
Guatemala ist ein von imposanten Vulkanen geprägtes Land mit wunderschönen Landschaften, bunten Dörfern und Städten und freundlichen Einwohnern. Auf kleinstem Raum erwarten uns auf nur 200 km Strecke drei aktive und völlig unterschiedliche Vulkane: Pacaya, Fuego und Santiaguito. Weltweit hat Guatemala damit die höchste Dichte aktiver Vulkane.
Riesige Krater wie der idyllische Atitlán-See sind landschaftliche Edelsteine, die von der Geschichte riesiger Vulkanausbrüche in nicht allzu ferner geologischer Vergangenheit erzählen. Unter der Führung eines erfahrenen Vulkanologen erleben Sie die Urgewalt Vulkanismus aus allernächster Nähe und lernen, wie die verschiedenen vulkanischen Prozesse Landschaft und Leben formen.
Mit seinem kolonialen Erbe ist die lebhafte, farbenfrohe Stadt Antigua der ideale Ort, um als Dreh- und Angelpunkt dieser besonderen Reise zu dienen, wo wir in einer geschmackvoll umgebauten kolonialen Villa übernachten und uns von den spartanischen und teilweise recht anstrengenden Vulkanbesteigungen ausruhen können.
3 aktive Vulkane aus der Nähe beobachten: Fuego, Pacaya, Santiaguito
3 Tage mit unterschiedlichen Beobachtungspunkten für jeden Vulkan
kompetente Vulkanologen als Begleitung
die spektakuläre Landschaft des Atitlán-See mit Ansichten von oben, von der Küste und vom Boot
beeindruckende vulkanische Landschaften
farbige Städte und Märkte
gastfreundliche Einheimische
ausgewählte Unterkünfte in reizvollen, höherwertigen Hotels
komfortables Zelten
leckere Spezialitäten mit reichlicher Auswahl in guten Restaurants
8-day itinerary Volcano Special
Tag 1:

Arrival to Guatemala

Arrival in Guatemala City. Own transfer to the hotel. Free time. In the evening meeting with the guide and other participants at the hotel for welcome dinner. Night in the hotel in Guatemala.
Tag 2:

Pacaya volcano

Breakfast in the hotel. Transfer to the farm at the foothills of the Pacaya volcano. Set up a camp and explore the petrified lava flows of 2010 and 2014 that burnt lots of farm fields. Night in tents.
Tag 3-4:

Pacaya

Transfer to Pacaya volcano National Park. Set up a camp. Morning/day/evening/night observations and hikes around the area and walk close to the lava flows. Lunch (or lunch boxes) and dinners in the camp. 2 nights in tents.
Tag 5:

Antigua

Morning observations at Pacaya, transfer back to Antigua. Lunch in a restaurant, free afternoon, dinner in the hotel. Night in the hotel.
Tag 6:

Acatenango

Transfer to Acatenango volcano - climb 1200 m to a great viewpoint at 3600 m facing active Fuego volcano. Possibility to climb to the summit of Acatenango this day and then go back to the campsite to lunch and rest and to see the volcano from there. dinner in the camp. Evening & night-time observation of Fuego. Night in tents.
Tag 7:

Return to Antigua

Morning observation of Fuego´s activity from the campsite. Descend back to the start of the hiking trail, pick-nick lunch and return to Antigua. Check in the hotel and free time till the evening. In the evening a group meets for a farewell dinner in a selected restaurant in historic center of Antigua. Night in the hotel.
Tag 8:

Departure

Breakfast in the hotel. Own transfer to the airport or extension.
Anreise:
Die Reise beginnt und endet in Guatemala. Teilnehmer werden individuell vom Flughafen abgeholt und zum Hotel gebracht, das in der bunten Stadt Antigua liegt. Die erste und letzte Übernachtung wird in Antigua sein.
Reiseart:
Wander- und Studienreise: aktive Vulkane - Geologie & Vulkanismus - Abenteuer
Schwierigkeitsgrad:
Mittel
Gruppengröße:
3-6
Dauer:
15 Tage / 14 Nächte
Reisetermine:
zur Zeit keine Termine
Preis (pro Person): $ 1750 €£¥
Im Preis enthalten:
Accommodation in double / twin rooms & tents as per program
All transportation in private minibus or 4x4 vehicles according to itinerary
Entrance fees to National parks and sites
Full board (breakfast, lunch, dinner)
Non alcoholic drinks
All camping gear (tents, cooking gear, kitchen tent, camping chairs etc)
Porters for Pacaya, and Acatenango (porters for camping gear + food + 1 porter per person carrying up to 15kg personal gear; extra porters can be hired at extra cost)
Local guides for security
Experienced English-speaking Guatemalean guide and photographer during the whole trip