Uka
Shield volcano 1643 m / 5,390 ft
Kamchatka, Russia, 57.7°N / 160.58°E
Aktueller Status: (wahrscheinlich) erloschen (0 von 5)
Typische Tätigkeit:
unspecified
Ausbrüche:
unknown, no recent eruptions
Letzte Erdbeben in der Nähe:
Keine jüngeren Beben
Beschreibung
Uka, a small late-Quaternary Icelandic-type basaltic shield volcano, was constructed near the eastern margin of a large NE-SW-trending graben running along the axis of the northern Sredinny Range. The 1643-m-high Uka volcano is located immediately east of the crest of the Sredinny Range, opposite Alngey volcano, located on the western side of the graben. Early geologic studies in the Sredinny Range (Ogorodov et al., 1972) identified numerous Holocene eruptive centers based primarily on morphological criteria. However, later work has suggested that Sredinny Range volcanoes are less mantled by Holocene tephras than eastern Kamchatka volcanoes and therefore appear more youthful, so that Holocene eruptions are uncertain for many of these Sredinny Range eruptive vents.
---
Smithsonian / GVP volcano information
Uka Fotos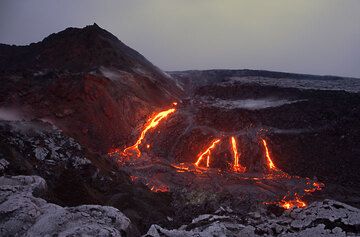 Perlenschnurartig angeordnete effusive Bocchen, aus denen Lavaströme in den Kollapskrater Puka Nui am Pu'u 'O'o Krater des Kilauea Vulkans auf Hawaii strömen. hawaii_e757...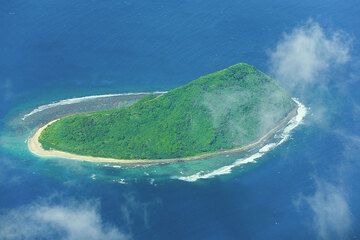 Das Inselchen Namuka (Photo: Tom Pfeiffer)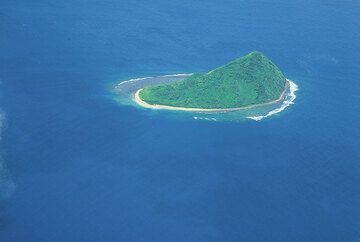 Das Inselchen Namuka und seine Riffe aus der Luft. (Photo: Tom Pfeiffer)
Der Tsouka-Vulkan (Photo: Tobias Schorr)

Siehe auch: Sentinel hub | Landsat 8 | NASA FIRMS