West Crater
vulkanische Gebiet 1329 m / 4,360 ft
Washington State (Canada and USA (mainland)), 45.88°N / -122.08°W
Aktueller Status: normal / ruhend (1 von 5)
West Crater volcano is a small andesitic lava dome with lava flows in southern Washington, belonging to a volcanic field extending from Marble Mountain, north of Swift Reservoir, to south of Trout Creek Hill. The field consists mainly of small basaltic and basaltic andesite cinder cones and small shield volcanoes, oriented along a NW-SE zone SE of Mount St. Helens.
The most recent activity occurred about 8,000 years ago and formed the West Crater lava dome, a small cone at Hackamore Creek, and a phreatic crater at the summit of Bare Mountain.
The older, basaltic Trout Creek Hill shield volcano erupted a lava flow about 340,000 years ago that traveled 20 km SE and temporarily dammed the Columbia River.
Typische Tätigkeit:
Explosiv
Ausbrüche:
ca. 8000 years ago
Letzte Erdbeben in der Nähe:
Keine jüngeren Beben
West Crater Fotos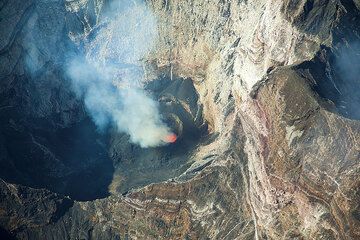 Ein klarer Blick auf den Lavasee im Westkrater des Marum (Photo: Tom Pfeiffer)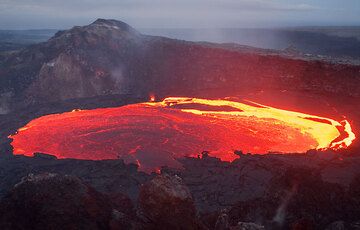 Der Lavasee im West Gap Krater des Kilauea Vulkans, Hawaii. Die komplette erstarrte Kruste ist soeben domino-arrtig segmentweise umgekippt und lässt für eine kurze Weile ...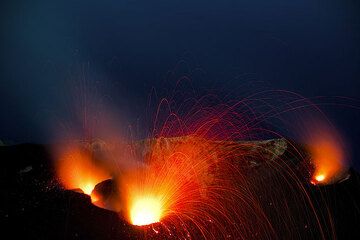 Ein heller Ausbruch am zentralen Schlot, Glühen am NO Kegel (r) und ein kleinerer Auswurf am NW Krater (l). (Photo: Tom Pfeiffer)
Der Lavasee im Westkrater des Marum. (Photo: Tom Pfeiffer)

Siehe auch: Sentinel hub | Landsat 8 | NASA FIRMS