Zhupanovsky Vulkan
Aktualisiert: 29. Nov. 2023 14:39 GMT
-
Compound volcano 2958 m / 9,705 ft
Kamchatka, Russia, 53.59°N / 159.15°E
Aktueller Status: normal / ruhend (1 von 5)
Last update: 16 Dez 2021

Interaktive Karte anzeigen
Typische Aktivität:
unspecified
Ausbrüche des Zhupanovsky:
2014-2017, 2013, 1959
Letzte Erdbeben in der Nähe
No recent earthquakes
Beschreibung
The Zhupanovsky volcanic massif consists of four overlapping stratovolcanoes along a WNW-trending ridge. The elongated volcanic complex was constructed within a Pliocene-early Pleistocene caldera whose rim is exposed only on the eastern side. Three of the stratovolcanoes were built during the Pleistocene, the fourth is Holocene in age and was the source of all of Zhupanovsky's historical eruptions. An early Holocene stage of frequent moderate and weak eruptions from 7000 to 5000 years before present (BP) was succeeded by a period of infrequent larger eruptions that produced pyroclastic flows. The last major eruption of Zhupanovsky took place about 800-900 years BP. Historical eruptions have consisted of relatively minor explosions from the third cone.
---
Smithsonian / GVP volcano information
Zhupanovsky Fotos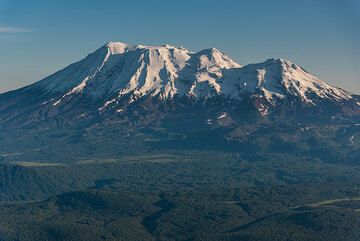 We pass snow-covered Zhupanovsky volcano as we fly southwards. (Photo: Tom Pfeiffer)
17 Sep: helicopter excursion to Uzon caldera and Valley of Geysers. On our way, we pass erupting Zhupanovsky volcano which had a phreatic explosive eruption an hour earli...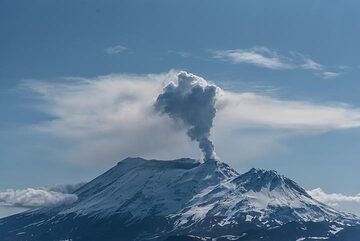 View back to Zhupanovsky volcano from the north. (Photo: Tom Pfeiffer)
Zhupanovsky rises almost 3000 m from the plain. (Photo: Tom Pfeiffer)




See also: Sentinel hub | Landsat 8 | NASA FIRMS