Dukono volcano news & eruption updates
Dukono volcano (Halmahera, Indonesia) activity update
Fri, 31 Jan 2014, 15:43
15:43 PM | BY: T
More ash emissions occurred this morning. Satellite images show an ash plume extending 40 nautical miles (approx 70 km) to the east, at altitudes of around 7,000 ft (2 km).
Previous news
More on VolcanoDiscovery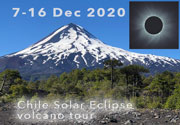 Solar Eclipse & volcano tour
: A total solar eclipse will occur on 14 Dec 2020 and pass over southern Chile and Argentina. Chile's most active volcano Villarrica is located exactly on the center line where the eclipse will be best to observe.
We offer you the unique chance to combine the eclipse with a tour to one the world's most beautiful volcanic areas - the Lake District in Chile.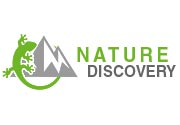 NatureDiscovery
: Our walking & study tours with a broader focus on nature, geology, landscape, photography, archaeology and culture: explore Greece, Ethiopia and many other wonderful travel destinations!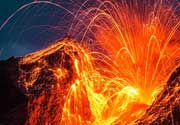 Batu Tara photos
: A remote island in the Flores Sea of Indonesia formed by a single volcano that has been in strong strombolian eruption for years. We regularly lead expeditions to there where we camp several days to observe it.