Dukono volcano news & eruption updates
Dukono volcano Volcanic Ash Advisory: VA EMISSION TO FL070 EXT E LAST OBS 27/0320Z.
Friday Oct 27, 2017 11:45 AM |
Satellite image of Dukono volcano on 27 Oct 2017
Volcanic Ash Advisory Center Darwin (VAAC) issued the following report:
FVAU0300 at 11:30 UTC, 27/10/17 from ADRM
VA ADVISORY
DTG: 20171027/1130Z
VAAC: DARWIN
VOLCANO: DUKONO 268010
PSN: N0141 E12753
AREA: INDONESIA
SUMMIT ELEV: 1335M
ADVISORY NR: 2017/1133
INFO SOURCE: HIMAWARI-8
AVIATION COLOUR CODE: ORANGE
ERUPTION DETAILS: VA EMISSION TO FL070 EXT E LAST OBS
27/0320Z.
EST VA DTG: 27/1130Z
EST VA CLD: SFC/FL070 N0123 E12857 - N0155 E12900 - N0154
E12824 - N0143 E12751 - N0140 E12751 MOV E 15KT
FCST VA CLD +6 HR: 27/1730Z SFC/FL070 N0115 E12852 - N0156
E12853 - N0144 E12752 - N0140 E12751
FCST VA CLD +12 HR: 27/2330Z SFC/FL070 N0112 E12836 - N0146
E12844 - N0144 E12752 - N0140 E12751
FCST VA CLD +18 HR: 28/0530Z SFC/FL070 N0109 E12830 - N0146
E12844 - N0144 E12752 - N0140 E12751
RMK: VA UNIDENTIFIABLE ON LATEST SAT IMAGERY DUE TO MET
CLOUD AND DARKNESS; HOWEVER, VA IS EXPECTED IN THE AREA.
HEIGHT AND FCST MOVEMENT BASED ON HIMAWARI-8 IMAGERY, MENADO
27/0000Z SOUNDING AND MODEL GUIDANCE.
NXT ADVISORY: NO LATER THAN 20171027/1730Z
Previous news
More on VolcanoDiscovery: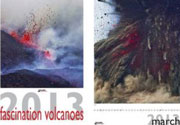 Volcano Calendar 2013
: Our first printed volcano calendar, featuring a paroxysm of Etna, a vulcanian explosion of Krakatau, and much more!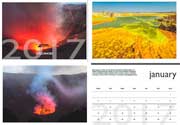 Volcano Calendar 2017
: We're proud to present our 2017 volcano calendar: 13 different and attractive images of volcanoes, volcanic landscapes and phenomena taken during volcano tours over the past few years.
Volcano and photo tour to Java, Indonesia
: Visit Java's famous volcanoes: Krakatau, Merapi, Bromo, Semeru, Ijen and others, crossing Java from west to east. This study and photography trip for a small exclusive group is one of our classic and best tours.