Dukono volcano news & eruption updates
Dukono Volcano Volcanic Ash Advisory: VA OBS TO FL070 MOV TO W AT 03/2300Z. to 7000 ft (2100 m)
Sunday Feb 03, 2019 23:45 PM | BY: VN
Satellite image of Dukono volcano on 3 Feb 2019
Explosive activity continues. Volcanic Ash Advisory Center (VAAC) Darwin warned about a volcanic ash plume that rose up to estimated 7000 ft (2100 m) altitude or flight level 070 .
The full report is as follows:
FVAU03 at 23:29 UTC, 03/02/19 from ADRM
VA ADVISORY
DTG: 20190203/2330Z
VAAC: DARWIN
VOLCANO: DUKONO 268010
PSN: N0141 E12753
AREA: INDONESIA
SUMMIT ELEV: 1335M
ADVISORY NR: 2019/92
INFO SOURCE: HIMAWARI-8
AVIATION COLOUR CODE: ORANGE
ERUPTION DETAILS: VA OBS TO FL070 MOV TO W AT 03/2300Z.
OBS VA DTG: 03/2330Z
OBS VA CLD: SFC/FL070 N0142 E12756 - N0129 E12744 - N0138
E12728 - N0209 E12738 - N0148 E12747 MOV W 5KT
FCST VA CLD +6 HR: 04/0530Z SFC/FL070 N0142 E12756 - N0127
E12743 - N0131 E12705 - N0207 E12720
FCST VA CLD +12 HR: 04/1130Z SFC/FL070 N0146 E12753 - N0147
E12709 - N0108 E12720 - N0140 E12758
FCST VA CLD +18 HR: 04/1730Z SFC/FL070 N0146 E12751 - N0140
E12759 - N0107 E12743 - N0132 E12706
RMK: VA OBS MOV TO W ON LATEST VIS SAT IMAGERY; HOWEVER,
PARTLY OBSCURED BY MET CLOUD. HEIGHT AND FORECAST BASED ON
IR TEMP, OBS PLUME MOVEMENT AND EC MODEL GUIDANCE. LOW
CONFIDENCE IN FORECAST DUE TO LIGHT AND VARIABLE WINDS.
NXT ADVISORY: NO LATER THAN 20190204/0530Z
Previous news
More on VolcanoDiscovery: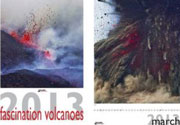 Volcano Calendar 2013
: Our first printed volcano calendar, featuring a paroxysm of Etna, a vulcanian explosion of Krakatau, and much more!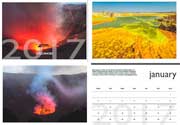 Volcano Calendar 2017
: We're proud to present our 2017 volcano calendar: 13 different and attractive images of volcanoes, volcanic landscapes and phenomena taken during volcano tours over the past few years.
Volcano and photo tour to Java, Indonesia
: Visit Java's famous volcanoes: Krakatau, Merapi, Bromo, Semeru, Ijen and others, crossing Java from west to east. This study and photography trip for a small exclusive group is one of our classic and best tours.