Dukono volcano news & eruption updates
Dukono Volcano Volcanic Ash Advisory: CONTINUOUS VA EMISSION TO FL070 OBS VA DTG: 30/1410Z to 7000 ft (2100 m)
Monday Sep 30, 2019 14:15 PM | BY: VN
Explosive activity continues. Volcanic Ash Advisory Center (VAAC) Darwin warned about a volcanic ash plume that rose up to estimated 7000 ft (2100 m) altitude or flight level 070 .
The full report is as follows:
FVAU01 at 14:01 UTC, 30/09/19 from ADRM
VA ADVISORY
DTG: 20190930/1410Z
VAAC: DARWIN
VOLCANO: DUKONO 268010
PSN: N0141 E12753
AREA: INDONESIA
SUMMIT ELEV: 1335M
ADVISORY NR: 2019/1008
INFO SOURCE: HIMAWARI-8, CVGHM
AVIATION COLOUR CODE: ORANGE
ERUPTION DETAILS: CONTINUOUS VA EMISSION TO FL070
OBS VA DTG: 30/1410Z
OBS VA CLD: SFC/FL070 N0143 E12754 - N0152 E12745 - N0206
E12724 - N0211 E12648 - N0149 E12655 - N0139 E12754 MOV W
10KT
FCST VA CLD +6 HR: 30/2010Z SFC/FL070 N0143 E12754 - N0139
E12754 - N0138 E12644 - N0212 E12648 - N0203 E12734
FCST VA CLD +12 HR: 01/0210Z SFC/FL070 N0139 E12753 - N0142
E12755 - N0204 E12733 - N0211 E12648 - N0141 E12645
FCST VA CLD +18 HR: 01/0810Z SFC/FL070 N0139 E12754 - N0141
E12646 - N0211 E12648 - N0204 E12734 - N0142 E12755
RMK: VA DISCERNIBLE ON LATEST RGB SAT IMAGERY EXTENDING W.
VA HEIGHT AND MOVEMENT BASED ON HIMAWARI-8 IMAGERY, 29/2339Z
VONA AND MODEL GUIDANCE.
NXT ADVISORY: NO LATER THAN 20190930/2010Z
Previous news
More on VolcanoDiscovery: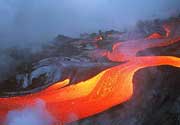 Kilauea volcano photos
: The most active volcano in the world with a record long lasting eruption since 1983: images of lava flows, lava lakes, explosions, lava meeting the ocean, aerials and more.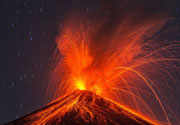 Fuego volcano photos
: One of Central America's most active volcanoes, Fuego in Guatemala is in near-permanent explosive eruption with intermittent phases of increasing activity that generate lava fountains, lava flows and pyroclastic flows.