Dukono volcano news & eruption updates
Dukono Volcano Volcanic Ash Advisory: CONTINUOUS VA EMISSION TO FL070 EXT SW LAST OBS 04/0200Z to 7000 ft (2100 m)
Saturday Jan 04, 2020 22:30 PM | BY: VN
Explosive activity continues. Volcanic Ash Advisory Center (VAAC) Darwin warned about a volcanic ash plume that rose up to estimated 7000 ft (2100 m) altitude or flight level 070 and is moving at 10 kts in SW direction.
The full report is as follows:
FVAU01 at 22:25 UTC, 04/01/20 from ADRM
VA ADVISORY
DTG: 20200104/2230Z
VAAC: DARWIN
VOLCANO: DUKONO 268010
PSN: N0141 E12753
AREA: INDONESIA
SUMMIT ELEV: 1335M
ADVISORY NR: 2020/16
INFO SOURCE: HIMAWARI-8
AVIATION COLOUR CODE: ORANGE
ERUPTION DETAILS: CONTINUOUS VA EMISSION TO FL070 EXT SW
LAST OBS 04/0200Z
OBS VA DTG: 04/2230Z
OBS VA CLD: SFC/FL070 N0140 E12755 - N0049 E12705 - N0142
E12643 - N0144 E12753 MOV SW 10KT
FCST VA CLD +6 HR: 05/0430Z SFC/FL070 N0141 E12756 - N0050
E12704 - N0142 E12643 - N0145 E12754
FCST VA CLD +12 HR: 05/1030Z SFC/FL070 N0145 E12755 - N0145
E12756 - N0141 E12758 - N0047 E12708 - N0141 E12644
FCST VA CLD +18 HR: 05/1630Z SFC/FL070 N0141 E12758 - N0047
E12708 - N0142 E12643 - N0146 E12756
RMK: VA OBSCURED BY MET CLOUD HOWEVER, ASH STILL EXPECTED IN
THE AREA. HEIGHT AND FORECAST BASED ON HIMAWARI-8 IMAGERY,
MENADO 04/1200Z SOUNDING, AND MODEL GUIDANCE.
NXT ADVISORY: NO LATER THAN 20200105/0430Z
Previous news
More on VolcanoDiscovery: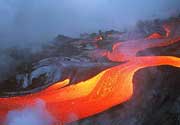 Kilauea volcano photos
: The most active volcano in the world with a record long lasting eruption since 1983: images of lava flows, lava lakes, explosions, lava meeting the ocean, aerials and more.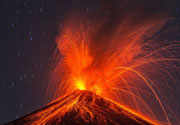 Fuego volcano photos
: One of Central America's most active volcanoes, Fuego in Guatemala is in near-permanent explosive eruption with intermittent phases of increasing activity that generate lava fountains, lava flows and pyroclastic flows.