Dukono volcano news & eruption updates
Dukono Volcano Volcanic Ash Advisory: CONTINUOUS VA TO FL070, LAST OBS EXT SW AT 06/0100Z
Tuesday Jan 07, 2020 04:00 AM | BY: VN
Volcanic Ash Advisory Center Darwin (VAAC) issued the following report:
FVAU01 at 03:55 UTC, 07/01/20 from ADRM
VA ADVISORY
DTG: 20200107/0400Z
VAAC: DARWIN
VOLCANO: DUKONO 268010
PSN: N0141 E12753
AREA: INDONESIA
SUMMIT ELEV: 1335M
ADVISORY NR: 2020/24
INFO SOURCE: HIMAWARI-8
AVIATION COLOUR CODE: ORANGE
ERUPTION DETAILS: CONTINUOUS VA TO FL070, LAST OBS EXT SW AT
06/0100Z
EST VA DTG: 07/0400Z
EST VA CLD: SFC/FL070 N0144 E12754 - N0139 E12756 - N0045
E12700 - N0125 E12635 MOV SW 10KT
FCST VA CLD +6 HR: 07/1000Z SFC/FL070 N0139 E12755 - N0047
E12653 - N0135 E12633 - N0144 E12753
FCST VA CLD +12 HR: 07/1600Z SFC/FL070 N0140 E12756 - N0047
E12652 - N0135 E12634 - N0144 E12754
FCST VA CLD +18 HR: 07/2200Z SFC/FL070 N0139 E12755 - N0048
E12652 - N0135 E12633 - N0144 E12753
RMK: VA NOT IDENTIFIABLE ON LATEST SATELLITE IMAGERY DUE TO
OBSCURATION BY MET CLOUD, HOWEVER ERUPTION IS MOST LIKELY
ONGOING. HEIGHT AND FORECAST BASED ON HIMAWARI-8 IMAGERY,
MENADO 07/0000Z SOUNDING AND MODEL GUIDANCE.
NXT ADVISORY: NO LATER THAN 20200107/1000Z
Previous news
More on VolcanoDiscovery: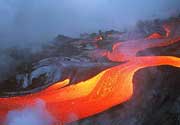 Kilauea volcano photos
: The most active volcano in the world with a record long lasting eruption since 1983: images of lava flows, lava lakes, explosions, lava meeting the ocean, aerials and more.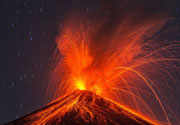 Fuego volcano photos
: One of Central America's most active volcanoes, Fuego in Guatemala is in near-permanent explosive eruption with intermittent phases of increasing activity that generate lava fountains, lava flows and pyroclastic flows.