Strong mag. 6.1 earthquake - Central Italy on Wednesday, 24 August 2016
Damage in Amatrice (image: author unknown / La Repubblica)
Emergency number of Civil Defense: 840840 or 803555
A strong magnitude 6 earthquake struck central Italy during the early hours of 24 Aug. Sadly, it was one of Europe's deadliest quakes in recent years, causing at least about 250 fatalities, injuring thousands and destroying or severely damaging hundreds if not thousands of buildings.
The quake's epicenter was located near Accumoli, in the province of Rieti (Latium) at only 4 km depth, which made it particularly damaging with violent shaking near the epicenter. The hardest-hit towns include Accuoli, Amatrice and Arquata del Tronto. About half of the town of Amatrice's buildings are reportedly more or less completely destroyed.
The first quake which occurred at 03:36 (local time) in the morning was felt from Rimini to Naples. In the town of Accumoli, 6 deaths have been confirmed so far. Numerous aftershocks have been occurring including several quakes of magnitude 5 or higher.
Civil Defense's website is currently overloaded, but help is under way. People are advised to stay outside of buildings.
Source
:
Terremoto di magnitudo 6.0 devasta il centro Italia
(La Repubblica online)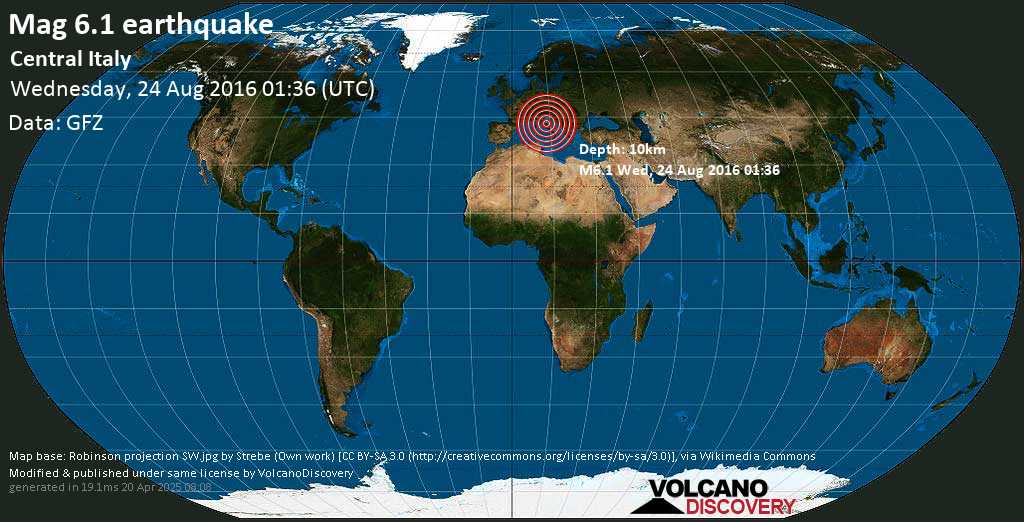 24 Aug 01:38 UTC: First to report: GFZ after 2 minutes.
Aug 24 01:39: Magnitude recalculated from 6.3 to 6.1.
Aug 24 01:40: Magnitude recalculated from 6.1 to 6.0.
Aug 24 01:41: Magnitude recalculated from 6.0 to 6.1.
Aug 24 05:32: Magnitude recalculated from 6.1 to 6.2.
Date & time: Wednesday, 24 August 2016 01:36 UTC
Magnitude: 6.2
Depth: 4.2 km
Epicenter latitude / longitude: 42.74°N / 13.2°E
(
Italy
)
Nearest volcano:
Vulsini
(107 km / 66 mi)
Nearby towns and cities:
3 km (2 mi) W of Capodacqua
(pop: 100)
5 km (3 mi) SE of San Pellegrino
(pop: 200)
5 km (3 mi) E of Frascaro
(pop: 100)
110 km (68 mi) NE of Rome
(pop: 2,318,900)
130 km (81 mi) NE of Acilia-Castel Fusano-Ostia Antica
(pop: 129,400)
196 km (122 mi) SE of Florence
(pop: 349,300)
Primary data source:
GFZ
Estimated released energy: 1.3 x 10
14
joules (35 gigawatt hours, equivalent to 30089 tons of TNT or 1.9 atomic bombs!) [
learn more
]
Data for the same earthquake reported by different agencies
Info: The more agencies report about the same quake and post similar data, the more confidence you can have in the data. It takes normally up to a few hours until earthquake parameters are calculated with near-optimum precision.
Time
Mag. / Depth
Location
Source
Wed, 24 Aug 01:36 UTC
M 6.2 / 4.2 km
Central Italy
GFZ
Wed, 24 Aug 01:36 UTC
M 6.2 / 4 km
CENTRAL ITALY
EMSC
Wed, 24 Aug 01:36 UTC
M 6.0 / 4.2 km
Rieti
INGV
2016-08-24 03:36:33 +02:00

(24 Aug 01:36:33 UTC)

M 6.2 / 10 km
- 10km SE of Norcia, Italy
USGS
Wed, 24 Aug 01:36 UTC
M 6.0 / 10 km
Italija
SSS
Wed, 24 Aug 01:36 UTC
M 6.2 / 10 km
SE of Norcia, Italy
GeoAu
(shakemap: USGS)
User reports for this quake (629)
Aftershocks of the 6.2 quake: Central Italy, 24 Aug 2016 01:36
More info
Recorded aftershocks, latest first (3236 quakes):