Strong mag. 6.0 earthquake - Tanzania on Wednesday, 12 August 2020 - information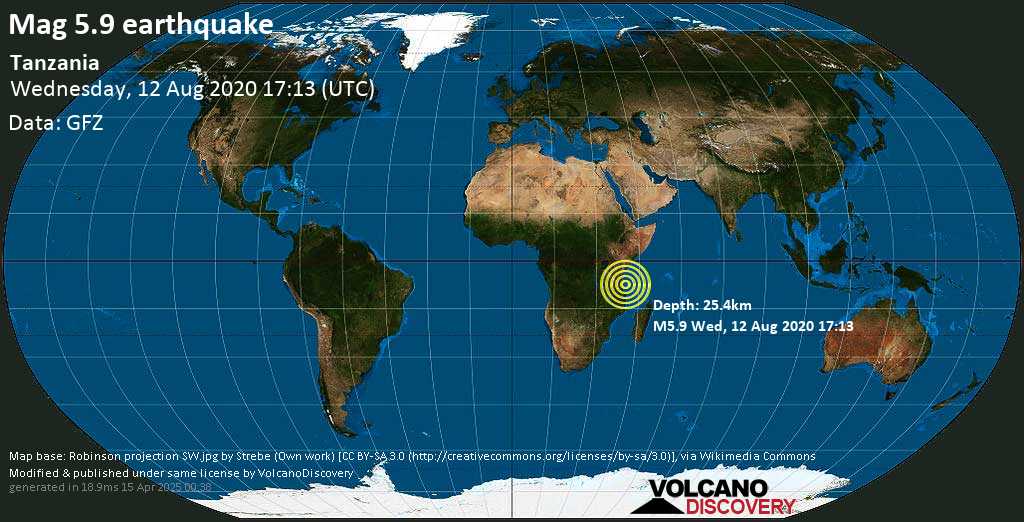 12 Aug 17:22 UTC: First to report: GFZ after 9 minutes.
Aug 12 17:24: Magnitude recalculated from 5.9 to 6.0.
Hypocenter depth recalculated from 10.0 to 25.0 km.
Update Thu, 13 Aug 2020, 08:30
Quake was strongest in region since at least 2016, but no significant damage
User-reports with location and shaking intensity
Luckily, even after 15 hours since the magnitude 6.0 earthquake struck near Tanzania's coast last night, there are no reports of serious damage or injuries. Had the quake occurred closer to the shore, it probably would have had a much more severe outcome.
USGS models estimates that almost 9 million people felt the earthquake, mostly as weak to mild shaking, while 59,000 people in the areas closest to the epicenter felt it at moderate intensity. This fits nicely into the user-generated shake map, based on the more than 800 reports we received so far.
Last night's tremor was the strongest earthquake in the region since 10 September 2016, when a
similarly strong earthquake
hit northwest Tanzania, killing at least 17 people and injuring more than 400.
Update Wed, 12 Aug 2020, 17:56
People near the epicenter reported that the quake came in two waves; first there was "around 8 to 10 seconds of vibration and then a 2 second long shock", a user told us.
Within 30 minutes, more than 200 reports have come in so far. The interactive map below plots location and reported intensity, which gives a good idea about the impact of the quake. So far, there are no reports of major damage or injuries, fortunately.
Read all
Earthquake data:
Date & time: Wednesday, 12 August 2020 17:13 UTC
Magnitude: 6.0
Depth: 25.0 km
Epicenter latitude / longitude: 7.37°S / 39.85°E
(
Tanzania
)
Nearby towns and cities:
64 km (40 mi) NE of Kilindoni
(pop: 12,400)
73 km (45 mi) SE of Vikindu
(pop: 23,300)
76 km (47 mi) SE of Mkuranga
(pop: 28,000)
88 km (55 mi) SE of Dar es Salaam
(pop: 2,698,700)
92 km (57 mi) NE of Bungu
(pop: 27,900)
108 km (67 mi) NE of Kibiti
(pop: 30,200)
Primary data source:
GFZ
Estimated released energy: 6.3 x 10
13
joules (17.5 gigawatt hours, equivalent to 15080 tons of TNT or 0.9 atomic bombs!) [
learn more
]
Data for the same earthquake reported by different agencies
Info: The more agencies report about the same quake and post similar data, the more confidence you can have in the data. It takes normally up to a few hours until earthquake parameters are calculated with near-optimum precision.
| | | | |
| --- | --- | --- | --- |
| Time | Mag. / Depth | Location | Source |
| Wed, 12 Aug 17:13 UTC | M 6.0 / 25 km | Tanzania | GFZ |
| Wed, 12 Aug 17:13 UTC | M 6.0 / 15 km | Tanzania | EMSC |
| Wed, 12 Aug 17:13 UTC | M 5.9 / 10 km | Tanzania | BMKG |
| Wed, 12 Aug 17:13 UTC | M 6.0 / 0.8 km | Tanzania [Sea] | INGV |
| Wed, 12 Aug 17:13 UTC | M 5.9 / 10 km | Tanzania | GeoAu |
| Wed, 12 Aug 17:13 UTC | M 6.0 / 15.5 km | 66 km ESE of Vikindu, Tanzania | USGS |
User reports for this quake
Aftershocks of the 6.0 quake: Tanzania, 12 Aug 2020 17h13
Show info about this
List of recorded aftershocks, latest first (1 quakes):
13 Aug 2020 14:54 UTC

|

M 5.1

|

10 km (6.2 mi) depth

|

12 km (8 mi) distance

| GeoAu | Details
Map of aftershocks
Significant earlier earthquakes in the same area since 1900
Strong mag. 6.0 earthquake - Tanzania on Wednesday, 12 August 2020
Hint: Click on Date/Time to show latest first

Date / time UTC

|

Mag

|

Depth

|

Age

|

Distance

| Details

13 Dec 1910 11:37

|

7.3

|

15km / 9.3mi

|

110 years ago

|

954km / 593mi

| Lake Tanganyika Region, Tanzania

08 Jul 1919 21:06

|

7.2

|

15km / 9.3mi

|

101 years ago

|

917km / 570mi

| Lake Tanganyika Region, Tanzania-Zambia

06 Jan 1928 19:31

|

7.0

|

15km / 9.3mi

|

93 years ago

|

965km / 600mi

| Kenya
Map of earlier quakes
More on VolcanoDiscovery