Strong mag. 6.6 earthquake - Leyte, Philippines on Tuesday, 18 August 2020 - information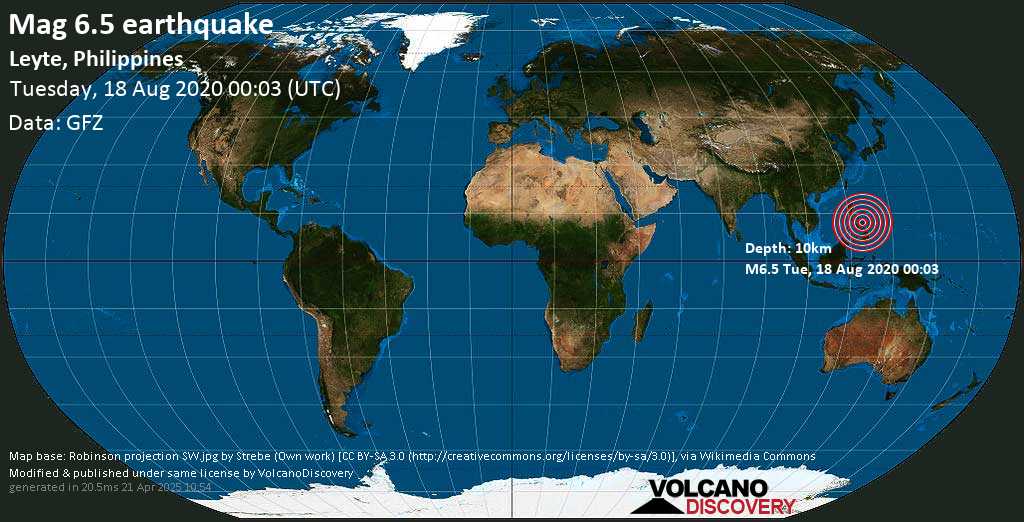 18 Aug 00:10 UTC: First to report: GFZ after 6 minutes.
Aug 18 00:11: Magnitude recalculated from 6.6 to 6.7.
Aug 18 00:16: Magnitude recalculated from 6.7 to 6.6.
Update Tue, 18 Aug 2020, 08:17
Earthquake largest in over 80 years
Update Tue, 18 Aug 2020, 07:19
One person dead and several injuries confirmed
The Philippine Institute of Volcanology and Penology reported an even shallower depth of the quake: according to its data, it struck at only 5 km (3 mi) approx. 5 km SW from Cataingan town, the hardest hit area.
Interestingly, there seems to have been a foreshock, a 4.1 tremor that occurred several hours before the main quake. It might have saved lives as it prompted many residents of Cataingan to seek open grounds.
According to local press, the quake claimed at least one victim. A 63-year-old retired police officer was killed by a falling concrete beam. Several injuries were reported to have occurred as well. Unfortunately, it is possible that such numbers still rise as authorities are investigating the impact of the quake.
Source: reliefweb.int
Read all
Earthquake data:
Date & time: Tuesday, 18 August 2020 00:03 UTC
Magnitude: 6.6
Depth: 10.0 km
Epicenter latitude / longitude: 11.99°N / 124.04°E
(
Philippines
)
Nearest volcano:
Biliran
(75 km / 47 mi)
Nearby towns and cities:
5 km (3 mi) SE of Cataingan
(pop: 7,800)
12 km (7 mi) N of Limbuhan
(pop: 3,200)
12 km (7 mi) SE of Pawican
(pop: 3,200)
187 km (116 mi) N of Cebu City
(pop: 798,600)
189 km (118 mi) NE of Bacolod City
(pop: 454,900)
190 km (118 mi) NE of Mansilingan
(pop: 454,200)
Primary data source:
GFZ
Estimated released energy: 5 x 10
14
joules (139 gigawatt hours, equivalent to 1.2 x 10
5
tons of TNT or 7.5 atomic bombs!) [
learn more
]
Data for the same earthquake reported by different agencies
Info: The more agencies report about the same quake and post similar data, the more confidence you can have in the data. It takes normally up to a few hours until earthquake parameters are calculated with near-optimum precision.
| | | | |
| --- | --- | --- | --- |
| Time | Mag. / Depth | Location | Source |
| Tue, 18 Aug 00:03 UTC | M 6.6 / 10 km | Leyte, Philippines | GFZ |
| Tue, 18 Aug 00:03 UTC | M 6.8 / 15 km | Samar, Philippines | EMSC |
| Tue, 18 Aug 00:03 UTC | M 6.7 / 10 km | 11 km E of San Pedro, Philippines | USGS |
| Tue, 18 Aug 00:03 UTC | M 6.8 / 10 km | Samar, Philippines | BMKG |
| Tue, 18 Aug 00:03 UTC | M 6.6 / 21.2 km | Samar, Philippines | GeoAu |
| Tue, 18 Aug 00:03 UTC | M 6.5 / 9.8 km | Philippines [Sea] | INGV |
| Tue, 18 Aug 00:03 UTC | M 6.6 / 10 km | 菲律宾 (Philippines) | CEIC |
| Tue, 18 Aug 00:03 UTC | M 6.5 / 1 km | 005 km S 17° W of Cataingan (Masbate) (Philippines) | PHIVOLCS |
| Tue, 18 Aug 00:03 UTC | M 6.6 / 10 km | 13 km E of San Pedro, Philippines | USGS |
User reports for this quake
Aftershocks of the 6.6 quake: Leyte, Philippines, 18 Aug 2020 00h03
Show info about this
List of recorded aftershocks, latest first (438 quakes):
Map of aftershocks
Significant earlier earthquakes in the same area since 1900
Strong mag. 6.6 earthquake - Leyte, Philippines on Tuesday, 18 August 2020
Map of earlier quakes
More on VolcanoDiscovery