Strong mag. 6.1 earthquake - 98 Km Al NO De Constitución, Chile, on Sunday, 22 November 2020 at 00:54 (GMT) - information
-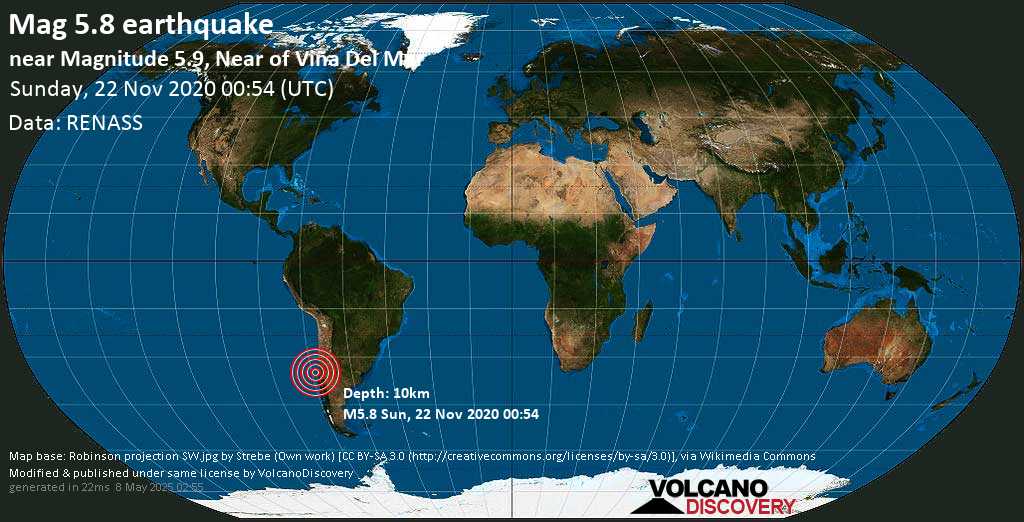 Strong magnitude 6.1 earthquake at 41 km depth
22 Nov 00:58 UTC: First to report: GFZ after 3 minutes.
22 Nov 01:00: Magnitude recalculated from 6.5 to 6.0. Epicenter location corrected by 8.9 km (5.5 mi) towards ESE.

22 Nov 01:42: Hypocenter depth recalculated from 44.6 to 40.8 km (from 28 to 25 mi). Epicenter location corrected by 16 km (9.8 mi) towards WNW.
Update Sun, 22 Nov 2020, 01:00
Significant magnitude 6.5 earthquake 172 km northwest of Talca, Chile
6.5 quake 21 Nov 7:54 pm (GMT -5)
A shallow magnitude 6.5 earthquake was reported early evening near the town of Constitución, Chile.
According to the German Research Centre for Geosciences (GFZ), the quake hit on Saturday 21 November 2020 at 7.54 pm local time at a shallow depth of 10 km. Shallow earthquakes are felt more strongly than deeper ones as they are closer to the surface. The exact magnitude, epicenter, and depth of the quake might be revised within the next few hours or minutes as seismologists review data and refine their calculations, or as other agencies issue their report.
Based on the preliminary seismic data, the quake should have been widely felt by almost everyone in the area of the epicenter. It might have caused light to moderate damage. Moderate shaking probably occurred in Constitución (pop. 37,900) located 112 km from the epicenter, and Los Navegantes (pop. 200) 114 km away.
Weak shaking might have been felt in Santa Cruz (pop. 33,300) located 171 km from the epicenter, Talca (pop. 197,500) 172 km away, Cauquenes (pop. 31,400) 175 km away, San Javier (pop. 22,400) 177 km away, San Antonio (pop. 85,700) 185 km away, and Curicó (pop. 102,400) 187 km away.
VolcanoDiscovery will automatically update magnitude and depth if these change and follow up if other significant news about the quake become available. If you're in the area, please send us your experience through our reporting mechanism, either
online
or via
our mobile app
. This will help us provide more first-hand updates to anyone around the globe who wants to know more about this quake.
Earthquake data:
Date & time: 22 Nov 2020 12:54:57 UTC -
Local time at epicenter:
Saturday, 21 Nov 7.54 pm (GMT -5)
Magnitude: 6.1
Depth: 40.8 km
Epicenter latitude / longitude: 34.632°S / 73.064°W
(
Chile
)
Nearest volcano:
Descabezado Grande
(240 km / 149 mi)
Nearby towns and cities:
98 km (61 mi) NW of Konstitus'on
(pop: 37,900)
155 km (97 mi) W of Santa Cruz (Colchagua)
(pop: 33,300)
156 km (97 mi) NW of Talca
(pop: 197,500)
171 km (106 mi) WNW of Curico
(pop: 102,400)
177 km (110 mi) SW of San Antonio
(pop: 85,700)
190 km (118 mi) NW of Linares
(pop: 69,500)
256 km (159 mi) WSW of Puente Alto
(pop: 510,400)
258 km (160 mi) WSW of Santiago
(pop: 4,837,300)
Weather at epicenter at time of quake:
Clear Sky
13.9°C
(57 F), humidity: 81%, wind: 8 m/s (16 kts) from SSW
Primary data source:
GUG (U. Chile)
Estimated released energy: 8.9 x 10
13
joules (24.8 gigawatt hours, equivalent to 21301 tons of TNT or 1.3 atomic bombs!)
More info
Data for the same earthquake reported by different agencies
Info: The more agencies report about the same quake and post similar data, the more confidence you can have in the data. It takes normally up to a few hours until earthquake parameters are calculated with near-optimum precision.
| | | | |
| --- | --- | --- | --- |
| Magnitude | Depth | Location | Source |
| M 6.1 | 41 km | 98 Km Al NO De Constitución, Chile | GUG (U. Chile) |
| M 6.1 | 39 km | OCEANO PACIFICO (Argentina), Chile | INPRES |
| M 6.2 | 2 km | OFFSHORE MAULE, CHILE | EMSC |
| M 6.0 | 10 km | Chile (Peruvian Point of View) [Sea] | INGV |
| M 6.1 | 20 km | 99 Km NW of Constitución, Chile | USGS |
| M 6.1 | 23 km | Off Coast of Central Chile | GFZ |
| M 6.1 | 10 km | Off Coast of Central Chile | GeoAu |
| M 6.1 | 14 km | Off Coast of Central Chile | BMKG |
User reports for this quake (131)
Aftershocks of the 6.1 quake 98 km northwest of Konstitus'on, Maule Region, Chile, 21 Nov 7.54 pm (GMT -5)
More info
Recorded aftershocks, latest first (5 quakes):
Earlier earthquakes in the same area since 1900
Strong mag. 6.1 earthquake - 98 km northwest of Konstitus'on, Maule Region, Chile, on Saturday, 21 Nov 7.54 pm (GMT -5)
Hint: Click on Date/Time to show latest first

Date / time UTC

|

Mag

|

Depth

|

Age

|

Distance

| Details

27 Feb 2010 06:34

|

8.8

|

23km / 14mi

|

11 years ago

|

166km / 103mi

| Offshore Bio-Bio, Chile

03 Mar 1985 22:47

|

8.0

|

33km / 21mi

|

36 years ago

|

200km / 124mi

| Offshore Valparaiso, Chile

25 Jan 1939 03:32

|

7.8

|

35km / 22mi

|

82 years ago

|

198km / 123mi

| Bio-Bio, Chile

01 Dec 1928 04:06

|

7.7

|

35km / 22mi

|

92 years ago

|

105km / 65mi

| Maule, Chile

04 Mar 1985 00:32

|

7.4

|

33km / 21mi

|

36 years ago

|

205km / 127mi

| Valparaiso, Chile

09 Apr 1985 01:56

|

7.2

|

38km / 23mi

|

36 years ago

|

144km / 89mi

| Libertador General Bernardo O'Higgins, Chile

16 Oct 1981 03:25

|

7.2

|

33km / 21mi

|

39 years ago

|

167km / 104mi

| Off the Coast of Valparaiso, Chile

18 Mar 1931 08:02

|

7.2

|

35km / 22mi

|

90 years ago

|

174km / 108mi

| Valparaiso, Chile

25 Mar 2012 22:37

|

7.1

|

41km / 25mi

|

9 years ago

|

100km / 62mi

| Maule, Chile

11 Mar 2010 14:55

|

7.0

|

18km / 11.2mi

|

11 years ago

|

121km / 75mi

| Libertador General Bernardo O'Higgins, Chile

Show all
Map of earlier quakes
More on VolcanoDiscovery