Strong mag. 6.4 earthquake - CROATIA on Tuesday, 29 December 2020 at 11:19 (GMT) - information
-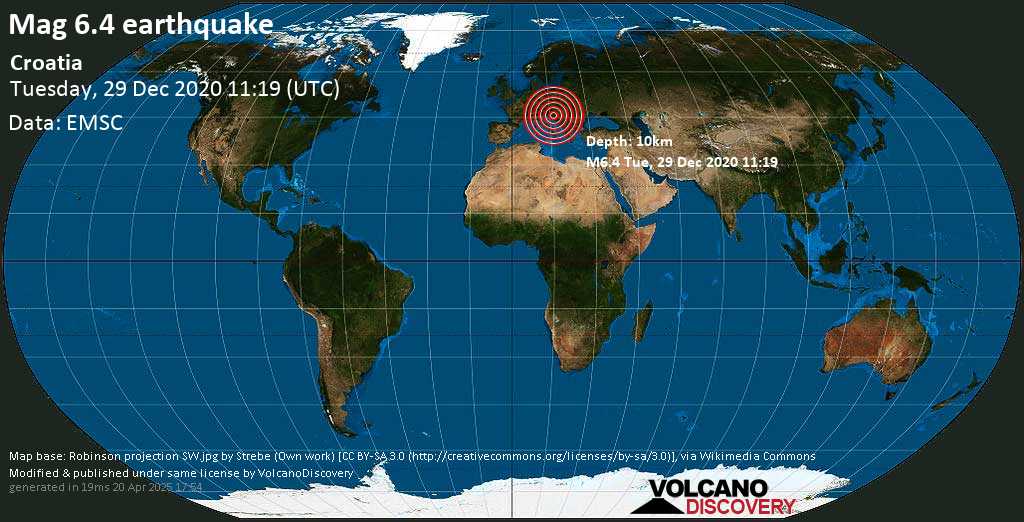 Strong magnitude 6.4 earthquake at 10 km depth
29 Dec 11:22 UTC: First to report: GFZ after 2 minutes.
29 Dec 11:24: Now using data updates from EMSC

29 Dec 11:48: Magnitude recalculated from 6.3 to 6.4. Hypocenter depth recalculated from 5.0 to 10.0 km (from 3.1 to 6.2 mi). Epicenter location corrected by 10.3 km (6.4 mi) towards SE.
Update Wed, 30 Dec 2020, 11:33
At least 7 people killed and 26 injured
Revised shake map published by reliefweb
A day after the catastrophic quake hit Croatia, there is still no full picture of its total damage. Sadly, the preliminary death toll now stands at 7 dead, including a 12-year-old girl and 6 men, according to latest news.
In addition, 6 people were reported to have suffer severe and 20 people light injuries by the quake.
Material damage is enormous, with many destroyed or damaged buildings and structures in towns near the epicenter, especially Petrinja and Sisac. In those areas, the ground shaking reached values of almost 8 on the Mercalli Scale, classified as "severe" with the potential to cause extensive damage.
Almost 100 aftershocks have already been recorded, including 6 tremors of magnitudes 4-4.8, and many more are likely still to follow. The bigger ones are especially dangerous as they add damage to already weakened structures and can cause additional collapse.
Hundreds of people evacuated from their homes are being transferred to makeshift shelters, hotels and other temporary accommodation in the wider area.
Update Tue, 29 Dec 2020, 14:42
Aftershocks and worries about more quakes in the area
The first aftershocks have started to rattle the area. During the first two hours since the mainshock, there were 5 quakes of magnitudes 3+ and one 4.4 tremor, all being felt.
Many more aftershocks are likely to follow in the coming hours, days, even weeks, and likely some of them might reach dangerous magnitudes around 5.

Scientists at Croatia's Seismological Service fear that the recent quakes might indicate that a larger fault system in the area has now been activated, and that other large quakes could occur in different areas in a near future as well.
"We have more epicentral areas. The African plate is pushing our plate and those tensions are so strong that there is a large amount of energy being released," the head of the Seismological Center said.
Earthquake data:
Date & time: 29 Dec 2020 11:19:53 UTC -
Local time at epicenter:
Tuesday, 29 Dec 2020 12:19 pm (GMT +1)
Magnitude: 6.4
Depth: 10.0 km
Epicenter latitude / longitude: 45.46°N / 16.31°E
(
Grad Sisak
,
Sisak-Moslavina
,
Croatia
)
Nearby towns and cities:
3 km (2 mi) NNE of Petrinja (Sisačko-Moslavačka)
(pop: 13,900) -->
See nearby quakes!
5 km (3 mi) W of Sisak (Sisačko-Moslavačka)
(pop: 35,700) -->
See nearby quakes!
16 km (10 mi) SSE of Lekenik (Sisačko-Moslavačka)
(pop: 1,870) -->
See nearby quakes!
33 km (21 mi) SE of Velika Gorica (Zagrebačka)
(pop: 35,100) -->
See nearby quakes!
44 km (27 mi) SSE of Sesvete (City of Zagreb)
(pop: 52,400) -->
See nearby quakes!
47 km (29 mi) SE of Donji grad (City of Zagreb)
(pop: 37,000) -->
See nearby quakes!
47 km (29 mi) SE of Zagreb (City of Zagreb)
(pop: 699,000) -->
See nearby quakes!
51 km (32 mi) SE of Stenjevec (City of Zagreb)
(pop: 41,300) -->
See nearby quakes!
59 km (37 mi) E of Karlovac (Karlovačka)
(pop: 46,800) -->
See nearby quakes!
147 km (91 mi) E of Rijeka (Primorsko-Goranska)
(pop: 141,200) -->
See nearby quakes!
Weather at epicenter at time of quake:
Clear Sky
11.5°C
(53 F), humidity: 76%, wind: 1 m/s (1 kts)
Primary data source:
EMSC
(European-Mediterranean Seismological Centre)
Estimated released energy: 2.5 x 10
14
joules (69.8 gigawatt hours, equivalent to 60036 tons of TNT or 3.8 atomic bombs!)
More info
Data for the same earthquake reported by different agencies
Info: The more agencies report about the same quake and post similar data, the more confidence you can have in the data. It takes normally up to a few hours until earthquake parameters are calculated with near-optimum precision.
| | | | |
| --- | --- | --- | --- |
| Magnitude | Depth | Location | Source |
| M 6.4 | 10 km | CROATIA | EMSC |
| M 6.4 | 10 km | CROATIA | GFZ |
| M 6.4 | 10 km | 3 Km WSW of Petrinja, Croatia | USGS |
| M 6.4 | 10 km | NW Balkan Region, Croatia | GeoAu |
| M 6.4 | 10.1 km | Croatia [Land] | INGV |
| M 6.3 | 10 km | NW Balkan Region, Croatia | BMKG |
| M 6.2 | 15 km | Bayern Or Nearby, Croatia | LMU |
| M 6.4 | 10 km | Sisak / Kroatien, Croatia | ZAMG |
| M 6.5 | 10 km | Croatia | KRZO |
| M 6.4 | 10 km | Chorvatsko (EMSC), Croatia | MUNI |
| M 6.3 | 10 km | NW, Croatia | Uni Köln |
| M 6.6 | 10 km | Croatia Region | NIEP |
User reports for this quake (5684)
Aftershocks of the 6.4 quake Petrinja, Central Croatia, 29 Dec 2020 12:19 pm (GMT +1)
More info
Recorded aftershocks, latest first (410 quakes):
Earlier earthquakes in the same area since 1900
Strong mag. 6.4 earthquake - Petrinja, Central Croatia, on Tuesday, 29 Dec 2020 12:19 pm (GMT +1)
Map of earlier quakes