Strong mag. 6.0 Earthquake - Coral Sea, 47 km northeast of Santo, Luganville, Sanma Province, Vanuatu, on Thursday, Mar 24, 2022 08:57 am (Efate time)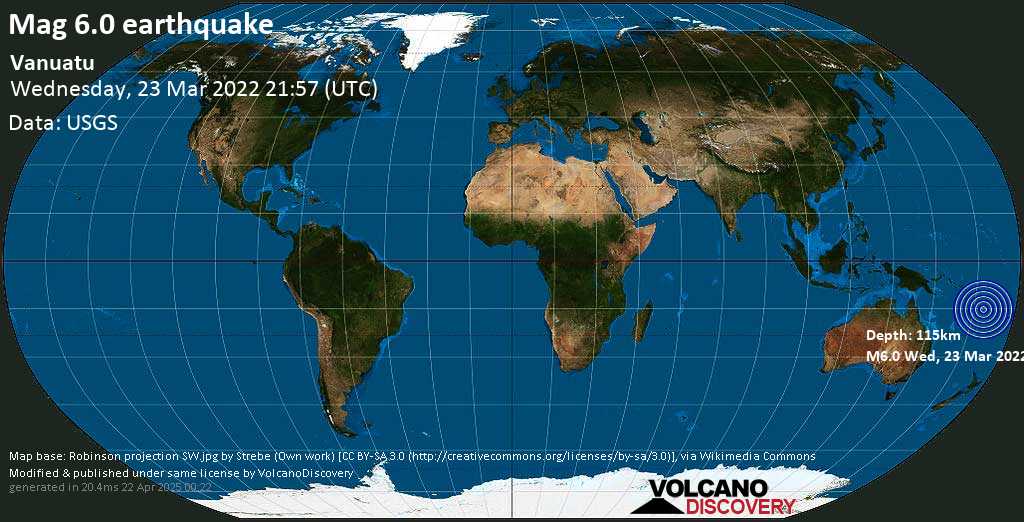 Strong magnitude 6.0 earthquake at 116 km depth
23 Mar 22:05 UTC: First to report: GFZ after 8 minutes.
23 Mar 22:07: Magnitude recalculated from 5.8 to 5.7. Hypocenter depth recalculated from 120.0 to 124.0 km (from 75 to 77 mi). Epicenter location corrected by 16 km (9.8 mi) towards NNE.
23 Mar 22:16: Now using data updates from USGS
23 Mar 23:20: Magnitude recalculated from 5.9 to 6.0. Hypocenter depth recalculated from 112.9 to 115.7 km (from 70 to 72 mi). Epicenter location corrected by 2.8 km (1.7 mi) towards SSE.
Earthquake details
Date & time
Mar 23, 2022 21:57:00 UTC
Local time

at epicenter

Thursday, Mar 24, 2022 08:57 am (Pacific/Efate GMT +11)
Status
Confirmed
Magnitude
6
Depth
115.7 km
Epicenter

latitude / longitude

15.1542°S / 167.3908°E Coral Sea, Vanuatu
Antipode
15.1542°N / 12.609°W
Shaking

intensity

Weak shaking
Felt
1 report
Primary data source
USGS (United States Geological Survey)
Nearest volcano
Aoba (54 km / 34 mi)
Weather at epicenter

at time of quake

Overcast Clouds 26.9°C (80 F), humidity: 80%, wind: 6 m/s (11 kts) from NNW
Estimated

seismic

energy

released

6.3 x 1013 joules (17.5 gigawatt hours, equivalent to 15080 tons of TNT or 0.9 atomic bombs!) | about seismic energy
Nearby places
Notes:
(*) Shaking intensity according to the Modified Mercalli Intensity Scale (MMI) and estimated using seismic models.
Compare Quake Data
Data for the same earthquake as reported by different agencies
The more agencies report about the same quake and post similar data, the more confidence you can have in the data. It takes normally up to a few hours until earthquake parameters are calculated with near-optimum precision.
Mag
Depth
Time GMT
Epicenter
Agency
6.0
116 km (72 mi)

2022-03-23

21:57:00
36 Km ESE of Port-Olry, Vanuatu
USGS (United States Geological Survey)
6.1
122 km (76 mi)

2022-03-23

21:57:00
VANUATU

14 km (8.5 mi) epicenter difference with USGS

EMSC (European-Mediterranean Seismological Centre)
5.5
149 km (93 mi)

2022-03-23

21:57:04
Vanuatu: Near Nouméa

9.3 km (5.8 mi) epicenter difference with USGS

RENASS (Réseau National de Surveillance Sismique (RéNaSS))
6.0
116 km (72 mi)

2022-03-23

21:57:00
Vanuatu Islands

0 km (0 mi) epicenter difference with USGS

RaspberryShake (RaspberryShake)
6.0
104 km (65 mi)

2022-03-23

21:57:00
Vanuatu Islands [Sea: Vanuatu]

15 km (9.2 mi) epicenter difference with USGS

INGV (Istituto Nazionale di Geofisica e Vulcanologia)
6.0
170 km (106 mi)

2022-03-23

21:57:05
Vanuatu Islands

2 km (1.3 mi) epicenter difference with USGS

GFZ (German Research Centre for Geosciences)
6.0
116 km (72 mi)

2022-03-23

21:57:00
Vanuatu Islands

8.6 km (5.4 mi) epicenter difference with USGS

GeoAu (Geoscience Australia )
Seismograms
Seismic station: Honiara, Solomon Islands (HNR/IU network)
| Distance from quake: 1028 km / 639 mi |
Show on map
|
Station Info
Seismogram (vertical component) around time of quake. Thin dotted red line indicates time of quake. Seismic waves arrive some time later, depending on distance. Bandpass filter applied: 0.02-5.0 Hz. Source:
IRIS Buffer of Uniform Data (BUD) webtool
User-reports for this quake (2)
Aftershocks
[More info]
Recorded aftershocks, latest first (15 quakes)
Date and Time GMT
Mag
Depth
Region
Details
Sep 8, 2022 22:13


1 year 12 weeks ago

4.6


124 km
Coral Sea, 55 km NE of Santo, Luganville, Sanma Province, Vanuatu
More
Sep 5, 2022 18:20


1 year 12 weeks ago

4.6


126 km
Coral Sea, 78 km N of Santo, Luganville, Sanma Province, Vanuatu
More
Sep 3, 2022 11:35


1 year 13 weeks ago

4.7


118 km
Coral Sea, 38 km NE of Santo, Luganville, Sanma Province, Vanuatu
More
Sep 3, 2022 11:01


1 year 13 weeks ago

4.6


161 km
Coral Sea, 98 km N of Santo, Luganville, Sanma Province, Vanuatu
More
Sep 3, 2022 05:57


1 year 13 weeks ago

4.8


120 km
Coral Sea, 68 km N of Santo, Luganville, Sanma Province, Vanuatu
More
Jul 24, 2022 19:30


1 year 18 weeks ago

5.0


129 km
Coral Sea, 78 km N of Santo, Luganville, Sanma Province, Vanuatu
More
Jul 14, 2022 23:17


1 year 20 weeks ago

5.1


22 km
Coral Sea, 61 km NW of Santo, Luganville, Sanma Province, Vanuatu
More
Jul 14, 2022 17:50


1 year 20 weeks ago

5.8


22 km
Coral Sea, 58 km NW of Santo, Luganville, Sanma Province, Vanuatu
More
Jul 8, 2022 01:01


1 year 21 weeks ago

5.4


95 km
Coral Sea, 72 km N of Santo, Luganville, Sanma Province, Vanuatu
More
Jun 13, 2022 17:26


1 year 24 weeks ago

4.9


224 km
Penama Province, 70 km E of Santo, Luganville, Sanma Province, Vanuatu
More
May 11, 2022 14:20


1 year 29 weeks ago

5.2


123 km
Coral Sea, 45 km NE of Santo, Luganville, Sanma Province, Vanuatu
More
May 6, 2022 08:41


1 year 30 weeks ago

5.0


56 km
Coral Sea, 66 km NW of Santo, Luganville, Sanma Province, Vanuatu
More
Apr 8, 2022 19:40


1 year 34 weeks ago

5.0


111 km
Coral Sea, 70 km NE of Santo, Luganville, Sanma Province, Vanuatu
More
Mar 29, 2022 04:08


1 year 35 weeks ago

4.5


133 km
Coral Sea, 94 km N of Santo, Luganville, Sanma Province, Vanuatu
More
Mar 24, 2022 08:09


1 year 36 weeks ago

4.6


133 km
Coral Sea, 51 km NE of Santo, Luganville, Sanma Province, Vanuatu
More