Strong mag. 5.8 earthquake - North Pacific Ocean, 154 km northeast of Pagan Village, Northern Mariana Islands, on Saturday, Jul 9, 2022 at 9:36 am (GMT +10) -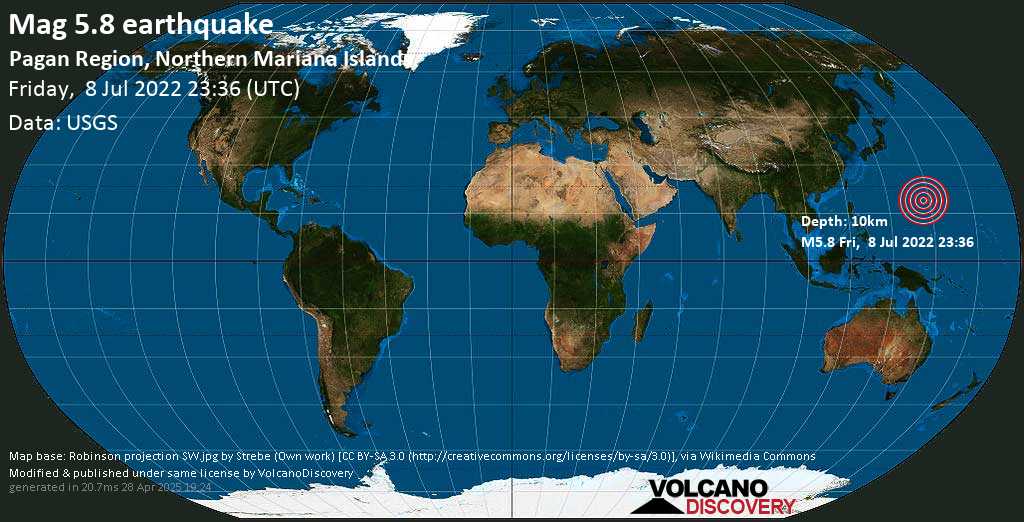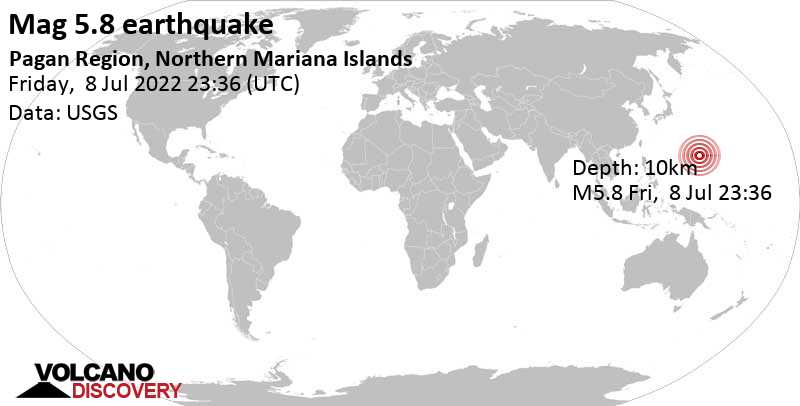 Strong magnitude 5.8 earthquake at 10 km depth
8 Jul 23:44 UTC: First to report: GFZ after 8 minutes.
8 Jul 23:45: Epicenter location corrected by 5.7 km (3.5 mi) towards S.
8 Jul 23:46: Now using data updates from USGS
8 Jul 23:53: Magnitude recalculated from 6.3 to 5.8. Hypocenter depth recalculated from 23.0 to 10.0 km (from 14.3 to 6.2 mi). Epicenter location corrected by 23 km (14 mi) towards NE.
Update Sat, 9 Jul 2022, 00:00
Significant earthquake of magnitude 5.8 just reported 138 km east of Agrihan Village, Northern Mariana Islands
5.8 quake 9 Jul 9:36 am (GMT +10)
A magnitude 5.8 earthquake near Agrihan Village, Agrihan Island, Northern Islands, Northern Mariana Islands, was reported only 24 minutes ago by the United States Geological Survey, considered one of the key international agencies that monitor seismic activity worldwide. The earthquake occurred at a shallow depth of 10 km beneath the epicenter in the morning on Saturday, July 9th, 2022, at 9:36 am local time. The exact magnitude, epicenter, and depth of the quake might be revised within the next few hours or minutes as seismologists review data and refine their calculations, or as other agencies issue their report.
A second report was later issued by Geoscience Australia (GeoAu), which listed it as a magnitude 6.0 earthquake. Other agencies reporting the same quake include France's Réseau National de Surveillance Sismique (RéNaSS) at magnitude 5.9, the citizen-seismograph network of RaspberryShake at magnitude 5.8, the German Research Centre for Geosciences (GFZ) at magnitude 6.0, and the European-Mediterranean Seismological Centre (EMSC) at magnitude 6.2.
Generally quakes of this magnitude are recorded by more than one agency and the results can vary, with subsequent reports that come in after the first one often showing more accuracy.
Based on the preliminary seismic data, the quake should not have caused any significant damage, but was probably felt by many people as light vibration in the area of the epicenter.
Weak shaking might have been felt in Agrihan Village (pop. 20) located 138 km from the epicenter.
VolcanoDiscovery will automatically update magnitude and depth if these change and follow up if other significant news about the quake become available. If you're in the area, please send us your experience through our reporting mechanism, either
online
or via
our mobile app
. This will help us provide more first-hand updates to anyone around the globe who wants to know more about this quake.
Earthquake details
Date & time
Jul 8, 2022 23:36:07 UTC -
Local time

at epicenter

Saturday, Jul 9, 2022 at 9:36 am (GMT +10)
Status
Confirmed
Magnitude
5.8
Depth
10.0 km
Epicenter

latitude / longitude

18.9311°N / 146.9502°E (North Pacific Ocean, Northern Mariana Islands)
Antipode
18.931°S / 33.05°W
Shaking

intensity

Light shaking
Felt
1 report
Primary data source
USGS (United States Geological Survey)
Nearest volcano
Agrigan (136 km / 85 mi)
Nearby

towns and cities

138 km (86 mi) E of Agrihan Village (pop: 20) |

Show on map

| Quakes nearby
154 km (96 mi) NE of Pagan Village (Pagan Island) (pop: 50) |

Show on map

| Quakes nearby
189 km (117 mi) NE of Alamagan Village (pop: 15) |

Show on map

| Quakes nearby
Weather at epicenter

at time of quake

Overcast Clouds 28.9°C (84 F), humidity: 72%, wind: 4 m/s (8 kts) from S
Estimated

seismic

energy

released

3.2 x 1013 joules (8.78 gigawatt hours, equivalent to 7558 tons of TNT or 0.5 atomic bombs!) | about seismic energy
Data for the same earthquake reported by different agencies
Info: The more agencies report about the same quake and post similar data, the more confidence you can have in the data. It takes normally up to a few hours until earthquake parameters are calculated with near-optimum precision.
| | | | |
| --- | --- | --- | --- |
| Mag. | Depth | Location | Source |
| 5.8 | 10 km | Pagan Region, Northern Mariana Islands | USGS |
| 6.2 | 2 km | Northern Mariana Islands: MARIANA ISLANDS REGION | EMSC |
| 5.9 | 10 km | Pagan Region, Northern Mariana Islands | GFZ |
| 5.8 | 10 km | Northern Mariana Islands: Mariana Islands | RaspberryShake |
| 5.9 | 10 km | Northern Mariana Islands: Near Tokyo | RENASS |
| 6.0 | 36 km | Northern Mariana Islands: Mariana Islands | GeoAu |
User reports for this quake (1)
Saipan (428 km SSW of epicenter) [

Map

]

/ Light shaking (MMI IV) / 5-10 s
Aftershocks
[More info]
Recorded aftershocks, latest first (9 quakes)
Date and time
Mag
Depth
Location
Details
Jul 19, 2022 03:26


46 weeks ago

4.8


10 km
North Pacific Ocean, Northern Mariana Islands
More
Jul 10, 2022 22:19


47 weeks ago

5.6


10 km
North Pacific Ocean, 160 km NE of Pagan Village, Northern Mariana Islands
More
Jul 9, 2022 12:43


47 weeks ago

4.7


10 km
North Pacific Ocean, 158 km NE of Pagan Village, Northern Mariana Islands
More
Jul 9, 2022 10:03


47 weeks ago

4.8


10 km
North Pacific Ocean, Northern Mariana Islands
More
Jul 9, 2022 03:19


47 weeks ago

4.5


10 km
North Pacific Ocean, 158 km NE of Pagan Village, Northern Mariana Islands
More
Jul 9, 2022 02:10


47 weeks ago

4.5


10 km
North Pacific Ocean, 167 km NE of Pagan Village, Northern Mariana Islands
More
Jul 9, 2022 00:38


47 weeks ago

4.7


10 km
North Pacific Ocean, 151 km NE of Pagan Village, Northern Mariana Islands
More
Jul 9, 2022 00:22


47 weeks ago

4.7


10 km
North Pacific Ocean, Northern Mariana Islands
More
Jul 8, 2022 23:43


47 weeks ago

5.8


10 km
North Pacific Ocean, 152 km NE of Pagan Village, Northern Mariana Islands
More