Major magnitude 7.7 earthquake - North Pacific Ocean, 99 km southeast of Tecoman, Colima, Mexico, on Monday, Sep 19, 2022 at 1:05 pm (GMT -5) -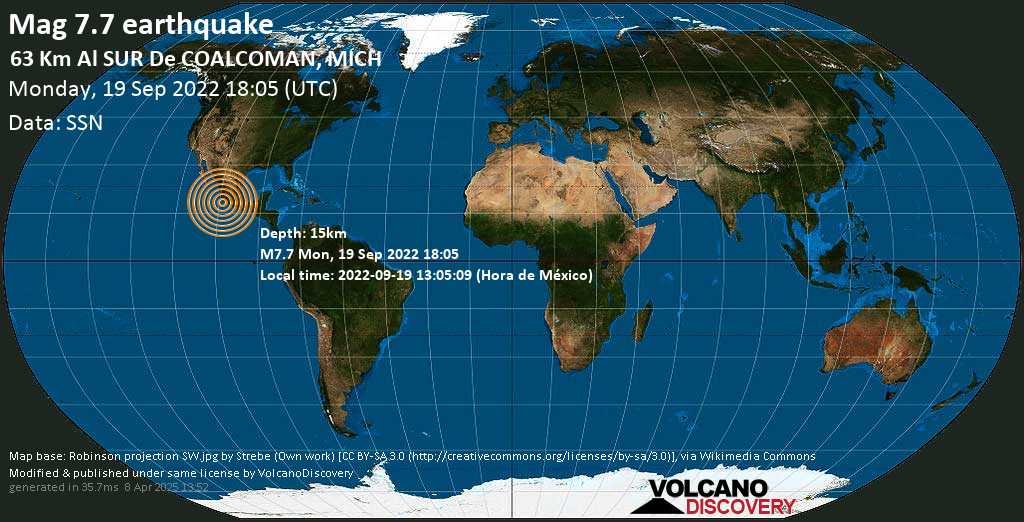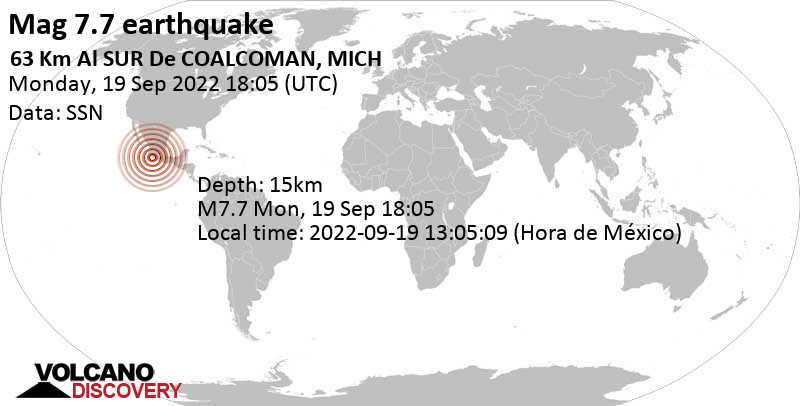 Major magnitude 7.7 earthquake at 15 km depth
19 Sep 18:09 UTC: First to report: VolcanoDiscovery after 4 minutes.
19 Sep 18:10: Now using data updates from USGS

19 Sep 20:00: Magnitude recalculated from 7.4 to 7.7.
Update Tue, 20 Sep 2022, 10:05
Massive Mexican 7.7 quake kills at least one person
Shake map of the Mexico 7.7 quake on 19 Sep 2022 (image: USGS)
The severe magnitude 7.7 quake that hit Mexico's western coast yesterday afternoon killed at least one person in the port city of Manzanillo, Colima, when a wall at a mall collapsed. Many buildings in the areas close to the epicenter suffered damage of varying intensity.
A tsunami warning that had been issued initially was later lifted again, because the quake did not trigger significant waves.
The epicenter of the quake was 37 kilometers (23 miles) southeast of Aquila near the boundary of Colima and Michoacan states. It had a depth of 15.1 kilometers (9.4 miles).
As a matter of pure coincidence, the quake occurred on the anniversary of the massive
magnitude 8.0 quake
that struck western Mexico on Sep 19, 1985, just 80 km (51 mi) away.
As U.S. Geological Survey seismologist Paul Earle was quoted,
"There's no physical reason or statistical bias toward earthquakes in any given month in Mexico. ... Nor is there a season or month for big earthquakes anywhere on the globe. ... But there is a predictable thing: People seek and sometimes find coincidences that look like patterns."
Tectonic Summary
The September 19, 2022, M7.6 earthquake near the Pacific Coast of Mexico occurred as the result of shallow thrust faulting. The location, depth, and mechanism of the event are broadly consistent with slip on or near the boundary interface between the subducting Cocos oceanic plate and the North America plate. The broad-scale tectonics of the Pacific Coast of Mexico are controlled by the northeastward subduction of the Cocos plate beneath the North America plate at a rate of approximately 70 mm/yr.
While commonly plotted as points on maps, earthquakes the size of the September 19, 2022, event are more appropriately described as slip over a larger fault area. Earthquakes of this size and mechanism are typically about 90x40 km (length x width).
Earthquakes are a common occurrence along the Middle America subduction zone. In the preceding 50 years, there have been 13 other earthquakes M 6.5 or larger within 250 km of the September 19th event. This includes the 1995 M 8.0 event approximately 125 km to the northwest as well as the 1985 M 8.0 event approximately 80 km to the southeast. Both the 1985 M 8.0 event and a M 7.1 earthquake near Matzaco, Mexico, in 2017 occurred on the date September 19. Despite the coincidence, there is no specific date or time of year when Mexico is statistically more prone to seismic activity.
Source: USGS
Update Mon, 19 Sep 2022, 18:36
Very strong magnitude 7.6 earthquake 90 km southeast of Tecoman, Mexico
7.6 quake 37 Km SE of Aquila, Mexico, Sep 19, 2022 1:05 pm (GMT -5)
The United States Geological Survey reported a magnitude 7.6 quake in Mexico near Tecoman, Tecomán, Colima, 31 minutes ago. The earthquake hit around noon on Monday, September 19th, 2022, at 1:05 pm local time at a shallow depth of 15.1 km. Magnitude and other quake parameters can still change in the coming hours as the agency continues to process seismic data.
A second report was later issued by the citizen-seismograph network of RaspberryShake, which listed it as a magnitude 7.6 earthquake as well. Other agencies reporting the same quake include Geoscience Australia (GeoAu) at magnitude 7.5, Italy's National Institute of Geophysics and Volcanology (INGV) at magnitude 7.5, the European-Mediterranean Seismological Centre (EMSC) at magnitude 7.3, and the German Research Centre for Geosciences (GFZ) at magnitude 7.5.
Generally quakes of this magnitude are recorded by more than one agency and the results can vary, with subsequent reports that come in after the first one often showing more accuracy.
If the preliminary data about magnitude and depth are correct, the quake was extremely dangerous. It has the potential to cause catastrophic impacts on people and infrastructure, probably involving severe and wide-spread damage, especially in areas near the epicenter.
Moderate shaking probably occurred in Apatzingan (pop. 99,000) located 124 km from the epicenter, and Uruapan (pop. 264,400) 171 km away.
VolcanoDiscovery will automatically update magnitude and depth if these change and follow up if other significant news about the quake become available. If you're in the area, please send us your experience through our reporting mechanism, either
online
or via
our mobile app
. This will help us provide more first-hand updates to anyone around the globe who wants to know more about this quake.
Earthquake details
Date & time
Sep 19, 2022 18:05:09 UTC -
Local time

at epicenter

Monday, Sep 19, 2022 at 1:05 pm (GMT -5)
Status
Confirmed
Magnitude
7.7
Depth
15.0 km
Epicenter

latitude / longitude

18.22°N / 103.29°W (North Pacific Ocean, Mexico)
Antipode
18.22°S / 76.71°E
Shaking

intensity

Severe shaking near epicenter
Felt
0 reports
Primary data source
SSN (Servicio Sismológico Nacional)
Nearest volcano
Colima (148 km / 92 mi)
Nearby

towns and cities

9 km (6 mi) SE of Maruata (pop: 590) |

Show on map

| Quakes nearby
64 km (39 mi) SSW of Matamoros (Centro) (pop: 10,800) |

Show on map

| Quakes nearby
99 km (62 mi) SE of Tecoman (pop: 85,700) |

Show on map

| Quakes nearby
116 km (72 mi) WNW of Lazaro Cardenas (pop: 79,200) |

Show on map

| Quakes nearby
123 km (77 mi) SSE of Colima (pop: 137,400) |

Show on map

| Quakes nearby
126 km (78 mi) SSE of Ciudad de Villa de Alvarez (pop: 117,600) |

Show on map

| Quakes nearby
186 km (115 mi) SW of Uruapan (pop: 264,400) |

Show on map

| Quakes nearby
458 km (285 mi) WSW of Mexico (pop: 12,294,200) |

Show on map

| Quakes nearby
Estimated

seismic

energy

released

2.2 x 1016 joules (6219 gigawatt hours, equivalent to 5.4 x 106 tons of TNT or 334.4 atomic bombs!) | about seismic energy
Data for the same earthquake reported by different agencies
Info: The more agencies report about the same quake and post similar data, the more confidence you can have in the data. It takes normally up to a few hours until earthquake parameters are calculated with near-optimum precision.
| | | | |
| --- | --- | --- | --- |
| Mag. | Depth | Location | Source |
| 7.7 | 15 km | Mexico: 63 Km Al SUR De COALCOMAN, MICH | SSN |
| 7.6 | 20 km | Michoacan, Mexico | GFZ |
| 7.6 | 25 km | MICHOACAN, MEXICO | EMSC |
| 7.5 | 72 km | Michoacan, Mexico [Land: Mexico] | INGV |
| 7.4 | 40 km | Michoacan, Mexico | GeoAu |
| 7.6 | 15 km | Near Coast of Michoacan, Mexico | RaspberryShake |
| 7.6 | 10 km | Near Coast Of Michoacan, Mexico | IRIS |
| 7.1 | 10 km | Mexico: Near Uruapan | RENASS |
| 7.6 | 15 km | 37 Km SE of Aquila, Mexico | USGS |
Seismograms
Seismic station: Sierra la Laguna Baja California Sur, Mexico (SLBS/IU network)
| Distance from quake: 920 km / 572 mi |
Show on map
|
Station Info
Seismogram (vertical component) around time of quake. Thin dotted red line indicates time of quake. Seismic waves arrive some time later, depending on distance. Source:
IRIS Buffer of Uniform Data (BUD) webtool
User reports for this quake
There are no user reports for this quake.
Aftershocks
[More info]
Recorded aftershocks, latest first (165 quakes)
Date and time
Mag
Depth
Location
Details
Sep 29, 2022 22:00


21 hours ago

3.5


11 km
North Pacific Ocean, 30 km SE of Maruata, Aquila, Michoacan, Mexico
More
Sep 29, 2022 21:30


22 hours ago

3.3


39 km
15 km NE of Matamoros, Coalcoman de Vazquez Pallares, Michoacan, Mexico
More
Sep 29, 2022 21:23


22 hours ago

3.5


10 km
North Pacific Ocean, 29 km S of San Pedro Naranjestil, Aquila, Michoacan, Mexico
More
Sep 29, 2022 21:04


22 hours ago

3.1


5 km
Jalisco, 30 km N of Manzanillo, Colima, Mexico
More
Sep 29, 2022 19:32


24 hours ago

3.3


2 km
10.6 km SW of Matamoros, Coalcoman de Vazquez Pallares, Michoacan, Mexico
More
Sep 29, 2022 18:46


1 day 1 hours ago

3.3


14 km
North Pacific Ocean, 16 km S of Maruata, Aquila, Michoacan, Mexico
More
Sep 29, 2022 18:11


1 day 1 hours ago

2.9


33 km
11 km E of Aquila, Michoacan, Mexico
More
Sep 29, 2022 17:39


1 day 2 hours ago

3.3


3 km
54 km SW of Aguililla, Michoacan, Mexico
More
Sep 29, 2022 17:07


1 day 2 hours ago

3.2


4 km
45 km SE of Aquila, Michoacan, Mexico
More
Sep 29, 2022 16:08


1 day 3 hours ago

3.1


12 km
8.4 km W of Matamoros, Coalcoman de Vazquez Pallares, Michoacan, Mexico
More
Sep 29, 2022 15:55


1 day 4 hours ago

3.1


20 km
34 km SW of Matamoros, Coalcoman de Vazquez Pallares, Michoacan, Mexico
More
Sep 29, 2022 15:35


1 day 4 hours ago

4.1


5 km
7.1 km SW of Cd. Guzman, Zapotlan El Grande, Jalisco, Mexico
More
Sep 29, 2022 11:31


1 day 8 hours ago

4.0


14 km
North Pacific Ocean, 59 km S of Aquila, Michoacan, Mexico
More
Sep 29, 2022 09:56


1 day 10 hours ago

3.8


52 km
34 km S of Matamoros, Coalcoman de Vazquez Pallares, Michoacan, Mexico
More
Sep 29, 2022 09:53


1 day 10 hours ago

3.7


8 km
North Pacific Ocean, 57 km SE of La Placita de Morelos, Mexico
More
Sep 29, 2022 09:52


1 day 10 hours ago

3.2


30 km
North Pacific Ocean, 38 km S of La Loma, Coahuayana, Michoacan, Mexico
More
Sep 29, 2022 09:51


1 day 10 hours ago

4.3


46 km
Michoacan, 79 km SE of Tecoman, Colima, Mexico
More
Sep 29, 2022 09:42


1 day 10 hours ago

3.7


9 km
North Pacific Ocean, 42 km S of La Placita de Morelos, Aquila, Michoacan, Mexico
More
Sep 29, 2022 09:27


1 day 10 hours ago

3.5


2 km
North Pacific Ocean, 58 km SE of La Placita de Morelos, Mexico
More
Sep 29, 2022 09:19


1 day 10 hours ago

3.7


10 km
North Pacific Ocean, 68 km SE of La Placita de Morelos, Mexico
More
Sep 29, 2022 09:18


1 day 10 hours ago

3.6


4 km
North Pacific Ocean, 43 km S of La Loma, Coahuayana, Michoacan, Mexico
More
Sep 29, 2022 09:12


1 day 10 hours ago

3.6


8 km
North Pacific Ocean, 44 km S of La Placita de Morelos, Aquila, Michoacan, Mexico
More
Sep 29, 2022 04:33


1 day 15 hours ago

4.1


2 km
North Pacific Ocean, 69 km SE of La Loma, Coahuayana, Michoacan, Mexico
More
Sep 29, 2022 04:09


1 day 15 hours ago

4.0


15 km
North Pacific Ocean, 126 km W of Lazaro Cardenas, Michoacan, Mexico
More
Sep 28, 2022 21:59


1 day 22 hours ago

3.2


16 km
19 km E of La Loma, Coahuayana, Michoacan, Mexico
More
Sep 28, 2022 21:47


1 day 22 hours ago

3.3


32 km
North Pacific Ocean, 21 km SW of La Loma, Coahuayana, Michoacan, Mexico
More
Sep 28, 2022 21:29


1 day 22 hours ago

3.5


9 km
7.9 km N of Acapulco, Guerrero, Mexico
More
Sep 28, 2022 21:14


1 day 22 hours ago

3.8


11 km
North Pacific Ocean, 67 km SE of La Placita de Morelos, Mexico
More
Sep 28, 2022 20:41


1 day 23 hours ago

2.7


29 km
25 km S of Matamoros, Coalcoman de Vazquez Pallares, Michoacan, Mexico
More
Sep 28, 2022 20:30


1 day 23 hours ago

3.8


5 km
26 km SE of Acapulco, Guerrero, Mexico
More
Sep 28, 2022 20:07


1 day 23 hours ago

4.1


9 km
North Pacific Ocean, 55 km S of La Loma, Coahuayana, Michoacan, Mexico
More
Sep 28, 2022 20:04


1 day 23 hours ago

3.3


25 km
North Pacific Ocean, 52 km SE of La Placita de Morelos, Mexico
More
Sep 28, 2022 19:27


2 days ago

3.7


2 km
North Pacific Ocean, 48 km S of La Placita de Morelos, Aquila, Michoacan, Mexico
More
Sep 28, 2022 18:47


2 days ago

3.3


17 km
North Pacific Ocean, 14 km S of Maruata, Aquila, Michoacan, Mexico
More
Sep 28, 2022 18:38


2 days ago

3.6


8 km
North Pacific Ocean, 50 km S of La Placita de Morelos, Aquila, Michoacan, Mexico
More
Sep 28, 2022 15:53


2 days ago

4.1


12 km
North Pacific Ocean, 54 km S of Aquila, Michoacan, Mexico
More
Sep 28, 2022 12:52


2 days ago

4.0


6 km
North Pacific Ocean, 59 km S of Aquila, Michoacan, Mexico
More
Sep 28, 2022 10:39


2 days ago

4.3


10 km
North Pacific Ocean, 50 km SE of La Placita de Morelos, Mexico
More
Sep 28, 2022 10:02


2 days ago

4.0


10 km
North Pacific Ocean, 61 km SE of Aquila, Michoacan, Mexico
More
Sep 28, 2022 09:48


2 days ago

3.3


34 km
11 km N of Matamoros, Coalcoman de Vazquez Pallares, Michoacan, Mexico
More
Sep 28, 2022 09:36


2 days ago

4.1


12 km
North Pacific Ocean, 62 km SE of Aquila, Michoacan, Mexico
More
Sep 28, 2022 09:28


2 days ago

3.6


36 km
6.7 km N of Colima, Mexico
More
Sep 28, 2022 08:57


2 days ago

3.7


9 km
North Pacific Ocean, 60 km SE of La Placita de Morelos, Mexico
More
Sep 28, 2022 08:38


2 days ago

3.6


10 km
North Pacific Ocean, 34 km S of Tecoman, Colima, Mexico
More
Sep 28, 2022 08:24


2 days ago

3.6


9 km
North Pacific Ocean, 59 km SE of La Placita de Morelos, Mexico
More
Sep 28, 2022 08:16


2 days ago

3.7


8 km
North Pacific Ocean, 59 km SE of La Placita de Morelos, Mexico
More
Sep 28, 2022 08:15


2 days ago

3.5


12 km
North Pacific Ocean, 57 km SE of La Placita de Morelos, Mexico
More
Sep 28, 2022 08:04


2 days ago

3.7


10 km
North Pacific Ocean, 46 km S of La Placita de Morelos, Aquila, Michoacan, Mexico
More
Sep 28, 2022 07:19


3 days ago

3.6


13 km
North Pacific Ocean, 54 km SE of La Placita de Morelos, Mexico
More
Sep 28, 2022 06:56


3 days ago

3.6


10 km
North Pacific Ocean, 23 km S of Maruata, Aquila, Michoacan, Mexico
More
Sep 28, 2022 06:54


3 days ago

4.0


5 km
North Pacific Ocean, 59 km SE of Aquila, Michoacan, Mexico
More
Sep 28, 2022 03:43


3 days ago

4.1


5 km
North Pacific Ocean, 69 km S of Aguililla, Michoacan, Mexico
More
Sep 27, 2022 21:37


3 days ago

3.4


15 km
Jalisco, 21 km NW of Colima, Mexico
More
Sep 27, 2022 21:35


3 days ago

3.5


10 km
North Pacific Ocean, 39 km S of San Pedro Naranjestil, Aquila, Michoacan, Mexico
More
Sep 27, 2022 21:19


3 days ago

3.4


13 km
North Pacific Ocean, 16 km S of Maruata, Aquila, Michoacan, Mexico
More
Sep 27, 2022 21:07


3 days ago

3.8


7 km
North Pacific Ocean, 58 km SE of La Placita de Morelos, Mexico
More
Sep 27, 2022 21:00


3 days ago

3.4


12 km
North Pacific Ocean, 34 km S of Atoyac de Alvarez, Guerrero, Mexico
More
Sep 27, 2022 20:10


3 days ago

3.5


6 km
46 km SE of Aquila, Michoacan, Mexico
More
Sep 27, 2022 20:01


3 days ago

3.4


31 km
Jalisco, 22 km N of Manzanillo, Colima, Mexico
More
Sep 27, 2022 19:59


3 days ago

3.4


3 km
North Pacific Ocean, 21 km S of Maruata, Aquila, Michoacan, Mexico
More
Sep 27, 2022 19:37


3 days ago

3.7


13 km
North Pacific Ocean, 52 km SE of La Placita de Morelos, Mexico
More
Sep 27, 2022 19:35


3 days ago

3.7


2 km
North Pacific Ocean, 23 km S of Maruata, Aquila, Michoacan, Mexico
More
Sep 27, 2022 19:09


3 days ago

3.9


10 km
North Pacific Ocean, 59 km SE of La Placita de Morelos, Mexico
More
Sep 27, 2022 17:59


3 days ago

4.0


23 km
North Pacific Ocean, 64 km S of Matamoros, Mexico
More
Sep 27, 2022 15:32


3 days ago

4.3


16 km
North Pacific Ocean, 78 km S of Manzanillo, Colima, Mexico
More
Sep 27, 2022 13:30


3 days ago

4.0


14 km
North Pacific Ocean, 47 km S of Ixtapa Zihuatanejo, Mexico
More
Sep 27, 2022 09:55


3 days ago

3.3


8 km
North Pacific Ocean, 19 km S of San Pedro Naranjestil, Aquila, Michoacan, Mexico
More
Sep 27, 2022 09:37


3 days ago

2.9


19 km
North Pacific Ocean, 51 km SE of La Placita de Morelos, Mexico
More
Sep 27, 2022 09:25


3 days ago

3.8


48 km
7.5 km SW of Arcelia, Guerrero, Mexico
More
Sep 27, 2022 09:21


3 days ago

3.3


2 km
18 km N of Acapulco, Guerrero, Mexico
More
Sep 27, 2022 08:55


3 days ago

3.9


10 km
North Pacific Ocean, 36 km S of Tecoman, Colima, Mexico
More
Sep 27, 2022 08:37


3 days ago

3.4


28 km
North Pacific Ocean, 37 km SE of La Placita de Morelos, Mexico
More
Sep 27, 2022 08:35


3 days ago

4.0


13 km
North Pacific Ocean, 55 km S of Aquila, Michoacan, Mexico
More
Sep 27, 2022 08:17


3 days ago

3.4


9 km
North Pacific Ocean, 25 km S of La Placita de Morelos, Aquila, Michoacan, Mexico
More
Sep 27, 2022 08:09


3 days ago

3.4


5 km
North Pacific Ocean, 24 km S of Maruata, Aquila, Michoacan, Mexico
More
Sep 27, 2022 07:59


3 days ago

3.4


12 km
North Pacific Ocean, 35 km S of Tecoman, Colima, Mexico
More
Sep 27, 2022 05:30


4 days ago

4.0


7 km
59 km S of Aquila, Michoacan, Mexico
More
Sep 26, 2022 23:33


4 days ago

4.0


2 km
North Pacific Ocean, 65 km SE of Aquila, Michoacan, Mexico
More
Sep 26, 2022 22:01


4 days ago

4.0


7 km
North Pacific Ocean, 39 km S of Tecoman, Colima, Mexico
More
Sep 26, 2022 21:05


4 days ago

3.7


5 km
North Pacific Ocean, 63 km SE of Aquila, Michoacan, Mexico
More
Sep 26, 2022 21:05


4 days ago

3.7


5 km
North Pacific Ocean, 63 km SE of Aquila, Michoacan, Mexico
More
Sep 26, 2022 20:52


4 days ago

3.3


10 km
North Pacific Ocean, 24 km SE of Maruata, Aquila, Michoacan, Mexico
More
Sep 26, 2022 20:49


4 days ago

3.3


4 km
North Pacific Ocean, 32 km S of La Placita de Morelos, Aquila, Michoacan, Mexico
More
Sep 26, 2022 20:32


4 days ago

3.0


5 km
10.6 km SW of Matamoros, Coalcoman de Vazquez Pallares, Michoacan, Mexico
More
Sep 26, 2022 19:55


4 days ago

3.5


10 km
North Pacific Ocean, 37 km S of Colola, Aquila, Michoacan, Mexico
More
Sep 26, 2022 19:50


4 days ago

3.5


27 km
North Pacific Ocean, 47 km S of Aquila, Michoacan, Mexico
More
Sep 26, 2022 19:31


4 days ago

3.1


17 km
North Pacific Ocean, 71 km S of Tecoman, Colima, Mexico
More
Sep 26, 2022 19:24


4 days ago

3.2


1 km
45 km SE of Aquila, Michoacan, Mexico
More
Sep 26, 2022 19:17


4 days ago

3.9


12 km
North Pacific Ocean, 40 km S of San Pedro Naranjestil, Aquila, Michoacan, Mexico
More
Sep 26, 2022 19:03


4 days ago

3.3


4 km
North Pacific Ocean, 25 km S of Maruata, Aquila, Michoacan, Mexico
More
Sep 26, 2022 09:43


4 days ago

3.5


3 km
48 km S of Matamoros, Coalcoman de Vazquez Pallares, Michoacan, Mexico
More
Sep 26, 2022 09:01


4 days ago

3.4


5 km
1.9 km SW of La Placita de Morelos, Aquila, Michoacan, Mexico
More
Sep 26, 2022 08:52


4 days ago

3.8


5 km
North Pacific Ocean, 62 km SE of La Placita de Morelos, Mexico
More
Sep 26, 2022 08:49


4 days ago

3.4


4 km
North Pacific Ocean, 23 km S of Maruata, Aquila, Michoacan, Mexico
More
Sep 26, 2022 08:46


4 days ago

3.6


9 km
North Pacific Ocean, 59 km SE of La Placita de Morelos, Mexico
More
Sep 26, 2022 07:43


4 days ago

3.7


2 km
North Pacific Ocean, 50 km SE of La Placita de Morelos, Mexico
More
Sep 26, 2022 07:39


4 days ago

3.8


4 km
North Pacific Ocean, 61 km SE of La Placita de Morelos, Mexico
More
Sep 26, 2022 07:36


4 days ago

3.3


9 km
29 km E of Acapulco, Guerrero, Mexico
More
Sep 26, 2022 07:25


5 days ago

3.8


10 km
North Pacific Ocean, 58 km SE of La Placita de Morelos, Mexico
More
Sep 26, 2022 07:19


5 days ago

3.4


11 km
21 km W of Matamoros, Coalcoman de Vazquez Pallares, Michoacan, Mexico
More
Sep 26, 2022 06:05


5 days ago

-

felt

4.0


3 km
North Pacific Ocean, 65 km SE of Aquila, Michoacan, Mexico
More
Sep 26, 2022 03:27


5 days ago

3.8


2 km
North Pacific Ocean, 8.7 km W of Acapulco, Guerrero, Mexico
More
Sep 25, 2022 21:58


5 days ago

3.3


9 km
North Pacific Ocean, 39 km S of Tecoman, Colima, Mexico
More
Sep 25, 2022 21:55


5 days ago

3.4


10 km
North Pacific Ocean, 27 km S of San Pedro Naranjestil, Aquila, Michoacan, Mexico
More
Sep 25, 2022 21:49


5 days ago

3.4


10 km
North Pacific Ocean, 16 km S of Maruata, Aquila, Michoacan, Mexico
More
Sep 25, 2022 21:38


5 days ago

3.1


2 km
North Pacific Ocean, 40 km S of Tecoman, Colima, Mexico
More
Sep 25, 2022 21:24


5 days ago

3.2


10 km
North Pacific Ocean, 29 km S of Tecoman, Colima, Mexico
More
Sep 25, 2022 21:10


5 days ago

3.6


56 km
49 km SW of Chilpancingo de los Bravo, Guerrero, Mexico
More
Sep 25, 2022 21:06


5 days ago

3.5


13 km
52 km SE of Aquila, Michoacan, Mexico
More
Sep 25, 2022 20:35


5 days ago

3.4


3 km
36 km SE of Autlan de Navarro, Jalisco, Mexico
More
Sep 25, 2022 20:34


5 days ago

3.8


2 km
35 km W of Colima, Mexico
More
Sep 25, 2022 20:26


5 days ago

3.4


16 km
North Pacific Ocean, 31 km S of Tecoman, Colima, Mexico
More
Sep 25, 2022 20:19


5 days ago

3.3


53 km
37 km S of Matamoros, Coalcoman de Vazquez Pallares, Michoacan, Mexico
More
Sep 25, 2022 20:16


5 days ago

3.7


2 km
North Pacific Ocean, 48 km SE of La Placita de Morelos, Mexico
More
Sep 25, 2022 13:20


5 days ago

4.1


13 km
North Pacific Ocean, 122 km W of Lazaro Cardenas, Michoacan, Mexico
More
Sep 25, 2022 11:19


5 days ago

4.0


7 km
North Pacific Ocean, 40 km W of Acapulco, Guerrero, Mexico
More
Sep 25, 2022 09:54


5 days ago

-

felt

4.0


10 km
24 km SE of Acapulco, Guerrero, Mexico
More
Sep 25, 2022 09:43


5 days ago

3.7


22 km
North Pacific Ocean, 48 km SW of La Loma, Coahuayana, Michoacan, Mexico
More
Sep 25, 2022 09:42


5 days ago

3.8


10 km
North Pacific Ocean, Mexico
More
Sep 25, 2022 09:30


5 days ago

3.5


10 km
North Pacific Ocean, 45 km S of La Placita de Morelos, Aquila, Michoacan, Mexico
More
Sep 25, 2022 09:30


5 days ago

3.4


10 km
North Pacific Ocean, 19 km S of Colola, Aquila, Michoacan, Mexico
More
Sep 25, 2022 09:28


5 days ago

3.5


5 km
49 km S of Matamoros, Coalcoman de Vazquez Pallares, Michoacan, Mexico
More
Sep 25, 2022 09:26


5 days ago

3.1


5 km
North Pacific Ocean, 21 km SW of Colola, Aquila, Michoacan, Mexico
More
Sep 25, 2022 09:09


5 days ago

3.6


6 km
North Pacific Ocean, 14 km SW of Huahua, Aquila, Michoacan, Mexico
More
Sep 25, 2022 08:56


5 days ago

3.7


5 km
North Pacific Ocean, 55 km SE of La Placita de Morelos, Mexico
More
Sep 25, 2022 08:28


5 days ago

3.4


2 km
North Pacific Ocean, 16 km SE of Maruata, Aquila, Michoacan, Mexico
More
Sep 25, 2022 08:19


5 days ago

3.7


13 km
North Pacific Ocean, 29 km S of San Pedro Naranjestil, Aquila, Michoacan, Mexico
More
Sep 25, 2022 05:03


6 days ago

4.0


46 km
9.6 km N of Ixtapa Zihuatanejo, Zihuatanejo de Azueta, Guerrero, Mexico
More
Sep 25, 2022 04:45


6 days ago

4.0


5 km
North Pacific Ocean, 67 km SE of Aquila, Michoacan, Mexico
More
Sep 24, 2022 21:53


6 days ago

3.3


9 km
North Pacific Ocean, 25 km S of San Pedro Naranjestil, Aquila, Michoacan, Mexico
More
Sep 24, 2022 20:45


6 days ago

3.4


4 km
North Pacific Ocean, 25 km SE of Maruata, Aquila, Michoacan, Mexico
More
Sep 24, 2022 20:36


6 days ago

3.6


16 km
North Pacific Ocean, 77 km S of Tecoman, Colima, Mexico
More
Sep 24, 2022 20:33


6 days ago

3.6


9 km
North Pacific Ocean, 22 km S of San Pedro Naranjestil, Aquila, Michoacan, Mexico
More
Sep 24, 2022 20:28


6 days ago

3.8


10 km
North Pacific Ocean, 19 km S of San Pedro Naranjestil, Aquila, Michoacan, Mexico
More
Sep 24, 2022 20:17


6 days ago

3.4


5 km
North Pacific Ocean, 21 km SW of San Pedro Naranjestil, Mexico
More
Sep 24, 2022 19:55


6 days ago

3.4


5 km
North Pacific Ocean, 20 km SE of Maruata, Aquila, Michoacan, Mexico
More
Sep 24, 2022 19:53


6 days ago

3.3


18 km
North Pacific Ocean, 15 km S of Maruata, Aquila, Michoacan, Mexico
More
Sep 24, 2022 19:10


6 days ago

3.4


13 km
41 km S of Matamoros, Coalcoman de Vazquez Pallares, Michoacan, Mexico
More
Sep 24, 2022 19:06


6 days ago

3.8


7 km
North Pacific Ocean, 22 km S of Maruata, Aquila, Michoacan, Mexico
More
Sep 24, 2022 18:46


6 days ago

4.0


8 km
23 km E of Petatlan, Guerrero, Mexico
More
Sep 24, 2022 18:20


6 days ago

3.3


5 km
42 km SE of Aquila, Michoacan, Mexico
More
Sep 24, 2022 11:00


6 days ago

4.0


10 km
North Pacific Ocean, 52 km S of La Placita de Morelos, Aquila, Michoacan, Mexico
More
Sep 24, 2022 10:05


6 days ago

4.5


9 km
North Pacific Ocean, 58 km S of Aquila, Michoacan, Mexico
More
Sep 24, 2022 09:56


6 days ago

3.4


23 km
North Pacific Ocean, 15 km S of Maruata, Aquila, Michoacan, Mexico
More
Sep 24, 2022 09:37


6 days ago

3.7


5 km
North Pacific Ocean, 62 km SE of La Placita de Morelos, Mexico
More
Sep 24, 2022 09:31


6 days ago

3.3


7 km
North Pacific Ocean, 22 km S of Maruata, Aquila, Michoacan, Mexico
More
Sep 24, 2022 09:18


6 days ago

3.6


6 km
North Pacific Ocean, 64 km SE of La Placita de Morelos, Mexico
More
Sep 24, 2022 09:15


6 days ago

3.4


9 km
North Pacific Ocean, 22 km SE of Maruata, Aquila, Michoacan, Mexico
More
Sep 24, 2022 07:28


7 days ago

3.1


43 km
35 km W of Colima, Mexico
More
Sep 23, 2022 21:53


7 days ago

3.4


5 km
42 km SE of Aquila, Michoacan, Mexico
More
Sep 23, 2022 21:42


7 days ago

3.3


3 km
North Pacific Ocean, 39 km W of Acapulco, Guerrero, Mexico
More
Sep 23, 2022 21:39


7 days ago

3.7


6 km
58 km SE of Aquila, Michoacan, Mexico
More
Sep 23, 2022 20:58


7 days ago

3.9


2 km
North Pacific Ocean, 13 km SE of Acapulco, Guerrero, Mexico
More
Sep 23, 2022 20:57


7 days ago

3.4


5 km
North Pacific Ocean, 23 km S of San Pedro Naranjestil, Aquila, Michoacan, Mexico
More
Sep 23, 2022 20:50


7 days ago

3.6


2 km
46 km S of Matamoros, Coalcoman de Vazquez Pallares, Michoacan, Mexico
More
Sep 23, 2022 20:45


7 days ago

3.2


2 km
North Pacific Ocean, 40 km W of Acapulco, Guerrero, Mexico
More
Sep 23, 2022 20:43


7 days ago

3.1


51 km
16 km W of Matamoros, Coalcoman de Vazquez Pallares, Michoacan, Mexico
More
Sep 23, 2022 20:33


7 days ago

-

felt

3.7


8 km
5.1 km SE of Los Reyes de Salgado, Michoacan, Mexico
More
Sep 23, 2022 20:32


7 days ago

3.8


12 km
North Pacific Ocean, 29 km S of Atoyac de Alvarez, Guerrero, Mexico
More
Sep 23, 2022 20:27


7 days ago

-

felt

3.8


8 km
4 km NE of Los Reyes de Salgado, Michoacan, Mexico
More
Sep 23, 2022 18:25


7 days ago

-

felt

5.2


10 km
63 km S of Tecoman, Colima, Mexico
More
Sep 23, 2022 11:42


7 days ago

4.0


5 km
North Pacific Ocean, 63 km S of Matamoros, Mexico
More
Sep 23, 2022 09:54


7 days ago

3.6


5 km
North Pacific Ocean, 49 km S of La Placita de Morelos, Aquila, Michoacan, Mexico
More
Sep 23, 2022 08:29


7 days ago

3.8


5 km
North Pacific Ocean, 34 km SW of La Loma, Coahuayana, Michoacan, Mexico
More
Sep 23, 2022 07:57


7 days ago

4.0


10 km
North Pacific Ocean, 68 km S of Matamoros, Mexico
More
Earlier earthquakes in the same area since 1900
Date and time GMT
Mag
Depth
Distance
Location
Details
Jun 3, 1932 10:36


90 years ago

8.1


15 km
182km / 113mi
1 km NW of Jiquilpan, San Gabriel, Jalisco, Mexico
More
Oct 9, 1995 15:35


27 years ago

8.0


33 km
134km / 83mi
16 km SE of Manzanillo, Colima, Mexico
More
Sep 19, 1985 13:17


37 years ago

8.0


28 km
80km / 50mi
41 km NW of Lazaro Cardenas, Michoacan, Mexico
More
Jun 18, 1932 10:12


90 years ago

7.8


15 km
148km / 92mi
Arandas, Jalisco, 25 km NW of Ciudad de Villa de Alvarez, Colima, Mexico
More
Jun 22, 1932 12:59


90 years ago

7.7


25 km
162km / 100mi
Jalisco, 31 km NE of Manzanillo, Colima, Mexico
More
Jan 22, 2003 02:06


20 years ago

7.6


24 km
105km / 66mi
29 km SW of Tecoman, Colima, Mexico
More
Sep 21, 1985 01:37


37 years ago

7.6


31 km
180km / 112mi
20 km NW of Ixtapa Zihuatanejo, Zihuatanejo de Azueta, Guerrero, Mexico
More
Mar 14, 1979 11:07


44 years ago

7.6


49 km
218km / 135mi
35 km NE of Ixtapa Zihuatanejo, Zihuatanejo de Azueta, Guerrero, Mexico
More
Apr 15, 1941 19:09


82 years ago

7.6


30 km
61km / 38mi
3.8 km W of Varaloso, Coalcoman de Vazquez Pallares, Michoacan, Mexico
More
Jun 7, 1911 11:02


111 years ago

7.6


30 km
95km / 59mi
6.8 km W of Tumbiscatio de Ruiz, Michoacan, Mexico
More
Jan 30, 1973 21:01


50 years ago

7.5


43 km
42km / 26mi
95 km SW of Apatzingan, Michoacan, Mexico
More
Feb 22, 1943 09:20


80 years ago

7.4


20 km
212km / 132mi
23 km SE of Ixtapa Zihuatanejo, Zihuatanejo de Azueta, Guerrero, Mexico
More
Oct 25, 1981 03:22


41 years ago

7.3


33 km
129km / 80mi
Isla La Palma, Guerrero, 17 km NE of Lazaro Cardenas, Michoacan, Mexico
More
Jan 11, 1997 20:28


26 years ago

7.2


33 km
56km / 35mi
Arteaga, 63 km NW of Lazaro Cardenas, Michoacan, Mexico
More
Nov 30, 1934 02:05


88 years ago

7.1


15 km
212km / 132mi
120 km SW of Manzanillo, Colima, Mexico
More
Apr 30, 1986 07:07


36 years ago

7.0


27 km
39km / 24mi
Coalcoman de Vazquez Pallares, 93 km NW of Lazaro Cardenas, Michoacan, Mexico
More
Jul 15, 1996 21:23


26 years ago

6.8


18 km
256km / 159mi
33 km E of Petatlan, Guerrero, Mexico
More
Jun 29, 1935 06:48


87 years ago

6.8


25 km
66km / 41mi
10.9 km S of Boca de Apiza, Coahuayana, Mexico
More
Jul 25, 1932 09:12


90 years ago

6.8


20 km
96km / 60mi
13 km SW of Tecoman, Colima, Mexico
More
May 8, 1933 10:33


89 years ago

6.7


30 km
265km / 165mi
13 km NE of Papanoa, Técpan de Galeana, Guerrero, Mexico
More
Dec 13, 1933 21:23


89 years ago

6.6


20 km
132km / 82mi
59 km S of Manzanillo, Colima, Mexico
More
Dec 7, 1932 16:22


90 years ago

6.6


15 km
108km / 67mi
65 km SW of Tecoman, Colima, Mexico
More
Apr 11, 2012 22:55


10 years ago

6.5


20 km
64km / 39mi
24 km E of La Higuera, Aquila, Michoacan, Mexico
More
Aug 9, 2000 11:41


22 years ago

6.5


46 km
86km / 53mi
37 km NW of Lazaro Cardenas, Michoacan, Mexico
More
May 22, 1997 07:50


25 years ago

6.5


70 km
185km / 115mi
Churumuco, 94 km SE of Uruapan, Michoacan, Mexico
More
Dec 10, 1994 16:17


28 years ago

6.5


48 km
202km / 125mi
Coahuayutla de José Maria Izazaga, 58 km N of Ixtapa Zihuatanejo, Mexico
More
Sep 24, 2008 02:33


14 years ago

6.4


12 km
243km / 151mi
261 km SW of Colima, Mexico
More
Dec 11, 1995 14:09


27 years ago

6.4


20 km
243km / 151mi
121 km W of Manzanillo, Colima, Mexico
More
Jul 10, 1933 03:22


89 years ago

6.4


15 km
80km / 50mi
77 km S of Tecoman, Colima, Mexico
More
Apr 9, 1933 03:58


90 years ago

6.4


15 km
216km / 134mi
117 km SW of Manzanillo, Colima, Mexico
More
Aug 7, 1925 07:47


97 years ago

6.4


75 km
215km / 134mi
Turicato, 46 km W of Huetamo de Nuñez, Michoacan, Mexico
More
May 1, 1921 05:39


101 years ago

6.4


15 km
112km / 70mi
55 km SW of Tecoman, Colima, Mexico
More
May 20, 2001 04:21


21 years ago

6.3


33 km
139km / 86mi
35 km S of Manzanillo, Colima, Mexico
More
Jun 21, 1999 17:43


23 years ago

6.3


69 km
185km / 115mi
Coahuayutla de José Maria Izazaga, Guerrero, 82 km NE of Lazaro Cardenas, Mexico
More
May 11, 1938 14:44


84 years ago

6.3


20 km
279km / 174mi
78 km SW of Técpan de Galeana, Guerrero, Mexico
More
Dec 14, 1933 07:16


89 years ago

6.3


30 km
51km / 32mi
Chinicuila, Michoacan, 53 km SE of Tecoman, Colima, Mexico
More
Jun 7, 2016 10:51


6 years ago

6.2


10 km
202km / 125mi
North Pacific Ocean, 120 km SW of Manzanillo, Colima, Mexico
More
Apr 29, 2001 21:26


21 years ago

6.2


10 km
144km / 90mi
47 km SW of Manzanillo, Colima, Mexico
More
Oct 21, 1950 09:43


72 years ago

6.2


15 km
252km / 156mi
288 km SW of Colima, Mexico
More
Aug 11, 2006 14:30


16 years ago

6.1


56 km
239km / 149mi
19 km SW of Huetamo de Nuñez, Michoacan, Mexico
More
Jan 1, 2004 23:31


19 years ago

6.1


29 km
226km / 140mi
6.7 km SW of Petatlan, Guerrero, Mexico
More
May 19, 2003 16:27


19 years ago

6.1


10 km
243km / 151mi
212 km SW of Manzanillo, Colima, Mexico
More
Dec 11, 1995 19:44


27 years ago

6.1


20 km
238km / 148mi
137 km SW of Manzanillo, Colima, Mexico
More
Jan 26, 1974 05:35


49 years ago

6.1


33 km
43km / 27mi
Aquila, Michoacan, 62 km SE of Tecoman, Colima, Mexico
More
Jan 22, 1973 00:37


50 years ago

6.1


33 km
182km / 113mi
87 km SW of Manzanillo, Colima, Mexico
More
Apr 26, 1968 17:47


54 years ago

6.1


30 km
37km / 23mi
1.6 km E of El Duin, Aquila, Michoacan, Mexico
More
Apr 20, 1998 22:59


24 years ago

6.0


67 km
223km / 138mi
Guerrero, 34 km W of Huetamo de Nuñez, Michoacan, Mexico
More
Oct 12, 1995 16:52


27 years ago

6.0


16 km
101km / 63mi
19 km SW of Tecoman, Colima, Mexico
More
Oct 18, 1973 10:49


49 years ago

6.0


45 km
219km / 136mi
Jalisco, 73 km NW of Manzanillo, Colima, Mexico
More
Apr 22, 2013 01:16


9 years ago

5.9


29 km
128km / 80mi
Guerrero, 21 km NE of Las Guacamayas, Lazaro Cardenas, Michoacan, Mexico
More
Jan 22, 2003 19:41


20 years ago

5.9


10 km
132km / 82mi
33 km S of Manzanillo, Colima, Mexico
More
May 5, 1986 05:46


36 years ago

5.9


38 km
67km / 42mi
Arteaga, 50 km NW of Lazaro Cardenas, Michoacan, Mexico
More
Oct 29, 1985 15:02


37 years ago

5.9


39 km
79km / 49mi
40 km NW of Lazaro Cardenas, Michoacan, Mexico
More
Nov 15, 1975 15:28


47 years ago

5.9


33 km
117km / 73mi
29 km N of Lazaro Cardenas, Michoacan, Mexico
More
Mar 21, 1964 15:08


59 years ago

5.9


35 km
20km / 13mi
3.5 km E of Motin del Oro, Aquila, Michoacan, Mexico
More
Feb 20, 2013 21:23


10 years ago

5.8


16 km
77km / 48mi
North Pacific Ocean, 31 km S of Tecoman, Colima, Mexico
More
Oct 6, 1995 05:13


27 years ago

5.8


33 km
136km / 84mi
26 km S of Manzanillo, Colima, Mexico
More
Sep 25, 1985 07:43


37 years ago

5.7


30 km
58km / 36mi
61 km NW of Lazaro Cardenas, Michoacan, Mexico
More
Mar 9, 1981 22:38


42 years ago

5.7


56 km
94km / 58mi
10 km S of Tecoman, Colima, Mexico
More
Apr 11, 1966 17:17


57 years ago

5.7


30 km
78km / 49mi
10.6 km NW of Los Llanos del Bejuco (El Bejuco), Mexico
More
Feb 28, 2005 01:05


18 years ago

5.6


10 km
150km / 93mi
47 km SW of Manzanillo, Colima, Mexico
More
Jul 3, 1973 03:59


49 years ago

5.6


125 km
182km / 113mi
41 km SE of Uruapan, Michoacan, Mexico
More
Feb 10, 1973 11:53


50 years ago

5.6


33 km
79km / 49mi
Chinicuila, Michoacan, 45 km SE of Colima, Mexico
More
Jun 4, 1960 02:27


62 years ago

5.6


50 km
197km / 122mi
1.2 km N of Plazola, La Huerta, Jalisco, Mexico
More
Feb 9, 2018 14:05


5 years ago

5.5


26 km
163km / 101mi
North Pacific Ocean, 24 km W of Manzanillo, Colima, Mexico
More
Oct 23, 2016 22:59


6 years ago

5.5


10 km
165km / 103mi
North Pacific Ocean, 28 km W of Manzanillo, Colima, Mexico
More
Nov 19, 2006 06:59


16 years ago

5.5


18 km
129km / 80mi
74 km S of Manzanillo, Colima, Mexico
More
Jan 22, 2003 20:15


20 years ago

5.5


10 km
137km / 85mi
44 km S of Manzanillo, Colima, Mexico
More
May 8, 2001 05:15


21 years ago

5.5


33 km
111km / 69mi
34 km SW of Tecoman, Colima, Mexico
More
Jan 16, 1997 21:41


26 years ago

5.5


28 km
66km / 41mi
50 km W of Lazaro Cardenas, Michoacan, Mexico
More
Jan 25, 1996 12:45


27 years ago

5.5


77 km
127km / 79mi
69 km S of Apatzingan, Michoacan, Mexico
More
Dec 8, 1989 02:26


33 years ago

5.5


67 km
163km / 101mi
14 km NW of Manzanillo, Colima, Mexico
More
Dec 8, 1983 10:21


39 years ago

5.5


68 km
83km / 52mi
Tumbiscatio, 65 km S of Apatzingan, Michoacan, Mexico
More
Sep 29, 1978 16:21


44 years ago

5.5


96 km
117km / 73mi
Tumbiscatio, 54 km S of Apatzingan, Michoacan, Mexico
More
Dec 1, 2000 14:07


22 years ago

5.4


33 km
99km / 62mi
29 km NW of Lazaro Cardenas, Michoacan, Mexico
More
Mar 7, 2000 04:32


23 years ago

5.4


10 km
141km / 88mi
15 km E of Manzanillo, Colima, Mexico
More
Jan 29, 1990 02:41


33 years ago

5.4


39 km
79km / 49mi
Arteaga, 48 km NW of Lazaro Cardenas, Michoacan, Mexico
More
Jul 26, 1981 05:14


41 years ago

5.4


29 km
148km / 92mi
Guerrero, 44 km NE of Lazaro Cardenas, Michoacan, Mexico
More
Aug 13, 2006 15:14


16 years ago

5.3


21 km
33km / 20mi
Michoacan, 66 km SE of Tecoman, Colima, Mexico
More
Jul 31, 2006 18:25


16 years ago

5.3


10 km
78km / 49mi
33 km S of Tecoman, Colima, Mexico
More
Jun 16, 2001 03:46


21 years ago

5.3


29 km
69km / 43mi
48 km W of Lazaro Cardenas, Michoacan, Mexico
More
Aug 15, 1999 04:11


23 years ago

5.3


86 km
100km / 62mi
Tecalitlan, 77 km SE of Cd. Guzman, Zapotlan El Grande, Jalisco, Mexico
More
May 9, 1996 21:54


26 years ago

5.3


33 km
146km / 91mi
13 km SW of Manzanillo, Colima, Mexico
More
Sep 29, 1992 19:15


30 years ago

5.3


95 km
131km / 81mi
Tecalitlan, 39 km SE of Cd. Guzman, Zapotlan El Grande, Jalisco, Mexico
More
Jan 19, 1988 16:00


35 years ago

5.3


78 km
76km / 47mi
Coalcoman de Vazquez Pallares, Michoacan, 89 km E of Tecoman, Colima, Mexico
More
Sep 27, 1987 08:30


35 years ago

5.3


33 km
50km / 31mi
84 km S of Tecoman, Colima, Mexico
More
May 21, 2004 04:10


18 years ago

5.2


53 km
51km / 32mi
71 km NW of Lazaro Cardenas, Michoacan, Mexico
More
Apr 11, 2000 18:35


22 years ago

5.2


79 km
88km / 55mi
Arteaga, 49 km NW of Lazaro Cardenas, Michoacan, Mexico
More
May 28, 1985 19:27


37 years ago

5.2


106 km
169km / 105mi
La Huacana, 60 km S of Uruapan, Michoacan, Mexico
More
Oct 25, 1981 03:35


41 years ago

5.2


33 km
81km / 51mi
58 km SW of Lazaro Cardenas, Michoacan, Mexico
More
Oct 2, 1981 23:00


41 years ago

5.2


58 km
131km / 81mi
123 km S of Manzanillo, Colima, Mexico
More
Jan 6, 1979 11:51


44 years ago

5.2


32 km
54km / 33mi
68 km NW of Lazaro Cardenas, Michoacan, Mexico
More
Jul 17, 1976 09:02


46 years ago

5.2


67 km
192km / 119mi
Cihuatlan, Jalisco, 42 km NW of Manzanillo, Colima, Mexico
More
Jul 29, 2021 23:04


1 year 9 weeks ago

5.1


23 km
70km / 44mi
North Pacific Ocean, 51 km W of Lazaro Cardenas, Michoacan, Mexico
More
Apr 29, 2021 11:06


1 year 22 weeks ago

5.1


35 km
117km / 73mi
88 km S of Nueva Italia de Ruiz, Mugica, Michoacan, Mexico
More
Jul 17, 2018 08:54


4 years ago

5.1


28 km
20km / 12mi
3.3 km W of El Coyul, Aquila, Michoacan, Mexico
More
Apr 11, 2009 09:22


13 years ago

5.1


30 km
122km / 76mi
Guerrero, 24 km N of Lazaro Cardenas, Michoacan, Mexico
More
Jan 31, 2009 13:24


14 years ago

5.1


4.5 km
156km / 97mi
41 km W of Ixtapa Zihuatanejo, Zihuatanejo de Azueta, Guerrero, Mexico
More
May 31, 2007 10:11


15 years ago

5.1


11 km
102km / 63mi
40 km SW of Tecoman, Colima, Mexico
More
Mar 13, 2004 14:02


19 years ago

5.1


30 km
21km / 13mi
110 km SE of Tecoman, Colima, Mexico
More
Map of earlier quakes