Very strong mag. 6.0 Earthquake - 4.6 km west of Japusura, Lampa, Puno, Peru, on Thursday, Dec 1, 2016 10:40 pm (Lima time)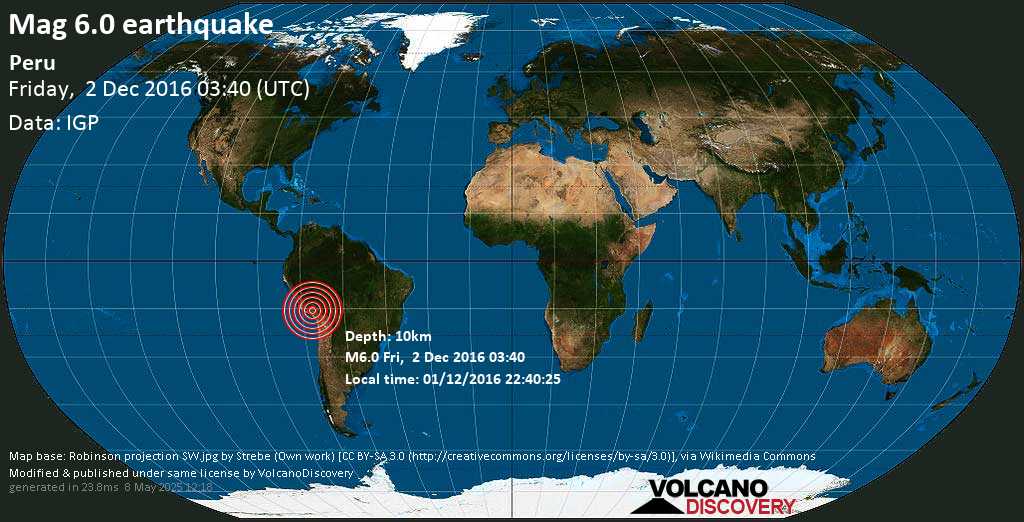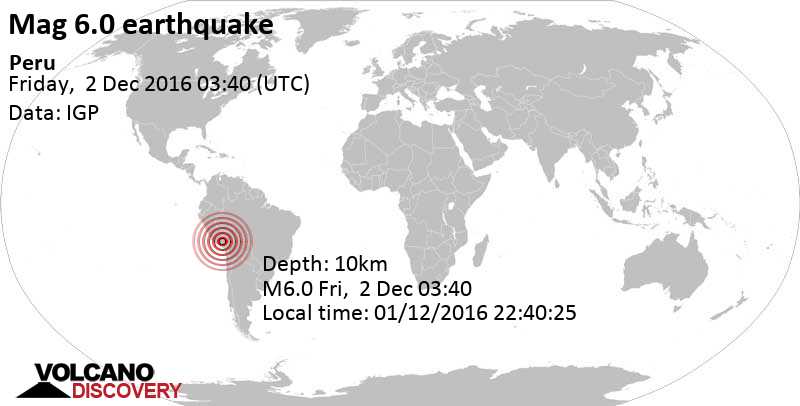 Very strong magnitude 6.0 earthquake at 10 km depth
2 Dec 16:20 UTC: First to report: IGP after 13 hours.
Earthquake details
Date & time
Dec 2, 2016 03:40:25 UTC
Local time

at epicenter

Thursday, Dec 1, 2016 10:40 pm (America/Lima GMT -5)
Status
Confirmed
Magnitude
6
Depth
10.0 km
Epicenter

latitude / longitude

15.44°S / 70.93°W Lampa, Puno, Peru
Antipode
15.44°N / 109.07°E
Shaking

intensity

Strong shaking near epicenter
Felt
0 reports
Primary data source
IGP
Nearest volcano
Ubinas (102 km / 63 mi)
Estimated

seismic

energy

released

6.3 x 1013 joules (17.5 gigawatt hours, equivalent to 15080 tons of TNT or 0.9 atomic bombs!) | about seismic energy
Nearby places
Distance
Place
Max. shaking intensity(*)
Region
Country
5 km (3 mi)

ESE of epicenter

Japusura

(pop: 32)

Lampa, Puno
26 km (16 mi)

SSW of epicenter

Huarichancara

(pop: 4,450)

Provincia de Caylloma, Arequipa
43 km (27 mi)

S of epicenter

Huancane Hacienda

(pop: 7,830)

Lampa, Puno
72 km (45 mi)

NNE of epicenter

Ayaviri

(pop: 19,300)

Ayaviri, Puno
86 km (53 mi)

E of epicenter

Juliaca

(pop: 245,700)

Provincia de San Roman, Puno
89 km (55 mi)

NW of epicenter

Espinar

(pop: 23,900)

Cusco
107 km (67 mi)

ESE of epicenter

Puno

(pop: 116,600)

Puno
125 km (78 mi)

SSW of epicenter

Arequipa

(pop: 841,100)

Arequipa
759 km (472 mi)

WNW of epicenter

Lima

(pop: 7,737,000)

Lima Province
Notes:
(*) Shaking intensity according to the Modified Mercalli Intensity Scale (MMI) and estimated using seismic models.
Compare Quake Data
Data for the same earthquake as reported by different agencies
The more agencies report about the same quake and post similar data, the more confidence you can have in the data. It takes normally up to a few hours until earthquake parameters are calculated with near-optimum precision.
Mag
Depth
Time GMT
Epicenter
Agency
6.0
10 km (6.2 mi)

(*)

2016-12-2

03:40:25
Peru
IGP
Notes:
(*) A depth given as 10 km often means that the the depth of the quake could not determined with sufficient accuracy.
Seismograms
Seismic station: Nana, Peru (NNA/II network)
| Distance from quake: 745 km / 463 mi |
Show on map
|
Station Info
Seismogram (vertical component) around time of quake. Thin dotted red line indicates time of quake. Seismic waves arrive some time later, depending on distance. Bandpass filter applied: 0.02-5.0 Hz. Source:
IRIS Buffer of Uniform Data (BUD) webtool
User-reports for this quake
There are no user reports for this quake.
Aftershocks
[More info]
Recorded aftershocks, latest first (11 quakes)
Date and Time GMT
Mag
Depth
Region
Details
Jan 10, 2017 19:19


7 years ago

3.9


12 km
9.6 km NE of Japusura, Lampa, Puno, Peru
More
Dec 24, 2016 09:05


7 years ago

3.7


8 km
12 km NE of Japusura, Lampa, Puno, Peru
More
Dec 15, 2016 07:14


7 years ago

4.5


10 km
8.9 km NW of Japusura, Lampa, Puno, Peru
More
Dec 13, 2016 03:30


7 years ago

3.9


8 km
17 km N of Japusura, Lampa, Puno, Peru
More
Dec 4, 2016 19:21


7 years ago

4.4


10 km
34 km NE of Huancane Hacienda, Lampa, Puno, Peru
More
Dec 4, 2016 10:32


7 years ago

4.4


9 km
2.3 km NE of Vilavila, Lampa, Puno, Peru
More
Dec 3, 2016 05:52


7 years ago

3.9


8 km
6.8 km NE of Japusura, Lampa, Puno, Peru
More
Dec 2, 2016 18:09


7 years ago

3.8


9 km
7.5 km N of Japusura, Lampa, Puno, Peru
More
Dec 2, 2016 11:49


7 years ago

4.3


17 km
5.1 km NE of Japusura, Lampa, Puno, Peru
More
Dec 2, 2016 07:11


7 years ago

4.1


9 km
Cusco, 26 km S of Buena Vista, Ayaviri, Puno, Peru
More
Dec 2, 2016 06:30


7 years ago

3.9


7 km
9.3 km NW of Japusura, Lampa, Puno, Peru
More