Moderate mag. 5.3 earthquake - Banda Sea on Monday, 4 June 2018
4 Jun 18:27 UTC: First to report: GFZ after 3 minutes.
Jun 4 18:30: Magnitude recalculated from 5.8 to 5.3.
Hypocenter depth recalculated from 683.0 to 642.0 km.
Date & time: Monday, 4 June 2018 18:24 UTC
Magnitude: 5.3
Depth: 642.0 km
Epicenter latitude / longitude: 7.11°S / 123.23°E
(
Indonesia
)
Nearest volcano:
Batu Tara
(85 km / 53 mi)
Nearby towns and cities:
1813 km (1126 mi) E of Jakarta
(pop: 8,540,100)
Primary data source:
GFZ
Estimated released energy: 5.6 x 10
12
joules (1.56 gigawatt hours, equivalent to 1344 tons of TNT) [
learn more
]
Data for the same earthquake reported by different agencies
Info: The more agencies report about the same quake and post similar data, the more confidence you can have in the data. It takes normally up to a few hours until earthquake parameters are calculated with near-optimum precision.
Time
Mag. / Depth
Location
Source
Mon, 4 Jun 18:24 UTC
M 5.3 / 642 km
Banda Sea
GFZ
Mon, 4 Jun 18:24 UTC
M 5.3 / 637 km
BANDA SEA
EMSC
2018-06-05 02:24:37 +08:00

(4 Jun 18:24:37 UTC)

M 5.3 / 628.7 km
- 165km NNE of Palue, Indonesia
USGS
User reports for this quake (1)
Kerobokan Bali / Moderate shaking (MMI V)
Aftershocks of the 5.3 quake Banda Sea, 4 Jun 2018 18:24 UTC
More info
Recorded aftershocks, latest first (0 quakes):
So far, no aftershocks have been registered.
Earlier earthquakes in the same area
Moderate mag. 5.3 earthquake - Banda Sea on Monday, 4 June 2018
Click here to search our database for earlier earthquakes in the same area since 1900!
More on VolcanoDiscovery
If you find the website useful and would like to support us and help keep it alive and improve it, please consider
making a small donation
.
Thank you!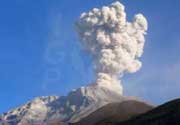 Ubinas activity updates
: The most frequently active volcano in Peru entered a new eruptive phase in 2014. Updates and news are regularly posted on this page.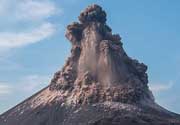 Eruption from close
: On 17 Oct, explosions were particularly violent at Anak Krakatau. We show a series of images of a spectacular explosion captured from close range by boat.