Moderate mag. 5.0 earthquake - New Zealand on Friday, 12 July 2019
Magnitude: 5.0
Depth: 33.0 km
Epicenter latitude / longitude: 34.01609°S / 179.25139°E
(international territory)
Nearest volcano:
Brothers
(97 km)
Primary data source:
GEONET (NZ)
Estimated released energy: 2 x 10
12
joules (554 megawatt hours, equivalent to 477 tons of TNT) [
learn more
]
Date & time: Friday, 12 July 2019 07:17 UTC
Data for same earthquake as reported from other agencies
Time
Mag. / Depth
Location
Source
Fri, 12 Jul 2019
Fri, 12 Jul 07:17 UTC
M 5.0 / 10 km
South of Kermadec Islands (New Zealand)
GFZ
"I felt it" reports:
| | | | | |
| --- | --- | --- | --- | --- |
| Time | Mag. / Depth | Location | Map | Source |
More on VolcanoDiscovery:
If you find the website useful and would like to support us and help keep it alive and improve it, please consider
making a small donation
.
Thank you!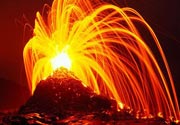 Volcano Tours on Hawai'i
: The Hawaiian Islands are not only home to the most active volcanoes in the world, Kilauea and Mauna Loa on the Big Island, but also boast a unique natural environment. Born by volcanic activity of a very active hot spot in the middle of the Pacific Plate, they are a showcase of natural history.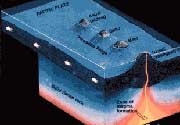 Intraplate volcanism
: A third tectonic setting where volcanism occurs is believed to be the result of mantle plumes and not directly related to plate boundaries. So called hot spot volcanoes fall into this category.
List and map of all volcanoes in Africa. Most volcanoes are located in the Great Rift Valley, but there are more.