Minor mag. 3.4 earthquake - 83km NE of Road Town, British Virgin Islands on Wednesday, 14 August 2019
Local time at epicenter:
2019-08-13 22:27:26 -04:00
Magnitude: 3.4
Depth: 43.0 km
Epicenter latitude / longitude: 19°N / 64.1178°W
(British Virgin Islands)
Nearest volcano:
Saba
(179 km)
Primary data source:
USGS
Estimated released energy: 7.9 x 10
9
joules (2.21 megawatt hours, equivalent to 1.9 tons of TNT) [
learn more
]
Date & time: Wednesday, 14 August 2019 02:27 UTC
Data for same earthquake as reported from other agencies
Time
Mag. / Depth
Location
Source
Wed, 14 Aug 2019
Wed, 14 Aug 02:27 UTC
M 3.4 / 43 km
Virgin Islands Region (British Virgin Islands)
EMSC
"I felt it" reports:
More on VolcanoDiscovery:
Sakurajima volcano photos
: One of the world's most active volcanoes, Sakurajima on Japan's Kyushu Island is famous for its frequent vulcanian explosions, often accompanied by eruption lightning.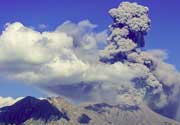 Volcanic crisis at Sakurajima - updates
: A strong earthquake swarm and increased inflation were detected in August 2015 and triggered authorities to raise the alert level, as volcanologists think that a larger eruption could follow. News and updates on the events can be found on this page.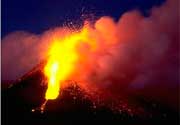 Definition of a volcano
: A volcano is the term for any place on the surface of the earth, where hot molten rock (magma) reaches the surface.