Light mag. 4.1 earthquake - 51km SSW of Salina Cruz, Mexico on Monday, 9 September 2019
Local time at epicenter:
2019-09-09 05:14:23 -06:00
Magnitude: 4.1
Depth: 35.0 km
Epicenter latitude / longitude: 15.7471°N / 95.4054°W
(
Mexico
)
Nearest volcano:
El Chichón
(293 km)
Primary data source:
USGS
Estimated released energy: 8.9 x 10
10
joules (24.8 megawatt hours, equivalent to 21.3 tons of TNT) [
learn more
]
Date & time: Monday, 9 September 2019 11:14 UTC
Data for same earthquake as reported from other agencies
Time
Mag. / Depth
Location
Source
Mon, 9 Sep 2019
Mon, 9 Sep 11:14 UTC
M 4.1 / 35 km
Offshore Oaxaca, Mexico
EMSC
"I felt it" reports:
(31.9 km NNW of epicenter) [Map]
/ MMI VI (Strong shaking)
More on VolcanoDiscovery:
If you find the website useful and would like to support us and help keep it alive and improve it, please consider
making a small donation
.
Thank you!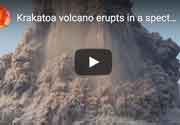 Krakatoa explodes
: In the afternoon of 17 Oct, a particularly violent explosion occurred at Anak Krakatau, blasting away a portion of the southern crater rim. A similar event might have been the final trigger for the catastrophic landslide that let the cone collapse and cause a devastating tsunami on 22 Dec 2018.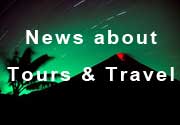 Tours and travel news
: Keep up to date about specials, new destinations, tour offerings about our tours and travel news site.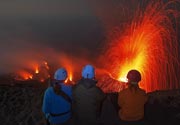 VolcanoDiscovery tours
: A selection of our most popular trips, which we have been offering and improving over many years now: Stromboli & Etna, Santorini, Java, Ethiopia, Nyiragongo and more. Have a look!