Light mag. 4.9 earthquake - Northern Algeria on Friday, 7 August 2020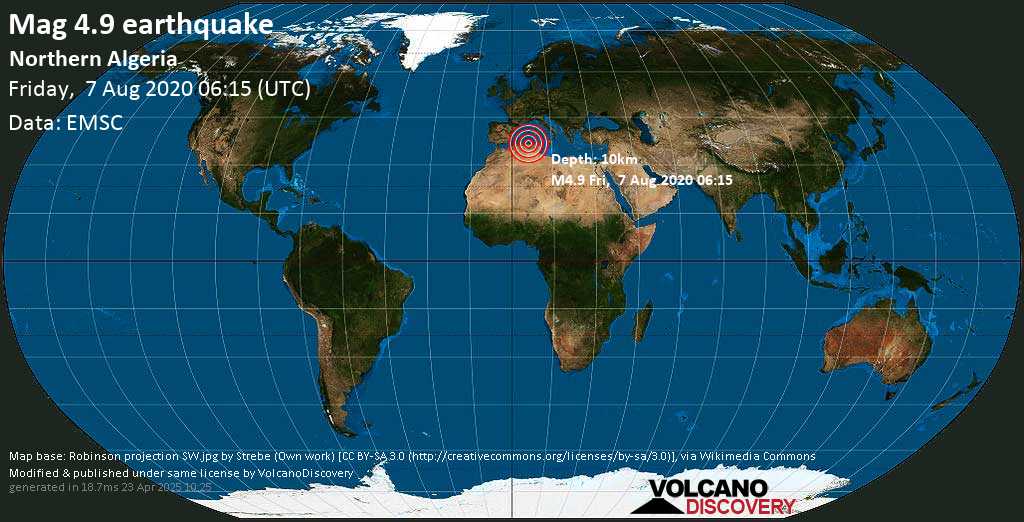 7 Aug 06:19 UTC: First to report: EMSC after 3 minutes.
Aug 7 06:21: Magnitude recalculated from 5.4 to 5.3.
Hypocenter depth recalculated from 10.0 to 100.0 km.
Aug 7 06:26: Magnitude recalculated from 5.3 to 4.9.
Hypocenter depth recalculated from 100.0 to 10.0 km.
Update Fri, 7 Aug 2020, 11:48
A second,
similar quake of magnitude 4.7
just occurred in the same area 30 minutes ago. Many people have been reporting it felt as light to moderate shaking.
Update Fri, 7 Aug 2020, 08:48
Light magnitude 4.9 quake felt in northern Algeria this morning
User experience reports and epicenter (red circle) of this mornings quake in Algeria
A moderate magnitude 4.9 quake occurred in northern Algeria this morning at 06:15 UTC. The quake being relatively shallow (approx. 10 km depth) woke up many residents of nearby villages and towns.
The epicenter was 3 km NNE of Sidi Mérouane and approx. 50 km NW of the historic town and regional capital Constantine, the nearest larger city at approx. 463,000 inhabitants.
Many people within approx. 70 km radius reported light shaking, some in the areas closest to the epicenter, especially in Sidi Mérouane (pop: approx. 20,000) felt moderate or even strong shaking.
There are no reports of damage or injuries.
Earthquake data:
Date & time: Friday, 7 August 2020 06:15 UTC
Magnitude: 4.9
Depth: 10.0 km
Epicenter latitude / longitude: 36.56°N / 6.26°E
(
Algeria
)
Nearby towns and cities:
4 km (3 mi) N of Sidi Mérouane
(pop: 25,100)
12 km (8 mi) N of Mila
(pop: 68,800)
23 km (14 mi) NE of Rouached
(pop: 40,300)
38 km (24 mi) NW of Constantine
(pop: 450,100)
86 km (54 mi) NE of Sétif
(pop: 288,500)
196 km (122 mi) NE of Biskra
(pop: 308,000)
Primary data source:
EMSC
Estimated released energy: 1.4 x 10
12
joules (392 megawatt hours, equivalent to 338 tons of TNT) [
learn more
]
Data for the same earthquake reported by different agencies
Info: The more agencies report about the same quake and post similar data, the more confidence you can have in the data. It takes normally up to a few hours until earthquake parameters are calculated with near-optimum precision.
| | | | |
| --- | --- | --- | --- |
| Time | Mag. / Depth | Location | Source |
| Fri, 7 Aug 06:15 UTC | M 4.9 / 10 km | Northern Algeria | EMSC |
| Fri, 7 Aug 06:15 UTC | M 4.7 / 10 km | Northern Algeria | GFZ |
| Fri, 7 Aug 06:15 UTC | M 4.9 / 10 km | 3 km NNE of Sidi Mérouane, Algeria | USGS |
User reports for this quake (242)
Earlier earthquakes in the same area since 1900
Light mag. 4.9 earthquake - Northern Algeria on Friday, 7 August 2020
Hint: Click on Date/Time to show latest first

Date / time UTC

|

Mag

|

Depth

|

Age

|

Distance

| Details

29 Mar 1954 06:17

|

7.8

|

626km / 389mi

|

67 years ago

|

880km / 547mi

| Strait of Gibraltar (Spain)

10 Oct 1980 12:25

|

7.3

|

10km / 6.2mi

|

40 years ago

|

441km / 274mi

| Northern Algeria

08 Sep 1905 01:43

|

7.2

|

15km / 9.3mi

|

115 years ago

|

870km / 541mi

| Sicily, Italy

28 Dec 1908 04:20

|

7.0

|

15km / 9.3mi

|

112 years ago

|

820km / 509mi

| Sicily, Italy

23 Nov 1980 18:34

|

6.9

|

10km / 6.2mi

|

40 years ago

|

926km / 575mi

| Southern Italy

21 May 2003 18:44

|

6.8

|

12km / 7.5mi

|

17 years ago

|

238km / 148mi

| Northern Algeria

09 Sep 1954 01:04

|

6.7

|

15km / 9.3mi

|

66 years ago

|

419km / 260mi

| Northern Algeria

13 Jan 1915 06:52

|

6.7

|

15km / 9.3mi

|

106 years ago

|

887km / 551mi

| Central Italy

30 Oct 2016 06:40

|

6.5

|

10km / 6.2mi

|

4 years ago

|

919km / 571mi

| Central Italy

24 Feb 2004 02:27

|

6.4

|

unknown

|

17 years ago

|

938km / 583mi

| Strait of Gibraltar (Morocco)

Show all
Map of earlier quakes
More on VolcanoDiscovery