Light mag. 4.4 earthquake - Southern Greece on Sunday, 9 August 2020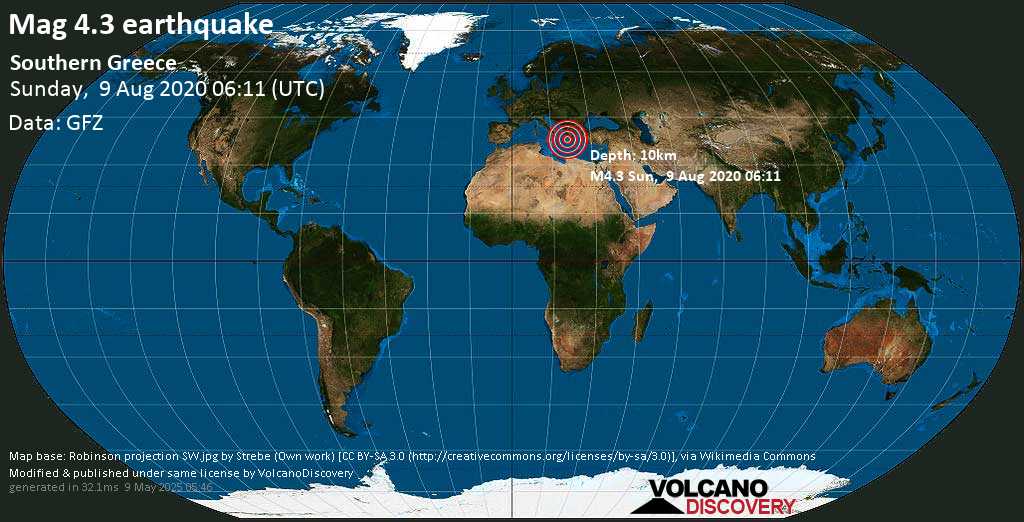 9 Aug 06:14 UTC: First to report: GFZ after 3 minutes.
Aug 9 06:17: Magnitude recalculated from 4.5 to 4.4.
Update Sun, 9 Aug 2020, 07:51
Mild quake shakes Zakynthos Island, Greece, this morning
Loctions and felt intensity of this morning's earthquake near Zakynthos Island, Greece
A light magnitude 4.4. earthquake shook western Greece this morning at 09:11 am local time. Its epicenter was between the popular holiday island of Zakynthos (20 km to the SE) and the Peloponnese and its depth at approx. 10-20 km.
It was widely felt in Zakynthos, especially in the coastal areas, as a light to mild shaking lasting a few seconds. Within the first 20 minutes, more than 100 people reported it to us. No damage or injuries should have occurred from the tremor.
Earthquake data:
Date & time: Sunday, 9 August 2020 06:11 UTC
Magnitude: 4.4
Depth: 10.0 km
Epicenter latitude / longitude: 37.69°N / 21.07°E
(
Greece
)
Nearest volcano:
Sousaki
(180 km / 112 mi)
Nearby towns and cities:
8 km (5 mi) SE of Vasilikós
(pop: 300)
12 km (8 mi) SE of Xirokástellon
(pop: 200)
15 km (9 mi) SE of Argási
(pop: 600)
85 km (53 mi) SW of Pátra
(pop: 168,000)
117 km (73 mi) NW of Kalamata
(pop: 54,100)
235 km (146 mi) W of Athens
(pop: 664,000)
Primary data source:
GFZ
Estimated released energy: 2.5 x 10
11
joules (69.8 megawatt hours, equivalent to 60 tons of TNT) [
learn more
]
Data for the same earthquake reported by different agencies
Info: The more agencies report about the same quake and post similar data, the more confidence you can have in the data. It takes normally up to a few hours until earthquake parameters are calculated with near-optimum precision.
| | | | |
| --- | --- | --- | --- |
| Time | Mag. / Depth | Location | Source |
| Sun, 9 Aug 06:11 UTC | M 4.4 / 10 km | Southern Greece | GFZ |
| Sun, 9 Aug 06:11 UTC | M 4.5 / 10 km | Southern Greece | EMSC |
| Sun, 9 Aug 06:11 UTC | M 4.2 | Grčka (Greece) | SSS |
| Sun, 9 Aug 06:11 UTC | M 4.4 / 22 km | (Greece) | NOA |
| Sun, 9 Aug 06:11 UTC | M 4.2 / 10 km | 10 km SSW of Arkoúdi, Greece | USGS |
User reports for this quake