Strong mag. 6.7 earthquake - Vanuatu Region (New Caledonia) on Wednesday, 30 June 1993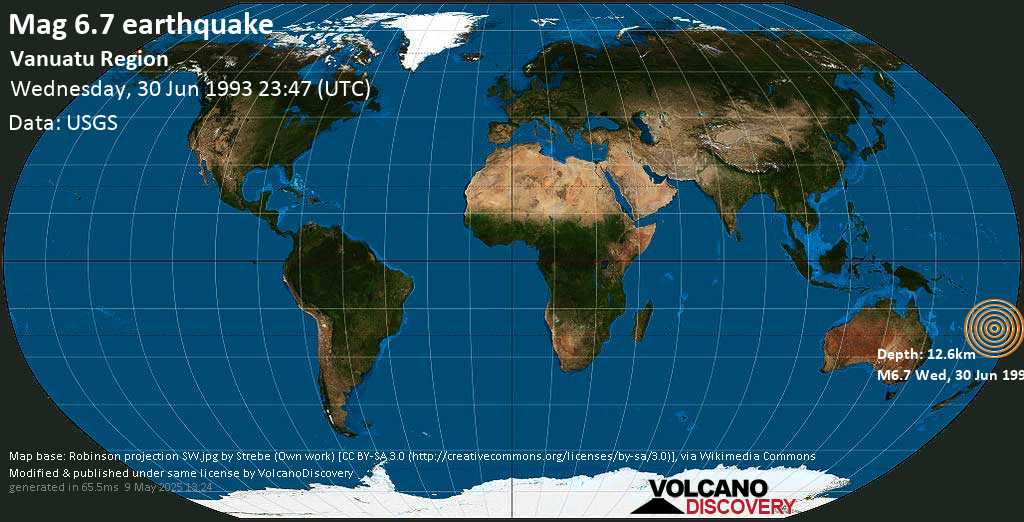 Date & time: Wednesday, 30 June 1993 23:47 UTC
Magnitude: 6.7
Depth: 12.6 km
Epicenter latitude / longitude: 20.836°S / 172.957°E
(New Caledonia)
Nearest volcano:
Hunter Island
(198 km / 123 mi)
Primary data source:
USGS
Estimated released energy: 7.1 x 10
14
joules (197 gigawatt hours, equivalent to 1.7 x 10
5
tons of TNT or 10.6 atomic bombs!) [
learn more
]
Data for the same earthquake reported by different agencies
Info: The more agencies report about the same quake and post similar data, the more confidence you can have in the data. It takes normally up to a few hours until earthquake parameters are calculated with near-optimum precision.
| | | | |
| --- | --- | --- | --- |
| Time | Mag. / Depth | Location | Source |
| Thu, 1 Jan 00:00 UTC | M | | |
Note: for quakes of 2012 and earlier, our database often contains only records from USGS.
User reports for this quake
Aftershocks of the 6.7 quake: Vanuatu Region (New Caledonia), 30 Jun 1993 23h47
Show info about this
List of recorded aftershocks, latest first (2 quakes):
Map of aftershocks
Significant earthquakes in the same area since 1900
Strong mag. 6.7 earthquake - Vanuatu Region (New Caledonia) on Wednesday, 30 June 1993
Click here to search our database for earlier earthquakes in the same area since 1900!
More on VolcanoDiscovery
If you find the website useful and would like to support us and help keep it alive and improve it, please consider
making a small donation
.
Thank you!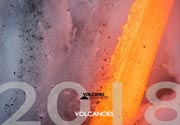 Volcano Calendar 2018
: We're proud to present our 2018 volcano calendar: 13 different and attractive images of volcanoes, volcanic landscapes and phenomena taken during volcano tours over the past few years.
Volcano and photo tour to Java, Indonesia
: Visit Java's famous volcanoes: Krakatau, Merapi, Bromo, Semeru, Ijen and others, crossing Java from west to east. This study and photography trip for a small exclusive group is one of our classic and best tours.