Strong mag. 6.1 earthquake - Southeast of the Loyalty Islands (New Caledonia) on Friday, 27 July 2007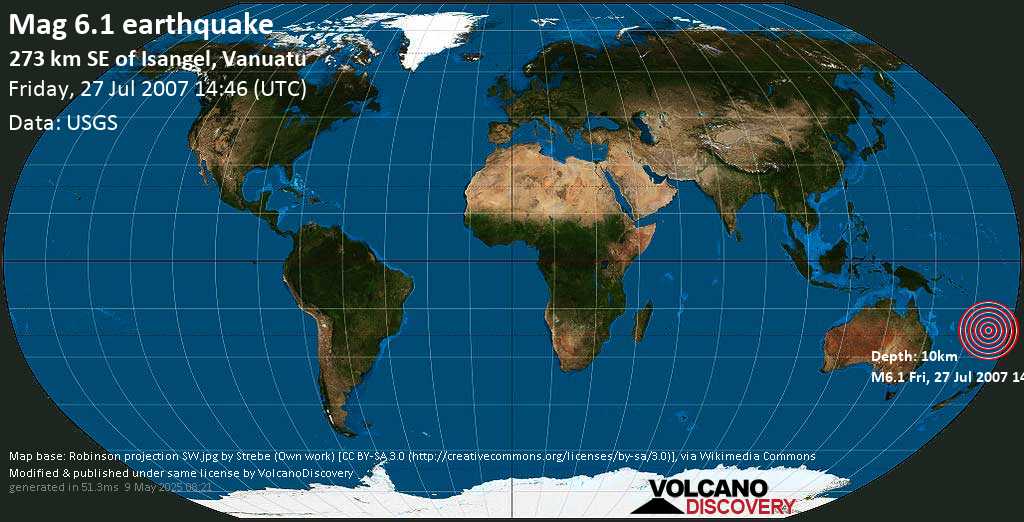 Date & time: Friday, 27 July 2007 14:46 UTC
Magnitude: 6.1
Depth: 10.0 km
Epicenter latitude / longitude: 21.459°S / 170.939°E
(New Caledonia)
Nearest volcano:
Eastern Gemini Seamount
(87 km / 54 mi)
Primary data source:
USGS
Estimated released energy: 8.9 x 10
13
joules (24.8 gigawatt hours, equivalent to 21301 tons of TNT or 1.3 atomic bombs!) [
learn more
]
Data for the same earthquake reported by different agencies
Info: The more agencies report about the same quake and post similar data, the more confidence you can have in the data. It takes normally up to a few hours until earthquake parameters are calculated with near-optimum precision.
Time
Mag. / Depth
Location
Source
So far, we have no data about this quake from any other agency. For small quakes reported only by the relevant national agency, this is normal. For magnitudes above around 4.5, there should normally be at least 2 or 3 international agencies to report the same quake.
Note: for quakes of 2012 and earlier, our database often contains only records from USGS.
User experience reports for this quake
Aftershocks of the 6.1 quake: Southeast of the Loyalty Islands (New Caledonia), 27 Jul 2007 14h46
Show info about this
List of recorded aftershocks, latest first (5 quakes):
Map of aftershocks
Significant earthquakes in the same area since 1900
Strong mag. 6.1 earthquake - Southeast of the Loyalty Islands (New Caledonia) on Friday, 27 July 2007
Click here to search our database for earlier earthquakes in the same area since 1900!
More on VolcanoDiscovery:
Active volcanoes in China
: Did you know that there are at least 15 active volcanoes in China? The last eruption was from the Kunlun volcano in 1951.
Stromboli volcano photos
: The lighthouse of the Thyrrhenian Sea - thanks to its typical, regular explosions that coined the term "strombolian activity", Stromboli is one of the most famous and photogenic volcanoes in the world.