Moderate mag. 5.6 earthquake - Peru-Ecuador Border Region on Tuesday, 25 August 2020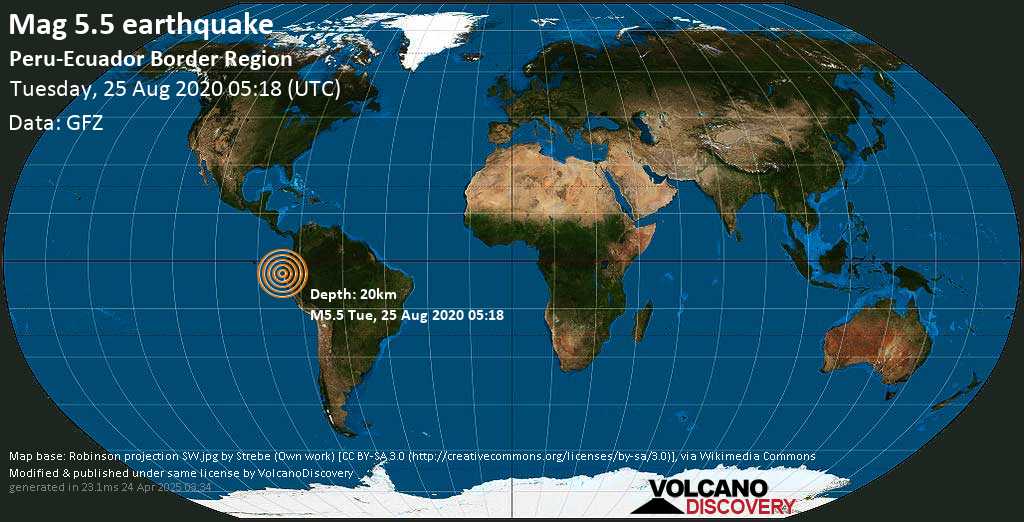 25 Aug 05:25 UTC: First to report: GFZ after 7 minutes.
Aug 25 06:01: Magnitude recalculated from 5.5 to 5.6.
Hypocenter depth recalculated from 10.0 to 20.0 km.
Update Tue, 25 Aug 2020, 11:30
Magnitude 5.5 quake hits Piura region in northern Peru
Shakemap of this morning's quake in Peru (image: USGS)
A moderate 5.5 quake hit Peru's northern Piura region at 00:18 local time today. The epicenter was located 38 kilometers northwest of Máncora town in the Talara province and had a depth of 45 km, according to Peru's Geophysical Institute.
The quake was felt widely in northern Peru and southern Ecuador, in up to approx. 250 km distance. Many people near the epicenter reported moderate shaking, windows and roofs making noises due to the vibration, things falling from walls, lamps and fans swinging etc.
Fortunately, no significant damage seems to have been caused by the quake, which is due to the combination of the quake's moderate depth and the remoteness of the epicenter.
Earthquake data:
Date & time: Tuesday, 25 August 2020 05:18 UTC
Magnitude: 5.6
Depth: 20.0 km
Epicenter latitude / longitude: 4.02°S / 80.8°W
(
Peru
)
Nearby towns and cities:
9 km (6 mi) NW of Papayal
(pop: 5,500)
28 km (17 mi) NE of La Breita
(pop: 17,700)
29 km (18 mi) NE of Máncora
(pop: 9,100)
126 km (78 mi) SW of Machala
(pop: 198,100)
132 km (82 mi) N of Piura
(pop: 325,500)
984 km (612 mi) NW of Lima
(pop: 7,737,000)
Primary data source:
GFZ
Estimated released energy: 1.6 x 10
13
joules (4.4 gigawatt hours, equivalent to 3788 tons of TNT or 0.2 atomic bombs!) [
learn more
]
Data for the same earthquake reported by different agencies
Info: The more agencies report about the same quake and post similar data, the more confidence you can have in the data. It takes normally up to a few hours until earthquake parameters are calculated with near-optimum precision.
| | | | |
| --- | --- | --- | --- |
| Time | Mag. / Depth | Location | Source |
| Tue, 25 Aug 05:18 UTC | M 5.6 / 20 km | Peru-Ecuador Border Region | GFZ |
| Tue, 25 Aug 05:18 UTC | M 5.5 / 40 km | Peru-ecuador Border Region | EMSC |
| Tue, 25 Aug 05:18 UTC | M 5.5 / 33.2 km | 11 Km WNW of Papayal, Peru | USGS |
| Tue, 25 Aug 05:18 UTC | M 5.5 / 58.1 km | Peru-Ecuador Border Region | GeoAu |
| Tue, 25 Aug 05:18 UTC | M 5.5 / 31 km | 15 Km Al Este-SE De Mancora, Talara - Piura (Peru) | IGP |
User reports for this quake
Aftershocks of the 5.6 quake: Peru-Ecuador Border Region, 25 Aug 2020 05h18
Show info about this
List of recorded aftershocks, latest first (1 quakes):
25 Aug 2020 05:53 UTC

|

M 4.0

|

25 km (15.5 mi) depth

|

16 km (10 mi) distance

| IGP | Details
Map of aftershocks
Significant earlier earthquakes in the same area since 1900
Moderate mag. 5.6 earthquake - Peru-Ecuador Border Region on Tuesday, 25 August 2020
Map of earlier quakes
More on VolcanoDiscovery