Moderate mag. 5.6 earthquake - 14 km west of Puerto Armuelles, Barú, Provincia de Chiriquí, Panama, on 2020-09-04 11:45:20 -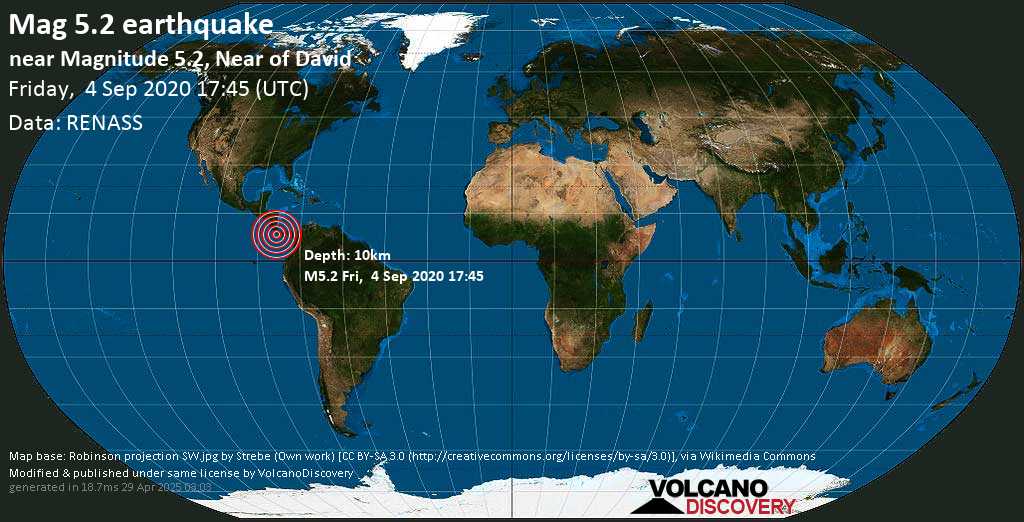 Moderate magnitude 5.6 earthquake at 6 km depth
4 Sep 17:49 UTC: First to report: INETER after 4 minutes.
Sep 4 17:56: Magnitude recalculated from 5.6 to 5.5.
Hypocenter depth recalculated from 2.0 to 8.0 km.
Sep 4 18:00: Magnitude recalculated from 5.5 to 5.6.
Hypocenter depth recalculated from 8.0 to 6.0 km.
Update Fri, 4 Sep 2020, 21:50
More earthquakes hit the Costa Rica-Panama border area
Today's earthquakes in the Costa Rica - Panama border region
A series of quakes hit the southern border area between Costa Rica and Panama today, the strongest two quakes of magnitudes of around 5.5 and 5.0 at 11:45 and 11:48 local time.
The epicenters were 15 km west of Puerto Armuelles (Panama) and 4 km north of Laurel in Costa Rica.
Both quakes were widely felt in up to 200 km distance. Strong shaking was felt in areas close (within 20-30 km) to the epicenter, while light to very weak shaking could be felt in a much wider area.
So far, there have been no reports of significant damage or injuries related to the earthquakes.
In addition, 8 aftershocks of magnitudes between 3.3 and 4.6 have been registered in the area, all felt as well.
The obvious concern is whether the cluster of quakes is going to continue and lead up to a larger quake or if most of the seismic tension has been released.
Costa Rica and Panama are in one of the seismically most active parts of the world, as they are just east of the tectonic boundary where the oceanic Cocos Plate is subducting (descending) underneath the Caribbean Plate, at a rate of 75 mm per year. The collision between the two constantly generates stress along the margin, which is being released in many small and sometimes larger earthquakes of magnitudes 6-7. One of the largest quakes in the area in recent decades was a
magnitude 7.1 on 3 April 1983
, at about 50 km to the northwest in Costa Rica.
Earthquake data:
Date & time: 4 Sep 2020 05:45:20 UTC -
Local time at epicenter:
2020-09-04 11:45:20
Magnitude: 5.6
Depth: 6.0 km
Epicenter latitude / longitude: 8.288°N / 82.992°W
(
Panama
)
Nearest volcano:
Baru
(58 km / 36 mi)
Nearby towns and cities:
14 km (9 mi) W of Puerto Armuelles (Barú)
(pop: 11,700)
24 km (15 mi) SW of Progreso (PA.02.0419)
(pop: 2,210)
34 km (21 mi) SW of Divalá (Distrito de Alanje)
(pop: 2,510)
48 km (30 mi) SW of La Concepción
(pop: 17,700)
64 km (40 mi) SW of David
(pop: 82,000)
67 km (41 mi) SW of Volcán (Bugaba)
(pop: 10,300)
390 km (242 mi) SW of Panamá
(pop: 408,200)
557 km (346 mi) SE of Managua (Nicaragua)
(pop: 973,100)
Primary data source:
INETER
Estimated released energy: 1.6 x 10
13
joules (4.4 gigawatt hours, equivalent to 3788 tons of TNT or 0.2 atomic bombs!) [
learn more
]
Data for the same earthquake reported by different agencies
Info: The more agencies report about the same quake and post similar data, the more confidence you can have in the data. It takes normally up to a few hours until earthquake parameters are calculated with near-optimum precision.
| | | | |
| --- | --- | --- | --- |
| Magnitude | Depth | Location | Source |
| M 5.6 | 6 km | 15 Km al oeste de Puerto Armuelles, Panamá (Panama) | INETER |
| M 5.5 | 10 km | Costa Rica (Panama) | GFZ |
| M 5.6 | 15 km | Costa Rica (Panama) | EMSC |
| M 5.7 | 10 km | Panama-Costa Rica Border Region | GeoAu |
| M 5.3 | 10 km | 1 km N of Manaca Norte, Panama | USGS |
| M 5.0 | 3 km | 6 km al Oeste de Puerto Armuelles, Panama. | RSN |
| M 5.4 | 94 km | Costa Rica | BMKG |
| M 5.6 | 8.7 km | 12 Km WSW of Finca Blanco, Panama | USGS |
| M 5.3 | 10 km | 1 Km N of Manaca Norte, Panama | USGS |
| M 5.4 | 94 km | Costa Rica | BMKG |
User reports for this quake (39)
Aftershocks of the 5.6 quake 14 km west of Puerto Armuelles, Barú, Provincia de Chiriquí, Panama, 2020-09-04 11:45:20
More info
Recorded aftershocks, latest first (78 quakes):
Earlier earthquakes in the same area since 1900
Moderate mag. 5.6 earthquake - 14 km west of Puerto Armuelles, Barú, Provincia de Chiriquí, Panama, on 2020-09-04 11:45:20
Map of earlier quakes
More on VolcanoDiscovery