Moderate mag. 5.5 earthquake - Talaud Islands, Indonesia on Wednesday, 9 September 2020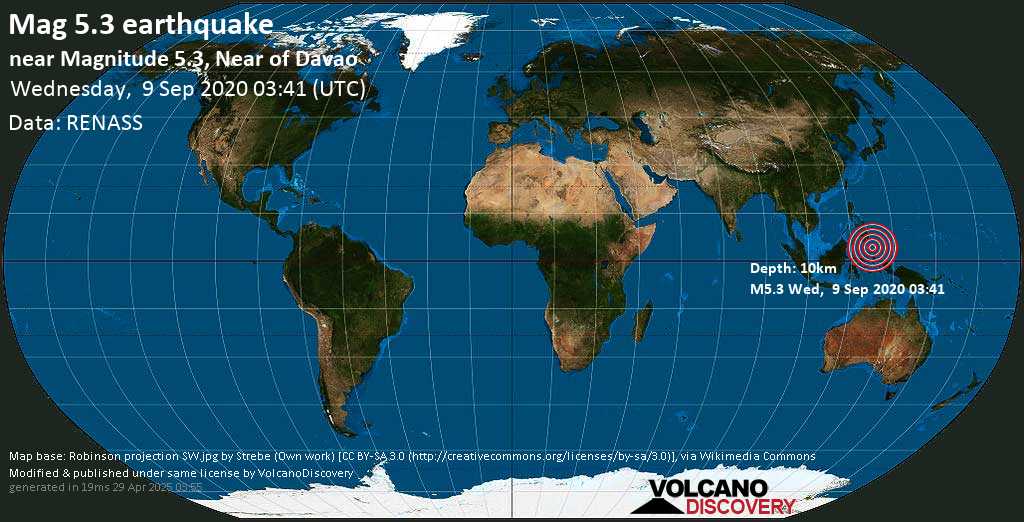 9 Sep 03:48 UTC: First to report: BMKG after 7 minutes.
12 Sep 05:00: Now using data updates from BMKG
Date & time: Wednesday, 9 September 2020 03:41 UTC
Magnitude: 5.5
Depth: 57.0 km
Epicenter latitude / longitude: 4.06°N / 126.75°E
(
Indonesia
)
Nearest volcano:
Awu
(139 km / 86 mi)
Nearby towns and cities:
2489 km (1546 mi) NE of Jakarta
(pop: 8,540,100)
Primary data source:
BMKG
Estimated released energy: 1.1 x 10
13
joules (3.12 gigawatt hours, equivalent to 2682 tons of TNT or 0.2 atomic bombs!) [
learn more
]
Data for the same earthquake reported by different agencies
Info: The more agencies report about the same quake and post similar data, the more confidence you can have in the data. It takes normally up to a few hours until earthquake parameters are calculated with near-optimum precision.
| | | | |
| --- | --- | --- | --- |
| Time | Mag. / Depth | Location | Source |
| Wed, 9 Sep 03:41 UTC | M 5.5 / 57 km | Talaud Islands, Indonesia | BMKG |
| Wed, 9 Sep 03:41 UTC | M 5.3 / 40 km | Kepulauan Talaud, Indonesia | EMSC |
| Wed, 9 Sep 03:41 UTC | M 5.4 / 44 km | Talaud Islands, Indonesia | GFZ |
| Wed, 9 Sep 03:41 UTC | M 5.5 / 1 km | 231 km S 38° E of Sarangani (Davao Occidental) (Indonesia) | PHIVOLCS |
| Wed, 9 Sep 03:41 UTC | M 5.4 / 35 km | 195 km SE of Sarangani, Philippines (Indonesia) | USGS |
| Wed, 9 Sep 03:41 UTC | M 5.5 / 45.5 km | Talaud Islands, Indonesia | GeoAu |
| Wed, 9 Sep 03:41 UTC | M 5.5 / 14 km | 268 Km S 37° E of Sarangani (Davao Occidental) (Indonesia) | PHIVOLCS |
| Wed, 9 Sep 03:41 UTC | M 5.5 / 57 km | Talaud Islands, Indonesia | BMKG |
| Wed, 9 Sep 03:41 UTC | M 5.4 / 35 km | 195 Km SE of Sarangani, Philippines (Indonesia) | USGS |
User reports for this quake
11230 / Moderate shaking (MMI V)
Aftershocks of the 5.5 quake: Talaud Islands, Indonesia, 9 Sep 2020 03h41
Show info about this
List of recorded aftershocks, latest first (26 quakes):
Map of aftershocks
Significant earlier earthquakes in the same area since 1900
Moderate mag. 5.5 earthquake - Talaud Islands, Indonesia on Wednesday, 9 September 2020
Hint: Click on Date/Time to show latest first

Date / time UTC

|

Mag

|

Depth

|

Age

|

Distance

| Details

15 Aug 1918 12:18

|

8.3

|

20km / 12.4mi

|

102 years ago

|

338km / 210mi

| Mindanao, Philippines

24 Jan 1965 00:11

|

8.2

|

20km / 12.4mi

|

56 years ago

|

747km / 464mi

| Kepulauan Sula, Indonesia

21 Dec 1939 21:00

|

8.1

|

35km / 22mi

|

81 years ago

|

658km / 409mi

| Sulawesi, Indonesia

02 Dec 1972 00:19

|

8.0

|

60km / 37mi

|

48 years ago

|

261km / 162mi

| Mindanao, Philippines

14 Apr 1924 16:20

|

8.0

|

15km / 9.3mi

|

97 years ago

|

306km / 190mi

| Mindanao, Philippines

01 Jan 1996 08:05

|

7.9

|

24km / 15mi

|

25 years ago

|

843km / 524mi

| Minahasa, Sulawesi, Indonesia

16 Aug 1976 16:11

|

7.9

|

33km / 21mi

|

44 years ago

|

389km / 242mi

| Mindanao, Philippines

18 Apr 1990 13:39

|

7.8

|

26km / 16mi

|

30 years ago

|

538km / 334mi

| Minahasa, Sulawesi, Indonesia

24 Jan 1948 17:46

|

7.8

|

15km / 9.3mi

|

73 years ago

|

896km / 557mi

| Panay, Philippines

25 May 1943 23:07

|

7.8

|

15km / 9.3mi

|

77 years ago

|

375km / 233mi

| Philippine Islands Region (Philippines)

Show all
Map of earlier quakes
More on VolcanoDiscovery