Moderate mag. 5.3 earthquake - 46 Km SSE of Irákleion, Greece on Friday, 18 September 2020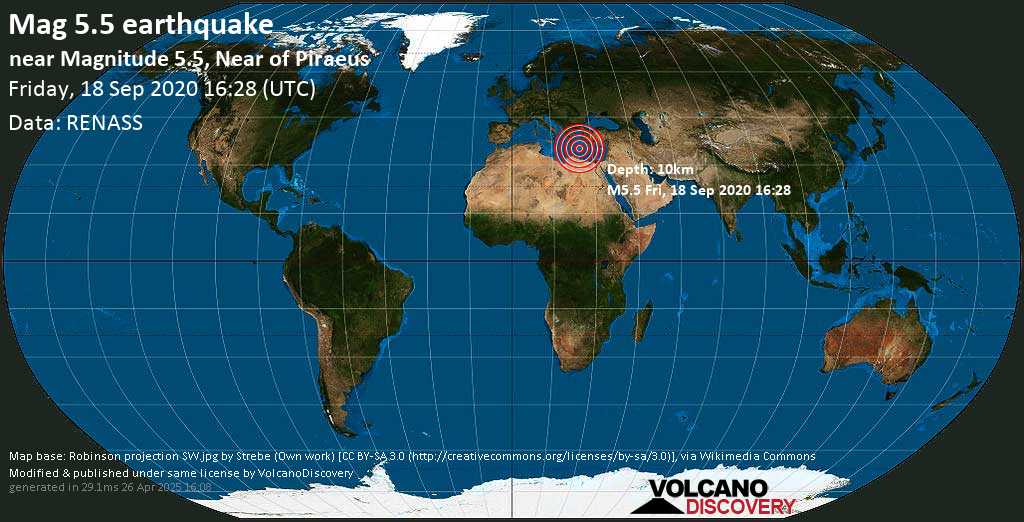 18 Sep 16:31 UTC: First to report: GFZ after 3 minutes.
18 Sep 16:34: Magnitude recalculated from 5.7 to 5.4. Hypocenter depth recalculated from 75.0 to 64.0 km (from 47 to 40 mi). Epicenter location corrected by 11.9 km (7.4 mi) towards NNE.

18 Sep 18:16: Epicenter location corrected by 2.4 km (1.5 mi) towards NNW.
Update Fri, 18 Sep 2020, 18:05
Earthquake shakes island of Crete, Greece
Location and user reports of this evening's quake in Crete
A moderately strong earthquake hit near the south coast of Crete this evening, at 19:28 local time. The earthquake epicenter was located 50 km south of the regional capital Heraklion and the quake had a depth of around 50 km.
While the National Observatory of Athens (NOA) indicates a magnitude of 5.3, other agencies reported magnitudes of up to 5.9, although NOA's regional national network probably provides the most reliable data.
Thanks to the moderate depth, no significant damage was caused by the quake, but it was felt widely over all of Crete, especially in the Heraklion region, but also on nearby islands.
The earthquake had a relatively long duration of up to 30 seconds, which most people felt as a light shaking.
Earthquake data:
Date & time: Friday, 18 September 2020 16:28 UTC
Magnitude: 5.3
Depth: 52.0 km
Epicenter latitude / longitude: 34.93°N / 25.29°E
(
Greece
)
Nearest volcano:
Santorini
(192 km / 119 mi)
Nearby towns and cities:
15 km (9 mi) SE of Pýrgos
(pop: 1,100)
17 km (10 mi) SW of Arvi
(pop: 700)
19 km (12 mi) SE of Agía Fotiá Siteías
(pop: 300)
46 km (29 mi) SE of Irákleion
(pop: 137,200)
132 km (82 mi) SE of Chaniá
(pop: 53,900)
367 km (228 mi) SE of Athens
(pop: 664,000)
Weather at epicenter at time of quake:
Clear Sky
26.1°C
(79 F), humidity: 63%, wind: 2 km/h (1 kts) from NE
Primary data source:
NOA
Estimated released energy: 5.6 x 10
12
joules (1.56 gigawatt hours, equivalent to 1344 tons of TNT) [
learn more
]
Data for the same earthquake reported by different agencies
Info: The more agencies report about the same quake and post similar data, the more confidence you can have in the data. It takes normally up to a few hours until earthquake parameters are calculated with near-optimum precision.
| | | | |
| --- | --- | --- | --- |
| Time | Mag. / Depth | Location | Source |
| Fri, 18 Sep 16:28 UTC | M 5.3 / 52 km | 46 Km SSE of Irákleion, Greece | NOA |
| Fri, 18 Sep 16:28 UTC | M 5.9 / 45 km | 49 Km SE of Moíres, Greece | EMSC |
| Fri, 18 Sep 16:28 UTC | M 5.7 / 40.8 km | 37 Km S of Irákleion, Greece | GeoAu |
| Fri, 18 Sep 16:28 UTC | M 5.7 / 10 km | 39 Km S of Irákleion, Greece | BMKG |
| Fri, 18 Sep 16:28 UTC | M 5.6 / 50 km | 73 Km S of Irákleion, Greece | GFZ |
| Fri, 18 Sep 16:28 UTC | M 5.9 / 44.5 km | 41 Km SSE of Irákleion, Greece | USGS |
| Fri, 18 Sep 16:28 UTC | M 5.8 / 10.7 km | Girit Adasi (mediterranean Sea), Greece | KOERI-RETMC |
| Fri, 18 Sep 16:28 UTC | M 5.9 / 19.5 km | Crete, Greece [Sea: Greece] | INGV |
User reports for this quake (437)
Aftershocks of the 5.3 quake: 46 Km SSE of Irákleion, Greece, 18 Sep 2020 16:28
More info
Recorded aftershocks, latest first (16 quakes):
Earlier earthquakes in the same area since 1900
Moderate mag. 5.3 earthquake - 46 Km SSE of Irákleion, Greece on Friday, 18 September 2020
Hint: Click on Date/Time to show latest first

Date / time UTC

|

Mag

|

Depth

|

Age

|

Distance

| Details

09 Jul 1956 03:11

|

7.7

|

20km / 12.4mi

|

64 years ago

|

202km / 126mi

| Dodecanese Islands, Greece

17 Aug 1999 00:01

|

7.6

|

17km / 10.6mi

|

21 years ago

|

761km / 473mi

| Western Turkey

01 Feb 1944 03:22

|

7.6

|

30km / 19mi

|

77 years ago

|

932km / 579mi

| Central Turkey

26 Nov 1943 22:20

|

7.5

|

20km / 12.4mi

|

77 years ago

|

984km / 611mi

| Central Turkey

22 Jul 1967 16:57

|

7.4

|

30km / 19mi

|

53 years ago

|

808km / 502mi

| Western Turkey

08 Nov 1905 22:06

|

7.4

|

15km / 9.3mi

|

115 years ago

|

480km / 298mi

| Aegean Sea (Greece)

25 Apr 1957 02:25

|

7.3

|

35km / 22mi

|

64 years ago

|

349km / 217mi

| Dodecanese Islands, Greece (Turkey)

18 Mar 1953 19:06

|

7.3

|

10km / 6.2mi

|

68 years ago

|

619km / 385mi

| Western Turkey

09 Feb 1948 12:58

|

7.3

|

15km / 9.3mi

|

73 years ago

|

186km / 116mi

| Dodecanese Islands, Greece

06 Oct 1947 19:55

|

7.3

|

15km / 9.3mi

|

73 years ago

|

365km / 227mi

| Southern Greece

Show all
Map of earlier quakes
More on VolcanoDiscovery