Moderate mag. 5.4 earthquake - Lake Baykal Region, Russia, on Monday, 21 September 2020 at 18:04 (GMT)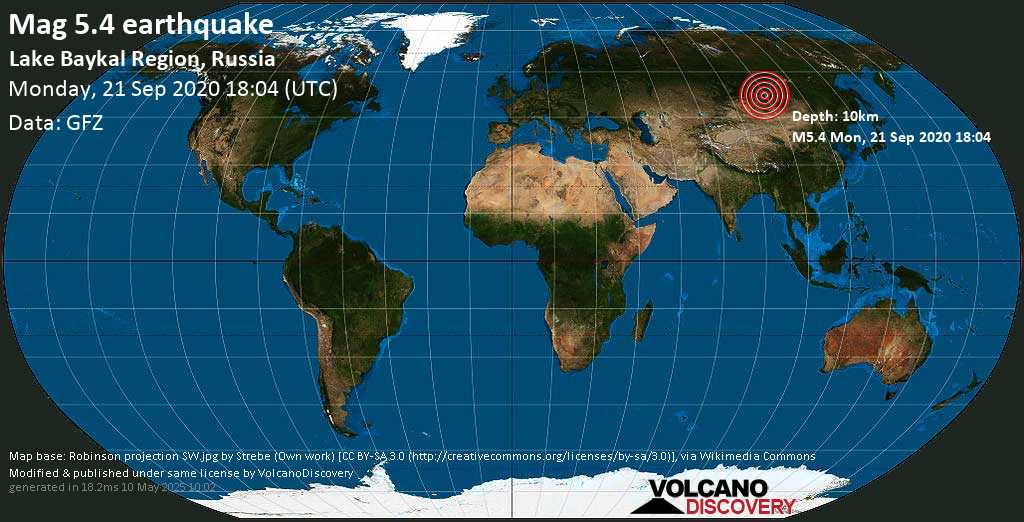 21 Sep 18:13 UTC: First to report: GFZ after 8 minutes.
21 Sep 18:59: Magnitude recalculated from 5.3 to 5.4.
Update Mon, 21 Sep 2020, 18:43
Strong earthquake shakes Lake Baykal region in eastern Russia
Location of this evening's quake in Russia
A moderately strong earthquake occurred in Russia this evening near the SW end of Lake Baykal. It is being estimated as a magnitude 5.3-5.5, depending on which calculations are being applied by different agencies.
The epicenter was 80 km of the regional capital of Irkutsk (pop 587,000) and the depth of the quake was likely between 10-40 km.
The quake was widely felt in the area as moderate to light shaking, but due to the very low population density, there are not many reports (yet). Strong shaking could have been expected in the area very close, within a few tens of km, to the epicenter. No major towns are located very close by the epicenter and no significant damage should be expected to have occurred. In Irkutsk, moderate shaking intensities were reported. Most people felt rattling movements that lasted a few seconds.

While most of Russia has very few earthquakes, as most of its landmass is located in the stable interior of the Eurasian plate, the Lake Baykal area is an exception: it is affected by a tectonic rifting (spreading) process, where two segments of the crust are being separated by two parallel fault systems. This so-called Baykal Rift is one of Russia's tectonically most active features and has over time created the world's deepest sweet water lake.
Earthquake data:
Date & time: 2020-09-21 06:04:59 UTC
Magnitude: 5.4
Depth: 10.0 km
Epicenter latitude / longitude: 51.78°N / 103.49°E
(
Russia
)
Nearest volcano:
Tunkin
(75 km / 47 mi)
Nearby towns and cities:
16 km (10 mi) NW of Kultuk
(pop: 4,200)
20 km (12 mi) NW of Slyudyanka
(pop: 18,800)
40 km (25 mi) SW of Shamanka
(pop: 1,700)
80 km (50 mi) SW of Irkutsk
(pop: 586,700)
88 km (55 mi) SW of Angarsk
(pop: 243,200)
109 km (67 mi) S of Usol'ye-Sibirskoye
(pop: 85,900)
Weather at epicenter at time of quake:
Clear Sky
4°C
(39 F), humidity: 88%, wind: 1 km/h (1 kts) from WSW
Primary data source:
GFZ
Estimated released energy: 7.9 x 10
12
joules (2.21 gigawatt hours, equivalent to 1898 tons of TNT or 0.1 atomic bombs!) [
learn more
]
Data for the same earthquake reported by different agencies
Info: The more agencies report about the same quake and post similar data, the more confidence you can have in the data. It takes normally up to a few hours until earthquake parameters are calculated with near-optimum precision.
Time
Mag. / Depth
Location
Source
2020-09-21 18:04:59 UTC
M 5.4 / 10 km
Lake Baykal Region, Russia
GFZ
2020-09-21 18:04:57 UTC
M 5.5 / 10 km
Lake Baykal Region, Russia
EMSC
2020-09-21 18:05:04 UTC
M 5.4 / 41.4 km
Lake Baykal Region, Russia
GeoAu
2020-09-21 18:05:13 UTC
M 5.3 / 44 km
Lake Baykal Region, Russia
BMKG
2020-09-21 18:04:57 UTC
M 5.6 / 10 km
21 Km NW of Kultuk, Russia
USGS
2020-09-21 18:05:01 UTC


2020-09-22 02:05:01

M 5.4 / 10 km
22 Km NW of Slyudyanka, Russia
CEIC
User reports for this quake (141)
Aftershocks
Moderate mag. 5.4 earthquake - Lake Baykal Region, Russia, on Monday, 21 September 2020 at 18:04 (GMT)
Please check again later while we are collecting more data.
Earlier earthquakes in the same area since 1900
Moderate mag. 5.4 earthquake - Lake Baykal Region, Russia, on Monday, 21 September 2020 at 18:04 (GMT)
Map of earlier quakes
More on VolcanoDiscovery