Mag. 3.1 earthquake - - 2 km WSW of Wing, United Kingdom, on 22 Sep 2020 09:32 am -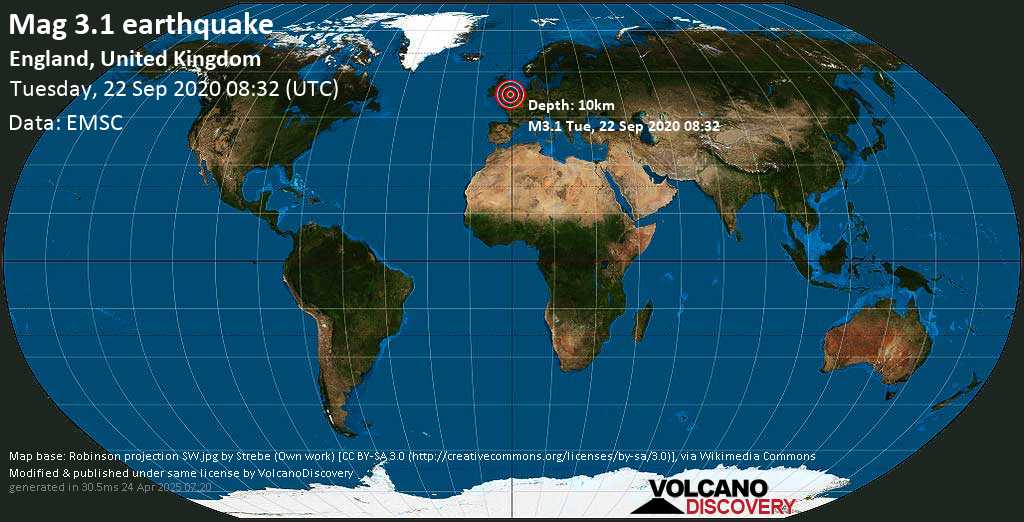 Minor magnitude 3.1 earthquake at 10 km depth
22 Sep 08:51 UTC: First to report: EMSC after 20 minutes.
22 Sep 09:48: Magnitude recalculated from 3.6 to 3.1. Hypocenter depth recalculated from 5.0 to 10.0 km (from 3.1 to 6.2 mi). Epicenter location corrected by 20 km (12.4 mi) towards N.
Update Tue, 22 Sep 2020, 12:07
Second earthquake felt in England near Leighton Buzzard
Location of today's quake in England
A second felt earthquake shook the town of Leighton Buzzard this morning at 09:22 local time. The tremor had a magnitude of 3.1 and occurred 3 km north of the town.
Today's quake is likely an aftershock of the
the slightly stronger quake on 8 Sep
in almost the same area.
Thousands of people near the epicenter could feel a rattling vibration that lasted a few seconds. Being only a magnitude 3.1 event, the earthquake was not dangerous and caused no damages.
Earthquake data:
Date & time: 22 Sep 2020 08:32:13 UTC -
Local time at epicenter:
22 Sep 2020 09:32 am
Magnitude: 3.1
Depth: 10.0 km
Epicenter latitude / longitude: 51.94°N / 0.66°W
(
United Kingdom
)
Nearby towns and cities:
3 km (2 mi) N of Leighton Buzzard
(pop: 37,500)
8 km (5 mi) S of Woburn Sands
(pop: 5,070)
11 km (7 mi) WNW of Dunstable
(pop: 52,000)
16 km (10 mi) ENE of North Marston
(pop: 781)
16 km (10 mi) N of Tring
(pop: 11,900)
17 km (11 mi) NE of Aylesbury
(pop: 74,700)
60 km (38 mi) NW of London
(pop: 7,556,900)
104 km (64 mi) SE of Birmingham
(pop: 984,300)
Weather at epicenter at time of quake:
Clear Sky
17.5°C
(63 F), humidity: 88%, wind: 4 km/h (2 kts) from SSW
Primary data source:
EMSC
Estimated released energy: 2.8 x 10
9
joules (783 kilowatt hours, equivalent to 0.674 tons of TNT)
More info
Data for the same earthquake reported by different agencies
Info: The more agencies report about the same quake and post similar data, the more confidence you can have in the data. It takes normally up to a few hours until earthquake parameters are calculated with near-optimum precision.
| | | | |
| --- | --- | --- | --- |
| Magnitude | Depth | Location | Source |
| M 3.1 | 10 km | - 2 km WSW of Wing, United Kingdom | EMSC |
| M 3.0 | 10 km | Leighton Buzzard,beds, United Kingdom | BGS |
| M 3.1 | 10 km | 2 Km WSW of Wing, United Kingdom | USGS |
User reports for this quake (238)
Earlier earthquakes in the same area since 1900
Mag. 3.1 earthquake - - 2 km WSW of Wing, United Kingdom, on 22 Sep 2020 09:32 am
Hint: Click on Date/Time to show latest first

Date / time UTC

|

Mag

|

Depth

|

Age

|

Distance

| Details

13 Aug 1967 22:07

|

5.7

|

10km / 6.2mi

|

53 years ago

|

984km / 611mi

| Pyrenees (France)

09 Oct 2014 19:15

|

5.5

|

120km / 75mi

|

6 years ago

|

646km / 402mi

| 5.5 SCOTLAND, UNITED KINGDOM

22 Jan 1983 12:41

|

5.5

|

10km / 6.2mi

|

38 years ago

|

942km / 585mi

| Northern Italy

24 Oct 1976 20:33

|

5.5

|

33km / 21mi

|

44 years ago

|

366km / 227mi

| Belgium

05 Apr 1959 10:47

|

5.5

|

15km / 9.3mi

|

62 years ago

|

982km / 610mi

| France

19 May 1954 09:34

|

5.5

|

15km / 9.3mi

|

67 years ago

|

846km / 526mi

| Switzerland

14 Mar 1951 09:46

|

5.5

|

15km / 9.3mi

|

70 years ago

|

531km / 330mi

| Germany

13 Apr 1992 01:20

|

5.4

|

21km / 13mi

|

29 years ago

|

455km / 283mi

| Belgium

13 Mar 1989 13:02

|

5.4

|

1km / 0.6mi

|

32 years ago

|

746km / 463mi

| Germany

29 Jul 1954 04:42

|

5.4

|

15km / 9.3mi

|

66 years ago

|

851km / 529mi

| Switzerland

Show all
Map of earlier quakes
More on VolcanoDiscovery