Minor mag. 1.0 earthquake - 6km NW of The Geysers, CA, USA on Saturday, 17 October 2020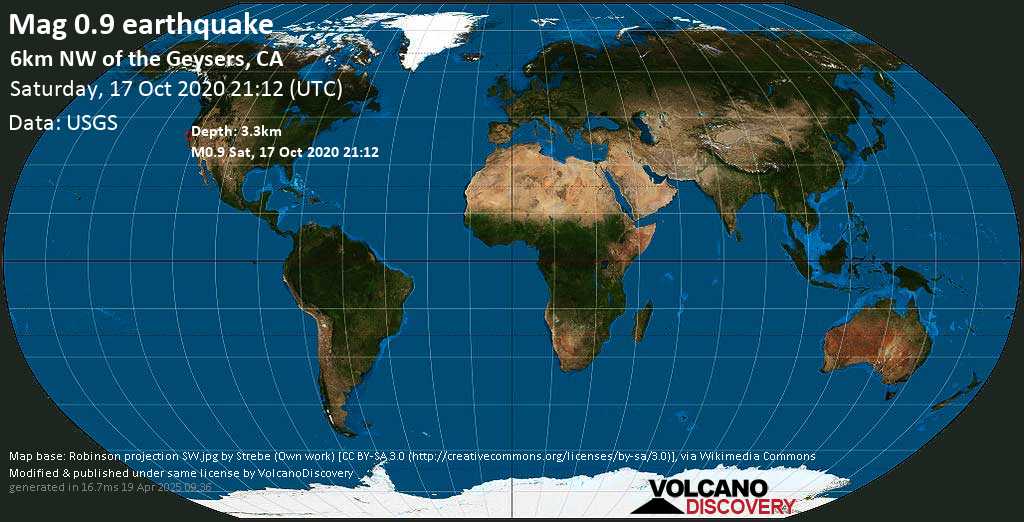 17 Oct 21:15 UTC: First to report: USGS after 2 minutes.
I felt this quake
I didn't feel it
Date & time: Saturday, 17 October 2020 21:12 UTC
Local time at epicenter:
17 Oct 2:12 pm (GMT -7)
Magnitude: 1.0
Depth: 3.3 km
Epicenter latitude / longitude: 38.8215°N / 122.79884°W
(
California
,
United States
)
Nearest volcano:
Clear Lake
(17 km / 11 mi)
Nearby towns and cities:
7 km (4 mi) W of Cobb
(pop: 1,800)
16 km (10 mi) NE of Geyserville
(pop: 900)
16 km (10 mi) SW of Clear Lake Riviera
(pop: 3,100)
116 km (72 mi) NW of Sacramento
(pop: 490,700)
121 km (75 mi) NW of San Francisco
(pop: 864,800)
183 km (114 mi) NW of San Jose
(pop: 1,026,900)
Weather at epicenter at time of quake:
Clear Sky
35.1°C
(95 F), humidity: 17%, wind: 1 m/s (2 kts) from NW
Primary data source:
USGS
Estimated released energy: 2 x 10
6
joules (0.554 kilowatt hours) [
learn more
]
If you felt this quake (or if you were near the epicenter),
please share your experience and submit a short "I felt it" report!
Other users would love to hear about it!
Also
if you did NOT feel the quake
although you were in the area, please
report it
! Your contribution is valuable also to earthquake science and earthquake hazard analysis and mitigation efforts. You can use your device location or the map to indicate where you were during the earthquake. Thank you!
Data for the same earthquake reported by different agencies
Info: The more agencies report about the same quake and post similar data, the more confidence you can have in the data. It takes normally up to a few hours until earthquake parameters are calculated with near-optimum precision.
Time
Mag. / Depth
Location
Source
17 Oct 2:12 pm (GMT -7)

(17 Oct 21:12:52 UTC)

M 1.0 / 3.3 km
6km NW of The Geysers, CA, USA
USGS
User reports for this quake
At magnitude 1.0, this quake was too small to be felt by humans, but it was recorded instrumentally.