Minor mag. 3.3 earthquake - 48 Km ESE of Agria, Greece on Sunday, 18 October 2020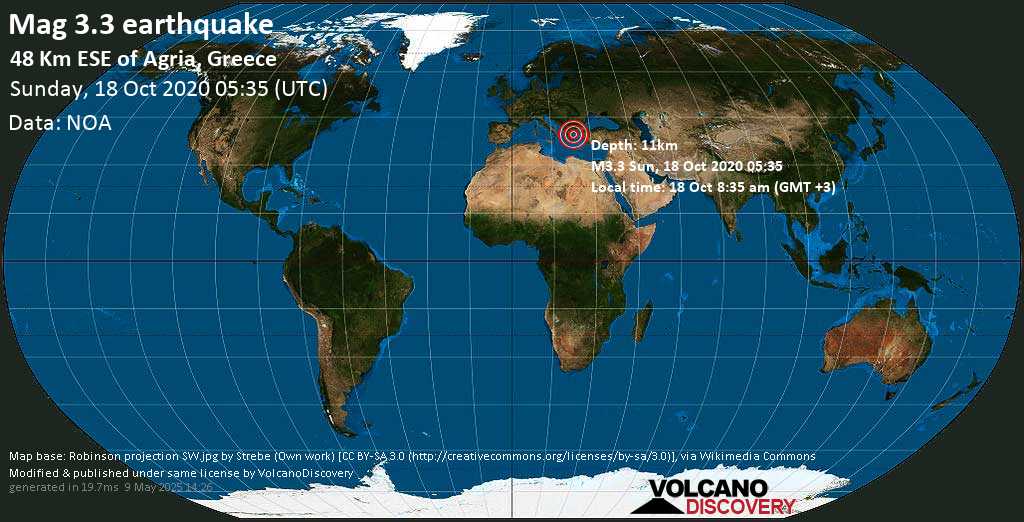 18 Oct 05:38 UTC: First to report: EMSC after 3 minutes.
18 Oct 06:05: Magnitude recalculated from 3.1 to 3.3. Hypocenter depth recalculated from 2.0 to 11.0 km (from 1.2 to 6.8 mi). Epicenter location corrected by 3.6 km (2.3 mi) towards ENE.
18 Oct 06:06: Now using data updates from NOA
I felt this quake
I didn't feel it
Date & time: Sunday, 18 October 2020 05:35 UTC
Local time at epicenter:
18 Oct 8:35 am (GMT +3)
Magnitude: 3.3
Depth: 11.0 km
Epicenter latitude / longitude: 39.1228°N / 23.4993°E
(
Greece
)
Nearest volcano:
Sousaki
(134 km / 83 mi)
Nearby towns and cities:
4 km (3 mi) S of Skiáthos
(pop: 5,200)
12 km (7 mi) SW of Glóssa
(pop: 1000)
15 km (9 mi) SE of Ágios Geórgios Promyríou
(pop: 100)
129 km (80 mi) N of Athens
(pop: 664,000)
176 km (109 mi) SE of Thessaloníki
(pop: 354,300)
182 km (113 mi) NE of Pátra
(pop: 168,000)
Weather at epicenter at time of quake:
Few Clouds
15.6°C
(60 F), humidity: 59%, wind: 3 m/s (5 kts) from NW
Primary data source:
NOA
Estimated released energy: 5.6 x 10
9
joules (1.56 megawatt hours, equivalent to 1.34 tons of TNT) [
learn more
]
If you felt this quake (or if you were near the epicenter),
please share your experience and submit a short "I felt it" report!
Other users would love to hear about it!
Also
if you did NOT feel the quake
although you were in the area, please
report it
! Your contribution is valuable also to earthquake science and earthquake hazard analysis and mitigation efforts. You can use your device location or the map to indicate where you were during the earthquake. Thank you!
Data for the same earthquake reported by different agencies
Info: The more agencies report about the same quake and post similar data, the more confidence you can have in the data. It takes normally up to a few hours until earthquake parameters are calculated with near-optimum precision.
Time
Mag. / Depth
Location
Source
18 Oct 8:35 am (GMT +3)

(18 Oct 05:35:30 UTC)

M 3.3 / 11 km
48 Km ESE of Agria, Greece
NOA
Sun, 18 Oct 05:35 UTC
M 3.2 / 11 km
Aegean Sea, Greece
EMSC
User reports for this quake
Volos / Very weak shaking (MMI II)
Argalasti / Very weak shaking (MMI II) / very short
Patrihori / Weak shaking (MMI III) / 1-2 s
Earlier earthquakes in the same area since 1900
Minor mag. 3.3 earthquake - 48 Km ESE of Agria, Greece on Sunday, 18 October 2020
Hint: Click on Date/Time to show latest first

Date / time UTC

|

Mag

|

Depth

|

Age

|

Distance

| Details

10 Nov 1940 01:39

|

7.8

|

90km / 56mi

|

80 years ago

|

774km / 481mi

| Romania

09 Jul 1956 03:11

|

7.7

|

20km / 12.4mi

|

64 years ago

|

348km / 216mi

| Dodecanese Islands, Greece

17 Aug 1999 00:01

|

7.6

|

17km / 10.6mi

|

21 years ago

|

572km / 355mi

| Western Turkey

01 Feb 1944 03:22

|

7.6

|

30km / 19mi

|

77 years ago

|

828km / 515mi

| Central Turkey

04 Mar 1977 19:21

|

7.5

|

94km / 58mi

|

44 years ago

|

786km / 489mi

| Romania

26 Nov 1943 22:20

|

7.5

|

20km / 12.4mi

|

77 years ago

|

879km / 546mi

| Central Turkey

22 Jul 1967 16:57

|

7.4

|

30km / 19mi

|

53 years ago

|

648km / 403mi

| Western Turkey

08 Nov 1905 22:06

|

7.4

|

15km / 9.3mi

|

115 years ago

|

41km / 25mi

| Aegean Sea (Greece)

25 Apr 1957 02:25

|

7.3

|

35km / 22mi

|

64 years ago

|

548km / 340mi

| Dodecanese Islands, Greece (Turkey)

18 Mar 1953 19:06

|

7.3

|

10km / 6.2mi

|

68 years ago

|

374km / 232mi

| Western Turkey

Show all
Map of earlier quakes
More on VolcanoDiscovery