Moderate mag. 5.6 earthquake - 3.9 Km WNW of Krýsuvík, Iceland, on Tuesday, 20 Oct 1.43 pm (GMT +0) -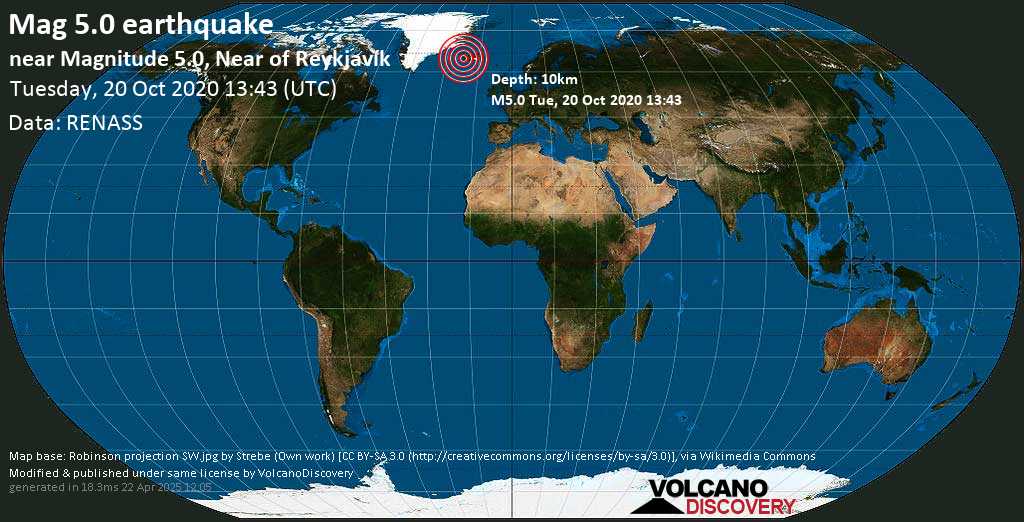 Moderate magnitude 5.6 earthquake at 3 km depth
20 Oct 13:48 UTC: First to report: GFZ after 5 minutes.
20 Oct 13:49: Magnitude recalculated from 5.7 to 5.4. Epicenter location corrected by 11.2 km (7 mi) towards SW.

20 Oct 16:57: Now using data updates from IMO
Update Tue, 20 Oct 2020, 17:03
Ongoing earthquake swarm, over 100 aftershocks
The Icelandic Met Office (IMO) posted an update on the mag 5.6 quake which occurred at 13:43 in Núplahlíðarháls, about 5 km vest of Seltún, mentioning that seismic activity remains high in the area. By now over 100 aftershocks have been recorded.
Update Tue, 20 Oct 2020, 14:10
Quake felt widely in SW Iceland
Locations of users reporting the earthquake
A large part of Iceland's population could have felt the earthquake. During the first 15 minutes, we received more than 100 user reports of people who felt it. Mild shaking was perceived in the capital Reykjavik. There are no reports of damages.
Earthquake data:
Date & time: 20 Oct 2020 01:43:15 UTC -
Local time at epicenter:
Tuesday, 20 Oct 1.43 pm (GMT +0)
Magnitude: 5.6
Depth: 3.3 km
Epicenter latitude / longitude: 63.895°N / 22.144°W
(
Iceland
)
Nearest volcano:
Krísuvík
(7 km / 4 mi)
Nearby towns and cities:
15 km (9 mi) SE of Vogar
(pop: 1,030)
16 km (10 mi) ENE of Grindavik
(pop: 2,860)
24 km (15 mi) SSW of Alftanes
(pop: 2,390)
27 km (17 mi) SSW of Kopavogur
(pop: 31,700)
29 km (18 mi) SSW of Reykjavik
(pop: 118,900)
32 km (20 mi) ESE of Sandgerði
(pop: 1,550)
37 km (23 mi) SW of Mosfellsbaer
(pop: 8,650)
48 km (30 mi) S of Akranes
(pop: 6,610)
Weather at epicenter at time of quake:
Overcast Clouds
4°C
(39 F), humidity: 64%, wind: 3 m/s (5 kts) from N
Primary data source:
IMO
Estimated released energy: 1.6 x 10
13
joules (4.4 gigawatt hours, equivalent to 3788 tons of TNT or 0.2 atomic bombs!)
More info
Data for the same earthquake reported by different agencies
Info: The more agencies report about the same quake and post similar data, the more confidence you can have in the data. It takes normally up to a few hours until earthquake parameters are calculated with near-optimum precision.
| | | | |
| --- | --- | --- | --- |
| Magnitude | Depth | Location | Source |
| M 5.6 | 3.3 km | 3.9 Km WNW of Krýsuvík, Iceland | IMO |
| M 5.5 | 5 km | 5.1 Iceland | EMSC |
| M 5.7 | 10 km | 29 Km SSW of Reykjavik, Iceland | GeoAu |
| M 5.6 | 10 km | 11 Km SW of Álftanes, Iceland | USGS |
| M 5.6 | 10 km | 24 Km SSW of Reykjavik, Iceland | GFZ |
User reports for this quake (420)
Aftershocks of the 5.6 quake 3.9 Km WNW of Krýsuvík, Iceland, 20 Oct 1.43 pm (GMT +0)
More info
Recorded aftershocks, latest first (194 quakes):
Earlier earthquakes in the same area since 1900
Moderate mag. 5.6 earthquake - 3.9 Km WNW of Krýsuvík, Iceland, on Tuesday, 20 Oct 1.43 pm (GMT +0)
Hint: Click on Date/Time to show latest first

Date / time UTC

|

Mag

|

Depth

|

Age

|

Distance

| Details

21 Jun 2000 00:51

|

6.5

|

10km / 6.2mi

|

20 years ago

|

68km / 42mi

| Iceland

17 Jun 2000 15:40

|

6.5

|

10km / 6.2mi

|

20 years ago

|

81km / 51mi

| Iceland

29 May 2008 15:46

|

6.3

|

9km / 5.6mi

|

13 years ago

|

57km / 35mi

| Iceland

23 Jul 1929 18:43

|

6.2

|

10km / 6.2mi

|

91 years ago

|

27km / 16mi

| Iceland

25 May 1987 11:31

|

6.0

|

7.6km / 4.7mi

|

34 years ago

|

118km / 74mi

| Iceland

05 Dec 1968 09:44

|

6.0

|

10km / 6.2mi

|

52 years ago

|

10km / 6mi

| Iceland Region

20 Jul 2020 06:23

|

5.0

|

5.6km / 3.5mi

|

20 weeks ago

|

9km / 6mi

| 3.5 Km WSW of Fagradalsfjall (Iceland)

26 Aug 2020 16:15

|

4.9

|

3.5km / 2.2mi

|

14 weeks ago

|

11km / 7mi

| 4.6 Km WSW of Fagradalsfjall (Iceland)

12 Mar 2020 10:26

|

4.8

|

10km / 6.2mi

|

38 weeks ago

|

16km / 10mi

| Iceland

20 Jul 2020 05:46

|

4.6

|

5.8km / 3.6mi

|

20 weeks ago

|

9km / 5mi

| 2.4 Km WSW of Fagradalsfjall (Iceland)

Show all
Map of earlier quakes
More on VolcanoDiscovery