Moderate mag. 5.0 earthquake - 223 km west of Tehran, Tehrān, Iran, on 24 Oct 3:04 pm (GMT +4) -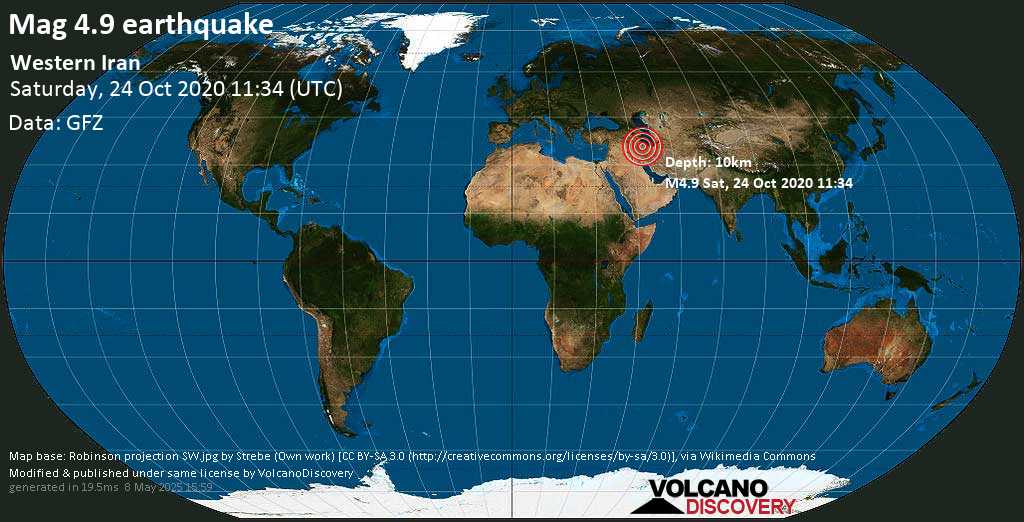 Moderate magnitude 5.0 earthquake at 10 km depth
24 Oct 11:39 UTC: First to report: GFZ after 5 minutes.
24 Oct 11:40: Magnitude recalculated from 5.0 to 4.9. Epicenter location corrected by 6.4 km (4 mi) towards WNW.
24 Oct 11:46: Magnitude recalculated from 4.9 to 5.0. Epicenter location corrected by 12.4 km (7.7 mi) towards N.
Update Sat, 24 Oct 2020, 12:04
Significant 5.0 quake hits near Karaj, Iran
5.0 quake: 76 Km SSW of Alvand, Iran, 24 Oct 2020 11:34
An earthquake of magnitude 5.0 occurred 31 minutes ago 185 km west of Karaj, Iran, the German Research Centre for Geosciences in Potsdam (GFZ) reported. The quake hit at a shallow depth of 10 km beneath the epicenter early afternoon on Saturday 24 October at 3.34 pm local time. Magnitude and other quake parameters can still change in the coming hours as the agency continues to process seismic data.
A second report was later issued by GeoAu agency, which listed it as a magnitude 5.2 earthquake. Other agencies reporting the same quake include United States Geological Survey (USGS) at magnitude 5.0, Iranian Seismological Center (IRSC) at magnitude 5.4, and European-Mediterranean Seismological Centre (EMSC) at magnitude 5.0.
Generally quakes of this magnitude are recorded by more than one agency and the results can vary, with subsequent reports that come in after the first one often showing more accuracy.
Based on the preliminary seismic data, the quake was probably felt by many people in the area of the epicenter. In areas close to the epicenter, it has the potential to cause damage to buildings etc.
Towns or cities near the epicenter that are likely to be affected include Abhar (pop. 69,900) at a distance of 59 km with light shaking, Khorramdarreh (pop. 50,500) at a distance of 65 km with light shaking, Pasragad Branch (pop. 787,900) at a distance of 107 km with weak shaking, and Karaj (pop. 1,448,100) at a distance of 185 km with weak shaking.
This story will be updated soon by VolcanoDiscovery. If you're in the area, please send us your experience through our reporting mechanism. This will help us provide more first-hand updates to anyone around the globe who wants to know more about this quake.
Earthquake data:
Date & time: 24 Oct 2020 11:34:18 UTC -
Local time at epicenter:
24 Oct 3:04 pm (GMT +4)
Magnitude: 5.0
Depth: 10.0 km
Epicenter latitude / longitude: 35.66°N / 48.95°E
(
Iran
)
Nearby towns and cities:
59 km (37 mi) SSW of Abhar
(pop: 69,900)
76 km (47 mi) SSW of Alvand
(pop: 74,900)
81 km (50 mi) SW of Tākestān
(pop: 71,500)
96 km (59 mi) NNE of Bahār
(pop: 28,600)
103 km (64 mi) NNE of Āzādshahr
(pop: 514,100)
117 km (72 mi) SW of Qazvin
(pop: 333,600)
223 km (139 mi) W of Tehran
(pop: 7,153,300)
490 km (305 mi) NE of Baghdad (Iraq)
(pop: 7,216,000)
Weather at epicenter at time of quake:
Broken Clouds
17.3°C
(63 F), humidity: 28%, wind: 3 m/s (5 kts) from SE
Primary data source:
GFZ
Estimated released energy: 2 x 10
12
joules (554 megawatt hours, equivalent to 477 tons of TNT)
More info
Data for the same earthquake reported by different agencies
Info: The more agencies report about the same quake and post similar data, the more confidence you can have in the data. It takes normally up to a few hours until earthquake parameters are calculated with near-optimum precision.
| | | | |
| --- | --- | --- | --- |
| Magnitude | Depth | Location | Source |
| M 5.0 | 10 km | 76 Km SSW of Alvand, Iran | GFZ |
| M 5.1 | 10 km | 4.9 Western Iran | EMSC |
| M 5.4 | 10 km | 26 Km of Avaj, Qazvin, Iran | IRSC |
| M 5.0 | 10 km | 46 Km SW of Abhar, Iran | USGS |
| M 5.2 | 13 km | 75 Km SSW of Alvand, Iran | GeoAu |
| M 5.4 | 12 km | 98 Km NNE of Pasragad Branch, Iran | BMKG |
| M 5.0 | 10 km | 46 Km SW of Abhar, Iran | USGS |
User reports for this quake (93)
Aftershocks of the 5.0 quake 223 km west of Tehran, Tehrān, Iran, 24 Oct 3:04 pm (GMT +4)
More info
Recorded aftershocks, latest first (7 quakes):
Earlier earthquakes in the same area since 1900
Moderate mag. 5.0 earthquake - 223 km west of Tehran, Tehrān, Iran, on 24 Oct 3:04 pm (GMT +4)
Hint: Click on Date/Time to show latest first

Date / time UTC

|

Mag

|

Depth

|

Age

|

Distance

| Details

26 Dec 1939 23:57

|

7.8

|

20km / 12.4mi

|

81 years ago

|

942km / 585mi

| Eastern Turkey

20 Jun 1990 21:00

|

7.4

|

18.5km / 11.5mi

|

30 years ago

|

150km / 93mi

| Northern Iran

16 Sep 1978 15:35

|

7.4

|

33km / 21mi

|

42 years ago

|

817km / 508mi

| Eastern Iran

24 Nov 1976 12:22

|

7.3

|

36km / 22mi

|

44 years ago

|

581km / 361mi

| Turkey-Iran Border Region

05 Oct 1948 20:12

|

7.3

|

15km / 9.3mi

|

72 years ago

|

880km / 547mi

| Turkmenistan

23 Jan 1909 02:48

|

7.3

|

15km / 9.3mi

|

112 years ago

|

206km / 128mi

| Central Iran

12 Nov 2017 18:18

|

7.2

|

34km / 21mi

|

3 years ago

|

291km / 181mi

| Iran-Iraq Border Region

01 May 1929 15:37

|

7.2

|

10km / 6.2mi

|

92 years ago

|

828km / 514mi

| Turkmenistan

23 Oct 2011 10:41

|

7.1

|

18km / 11.2mi

|

9 years ago

|

590km / 367mi

| Eastern Turkey

31 Aug 1968 10:47

|

7.1

|

10km / 6.2mi

|

52 years ago

|

939km / 583mi

| Northeastern Iran

Show all
Map of earlier quakes
More on VolcanoDiscovery