Mag. 4.4 earthquake - 42 km south of Iaşi, Zona Metropolitană Iași, Județul Iași, Romania, on 30 Oct 12:39 am (GMT +2) -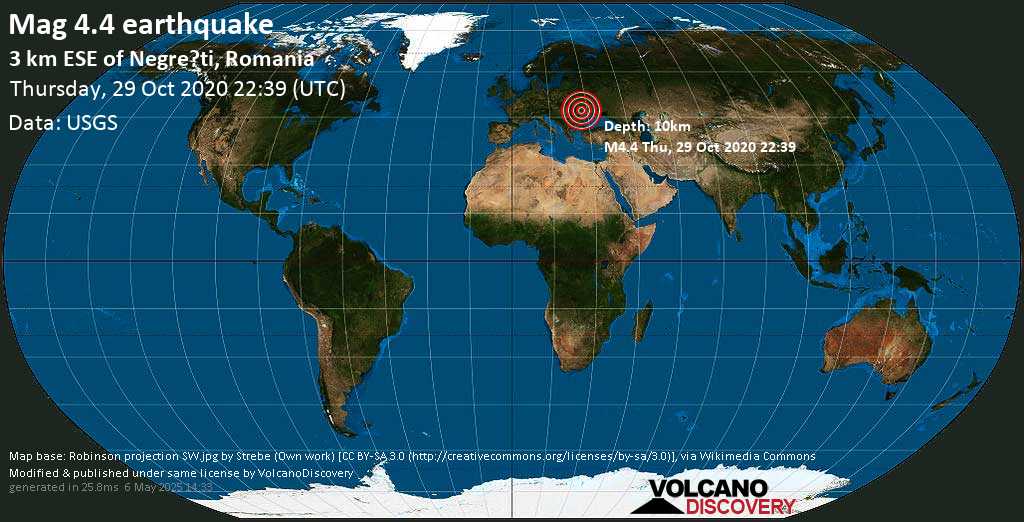 Light magnitude 4.4 earthquake at 10 km depth
29 Oct 23:02 UTC: First to report: USGS after 23 minutes.
Update Thu, 29 Oct 2020, 23:03
Light magnitude 4.4 earthquake 42 km southwest of Iaşi, Romania
4.4 quake 3 Km SSE of Negreşti, Romania, 29 Oct 2020 22:39 UTC
An earthquake of magnitude 4.4 occurred only 23 minutes ago 42 km southwest of Iaşi, Romania, the United States Geological Survey (USGS) reported. The quake hit at a shallow depth of 10 km beneath the epicenter after midnight on Friday 30 October 2020 at 12.39 am local time. The magnitude, exact epicenter location and depth of the quake are likely to be revised within the next few hours as seismologists review data and refine their calculations, or as other agencies issue their report.
Based on the preliminary seismic data, the quake was probably felt by many people in the area of the epicenter. It should not have caused significant damage, other than objects falling from shelves, broken windows etc.
Towns or cities near the epicenter where the quake might have been felt, based on preliminary calculations, include Valea Mare (pop. 900) at a distance of 1 km with light shaking, Negreşti (pop. 10,000) at a distance of 4 km with light shaking, Iaşi (pop. 318,000) at a distance of 42 km with weak shaking, and Bacău (pop. 171,400) at a distance of 49 km with weak shaking.
This story will be updated soon by VolcanoDiscovery. If you're in the area, please send us your experience through our reporting mechanism. This will help us provide more first-hand updates to anyone around the globe who wants to know more about this quake.
Earthquake data:
Date & time: 29 Oct 2020 10:39:36 UTC -
Local time at epicenter:
30 Oct 12:39 am (GMT +2)
Magnitude: 4.4
Depth: 10.0 km
Epicenter latitude / longitude: 46.8029°N / 27.4491°E
(
Romania
)
Nearby towns and cities:
1 km (1 mi) SSW of Valea Mare
(pop: 871)
14 km (9 mi) NW of Deleşti (Comuna Delești)
(pop: 5,120)
15 km (10 mi) SE of Ţibăneşti (Comuna Țibănești)
(pop: 7,660)
40 km (25 mi) WSW of Răducăneni
(pop: 7,710)
42 km (26 mi) ESE of Roman
(pop: 67,800)
42 km (26 mi) SSW of Iasi
(pop: 318,000)
49 km (30 mi) ENE of Bacau
(pop: 171,400)
66 km (41 mi) NNW of Bârlad
(pop: 67,800)
Weather at epicenter at time of quake:
Broken Clouds
11.1°C
(52 F), humidity: 93%, wind: 1 m/s (2 kts) from WSW
Primary data source:
USGS
Estimated released energy: 2.5 x 10
11
joules (69.8 megawatt hours, equivalent to 60 tons of TNT)
More info
Data for the same earthquake reported by different agencies
Info: The more agencies report about the same quake and post similar data, the more confidence you can have in the data. It takes normally up to a few hours until earthquake parameters are calculated with near-optimum precision.
| | | | |
| --- | --- | --- | --- |
| Magnitude | Depth | Location | Source |
| M 4.4 | 10 km | 3 Km SSE of Negreşti, Romania | USGS |
| M 4.4 | 8 km | 42 Km SSW of Iaşi, Romania | EMSC |
| M 4.4 | 10 km | Dumestii Noi / Rumänien, Romania | ZAMG |
User reports for this quake (87)
Earlier earthquakes in the same area since 1900
Mag. 4.4 earthquake - 42 km south of Iaşi, Zona Metropolitană Iași, Județul Iași, Romania, on 30 Oct 12:39 am (GMT +2)
Hint: Click on Date/Time to show latest first

Date / time UTC

|

Mag

|

Depth

|

Age

|

Distance

| Details

10 Nov 1940 01:39

|

7.8

|

90km / 56mi

|

80 years ago

|

140km / 87mi

| Romania

17 Aug 1999 00:01

|

7.6

|

17km / 10.6mi

|

21 years ago

|

701km / 435mi

| Western Turkey

01 Feb 1944 03:22

|

7.6

|

30km / 19mi

|

77 years ago

|

812km / 504mi

| Central Turkey

04 Mar 1977 19:21

|

7.5

|

94km / 58mi

|

44 years ago

|

126km / 78mi

| Romania

26 Nov 1943 22:20

|

7.5

|

20km / 12.4mi

|

77 years ago

|

817km / 508mi

| Central Turkey

22 Jul 1967 16:57

|

7.4

|

30km / 19mi

|

53 years ago

|

725km / 450mi

| Western Turkey

08 Nov 1905 22:06

|

7.4

|

15km / 9.3mi

|

115 years ago

|

901km / 560mi

| Aegean Sea (Greece)

18 Mar 1953 19:06

|

7.3

|

10km / 6.2mi

|

68 years ago

|

737km / 458mi

| Western Turkey

12 Nov 1999 16:57

|

7.2

|

10km / 6.2mi

|

21 years ago

|

735km / 457mi

| Western Turkey

30 Aug 1986 21:28

|

7.2

|

132km / 82mi

|

34 years ago

|

165km / 102mi

| Vrancea Earthquake, Central Romania

Show all
Map of earlier quakes
More on VolcanoDiscovery