Minor mag. 3.4 earthquake - 11 mi northeast of Riverside, California, on Monday, 16 Nov 1.28 am (GMT -8) -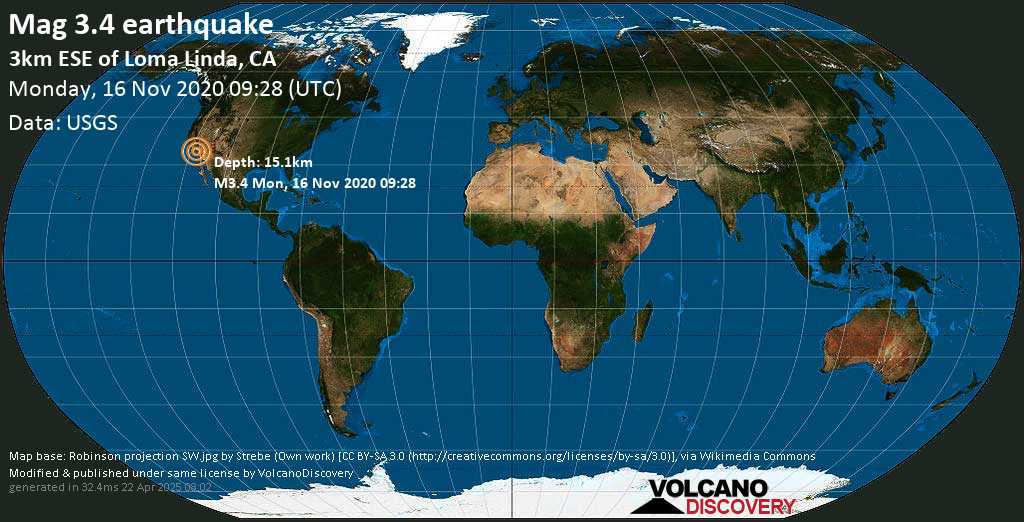 Minor magnitude 3.4 earthquake at 15 km depth
16 Nov 09:30 UTC: First to report: USGS after 3 minutes.
16 Nov 17:46: Magnitude recalculated from 3.5 to 3.4. Hypocenter depth recalculated from 15.7 to 15.1 km (from 9.8 to 9.4 mi).
Update Mon, 16 Nov 2020, 09:33
Small magnitude 3.5 quake hits 42 miles northeast of Anaheim, California early morning
3.5 quake 3km E of Loma Linda, CA, USA, 16 Nov 1.28 am (GMT -8)
The United States Geological Survey (USGS) reported a magnitude 3.5 quake in the California near the town of Loma Linda only 5 minutes ago. The earthquake hit early morning on Monday 16 November 2020 at 1.28 am local time at a shallow depth of 9.8 miles. The exact magnitude, epicenter, and depth of the quake might be revised within the next few hours or minutes as seismologists review data and refine their calculations, or as other agencies issue their report.
A second report was later issued by the European-Mediterranean Seismological Centre (EMSC), which listed it as a magnitude 3.5 earthquake as well.
Based on the preliminary seismic data, the quake should not have caused any significant damage, but was probably felt by many people as light vibration in the area of the epicenter. Weak shaking might have been felt in Loma Linda (pop. 24,000) located 2 miles from the epicenter, Redlands (pop. 71,000) 3 miles away, Grand Terrace (pop. 12,500) 5 miles away, Colton (pop. 54,600) 5 miles away, San Bernardino (pop. 216,100) 5 miles away, and Riverside (pop. 322,400) 11 miles away.
Towns or cities near the epicenter where the quake might have been felt as very weak shaking include Anaheim (pop. 350,700) located 42 miles from the epicenter, and Santa Ana (pop. 335,400) 42 miles away.
If you were or still are in this area during the quake
help others with your feedback and
file a quick report here
.
Earthquake data:
I felt this quake
I didn't feel it
Date & time: 16 Nov 2020 09:28:01 UTC -
Local time at epicenter:
Monday, 16 Nov 1.28 am (GMT -8)
Magnitude: 3.4
Depth: 15.1 km
Epicenter latitude / longitude: 34.04333°N / 117.23317°W
(
California
,
United States
)
Nearest volcano:
Lavic Lake
(96 km / 60 mi)
Nearby towns and cities:
3 km (2 mi) SE of Loma Linda (San Bernardino County)
(pop: 24,000)
9 km (6 mi) SE of San Bernardino
(pop: 216,100)
12 km (7 mi) N of Moreno Valley (Riverside County)
(pop: 204,200)
18 km (11 mi) NE of Riverside
(pop: 322,400)
19 km (12 mi) SE of Fontana (San Bernardino County)
(pop: 207,500)
93 km (58 mi) E of Los Angeles
(pop: 3,971,900)
148 km (92 mi) N of San Diego
(pop: 1,394,900)
633 km (393 mi) SE of Sacramento
(pop: 490,700)
Primary data source:
USGS
Estimated released energy: 7.9 x 10
9
joules (2.21 megawatt hours, equivalent to 1.9 tons of TNT) [
learn more
]
If you felt this quake (or if you were near the epicenter),
please share your experience and submit a short "I felt it" report!
Other users would love to hear about it!
Also
if you did NOT feel the quake
although you were in the area, please
report it
! Your contribution is valuable also to earthquake science and earthquake hazard analysis and mitigation efforts. You can use your device location or the map to indicate where you were during the earthquake. Thank you!
Data for the same earthquake reported by different agencies
Info: The more agencies report about the same quake and post similar data, the more confidence you can have in the data. It takes normally up to a few hours until earthquake parameters are calculated with near-optimum precision.
| | | | |
| --- | --- | --- | --- |
| Magnitude | Depth | Location | Source |
| M 3.4 | 15 km | 3km E of Loma Linda, CA, USA | USGS |
| M 3.5 | 16 km | GREATER LOS ANGELES AREA, CALIF., USA | EMSC |
User reports for this quake (75)
Earlier earthquakes in the same area since 1900
Minor mag. 3.4 earthquake - 11 mi northeast of Riverside, California, on Monday, 16 Nov 1.28 am (GMT -8)
Map of earlier quakes
More on VolcanoDiscovery