Light mag. 4.9 earthquake - 12 km north of Pagadian, Zamboanga del Sur, Zamboanga Peninsula, Philippines, on Thursday, 19 Nov 8.14 pm (GMT +8) -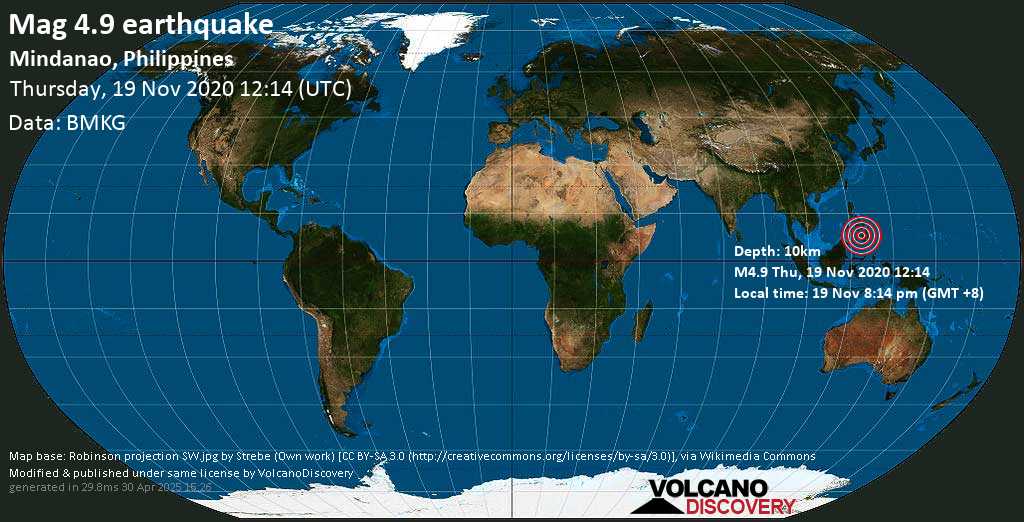 Light magnitude 4.9 earthquake at 10 km depth
19 Nov 12:25 UTC: First to report: BMKG after 11 minutes.
19 Nov 14:10: Hypocenter depth recalculated from 30.0 to 10.0 km (from 18.6 to 6.2 mi). Epicenter location corrected by 17 km (10.3 mi) towards NNW.
Update Thu, 19 Nov 2020, 12:27
Light earthquake of magnitude 4.9 just reported 98 km southwest of Iligan, Philippines
4.9 quake Mindanao, Philippines, 19 Nov 8.14 pm (GMT +8)
Indonesia's Meteorology, Climatology, and Geophysical Agency (BMKG) reported a magnitude 4.9 quake in the Philippines near the city of Muricay only 13 minutes ago. The earthquake hit in the evening on Thursday 19 November 2020 at 8.14 pm local time at a moderately shallow depth of 30 km. The exact magnitude, epicenter, and depth of the quake might be revised within the next few hours or minutes as seismologists review data and refine their calculations, or as other agencies issue their report.
Based on the preliminary seismic data, the quake was probably felt by many people in the area of the epicenter. It should not have caused significant damage, other than objects falling from shelves, broken windows, etc. Weak shaking might have been felt in Muricay (pop. 132,100) located 4 km from the epicenter, Pagadian (pop. 186,900) 5 km away, Labangan (pop. 10,800) 10 km away, Kagawasan (pop. 2,200) 12 km away, Tucuran (pop. 13,100) 13 km away, Mantampay (pop. 265,000) 92 km away, Iligan (pop. 342,600) 98 km away, and Iligan City (pop. 312,300) 114 km away.
VolcanoDiscovery will automatically update magnitude and depth if these change and follow up if other significant news about the quake become available. If you're in the area, please send us your experience through our reporting mechanism, either
online
or via
our mobile app
. This will help us provide more first-hand updates to anyone around the globe who wants to know more about this quake.
If you were or still are in this area during the quake
help others with your feedback and
file a quick report here
.
Earthquake data:
I felt this quake
I didn't feel it
Date & time: 19 Nov 2020 12:14:09 UTC -
Local time at epicenter:
Thursday, 19 Nov 8.14 pm (GMT +8)
Magnitude: 4.9
Depth: 10.0 km
Epicenter latitude / longitude: 7.93°N / 123.42°E
(
Philippines
)
Nearest volcano:
Malindang
(51 km / 32 mi)
Nearby towns and cities:
12 km (7 mi) N of Pagadian (Zamboanga del Sur)
(pop: 186,900)
18 km (11 mi) W of Aurora (Zamboanga del Sur)
(pop: 9,160)
19 km (12 mi) SE of Midsalip (Zamboanga del Sur)
(pop: 4,070)
19 km (12 mi) SW of Molave (Zamboanga del Sur)
(pop: 21,100)
19 km (12 mi) NW of Tucuran (Zamboanga del Sur)
(pop: 13,100)
52 km (32 mi) SW of Ozamiz City (Misamis Occidental)
(pop: 93,100)
138 km (86 mi) NW of Budta
(pop: 1,273,700)
144 km (90 mi) NW of Malingao
(pop: 1,122,000)
Weather at epicenter at time of quake:
Overcast Clouds
26.6°C
(80 F), humidity: 82%, wind: 2 m/s (3 kts) from NE
Primary data source:
BMKG
Estimated released energy: 1.4 x 10
12
joules (392 megawatt hours, equivalent to 338 tons of TNT) [
learn more
]
If you felt this quake (or if you were near the epicenter),
please share your experience and submit a short "I felt it" report!
Other users would love to hear about it!
Also
if you did NOT feel the quake
although you were in the area, please
report it
! Your contribution is valuable also to earthquake science and earthquake hazard analysis and mitigation efforts. You can use your device location or the map to indicate where you were during the earthquake. Thank you!
Data for the same earthquake reported by different agencies
Info: The more agencies report about the same quake and post similar data, the more confidence you can have in the data. It takes normally up to a few hours until earthquake parameters are calculated with near-optimum precision.
| | | | |
| --- | --- | --- | --- |
| Magnitude | Depth | Location | Source |
| M 4.9 | 10 km | Mindanao, Philippines | BMKG |
| M 4.5 | 10 km | 2 Km NE of Rancheria Payau, Philippines | USGS |
| M 4.5 | 10 km | MINDANAO, PHILIPPINES | EMSC |
| M 4.4 | 15 km | 003 Km N 05° W of Midsalip (Zamboanga Del Sur), Philippines | PHIVOLCS |
| M 4.6 | 12 km | Mindanao, Philippines | GFZ |
User reports for this quake (162)
Earlier earthquakes in the same area since 1900
Light mag. 4.9 earthquake - 12 km north of Pagadian, Zamboanga del Sur, Zamboanga Peninsula, Philippines, on Thursday, 19 Nov 8.14 pm (GMT +8)
Hint: Click on Date/Time to show latest first

Date / time UTC

|

Mag

|

Depth

|

Age

|

Distance

| Details

15 Aug 1918 12:18

|

8.3

|

20km / 12.4mi

|

102 years ago

|

243km / 151mi

| Mindanao, Philippines

16 Aug 1976 16:11

|

7.9

|

33km / 21mi

|

44 years ago

|

197km / 122mi

| Mindanao, Philippines

23 Jul 2010 22:51

|

7.6

|

578km / 359mi

|

10 years ago

|

160km / 99mi

| Moro Gulf, Mindanao, Philippines

23 Jul 2010 23:15

|

7.5

|

641km / 398mi

|

10 years ago

|

130km / 81mi

| Moro Gulf, Mindanao, Philippines

05 Mar 2002 21:16

|

7.5

|

31km / 19mi

|

19 years ago

|

230km / 143mi

| Mindanao, Philippines

31 Mar 1955 18:17

|

7.4

|

35km / 22mi

|

66 years ago

|

42km / 26mi

| Mindanao, Philippines

19 Dec 1928 11:37

|

7.4

|

25km / 16mi

|

92 years ago

|

155km / 97mi

| Mindanao, Philippines

23 Jul 2010 22:08

|

7.3

|

607km / 377mi

|

10 years ago

|

135km / 84mi

| Moro Gulf, Mindanao, Philippines

05 Mar 1984 03:33

|

7.3

|

649km / 403mi

|

37 years ago

|

45km / 28mi

| Mindanao, Philippines

20 Oct 1942 23:21

|

7.2

|

35km / 22mi

|

78 years ago

|

106km / 66mi

| Mindanao, Philippines

Show all
Map of earlier quakes
More on VolcanoDiscovery