Light mag. 4.3 earthquake - El Loa, 108 km north of Calama, Antofagasta, Chile, on Tuesday, Dec 1, 2020 at 3:15 am (GMT -3)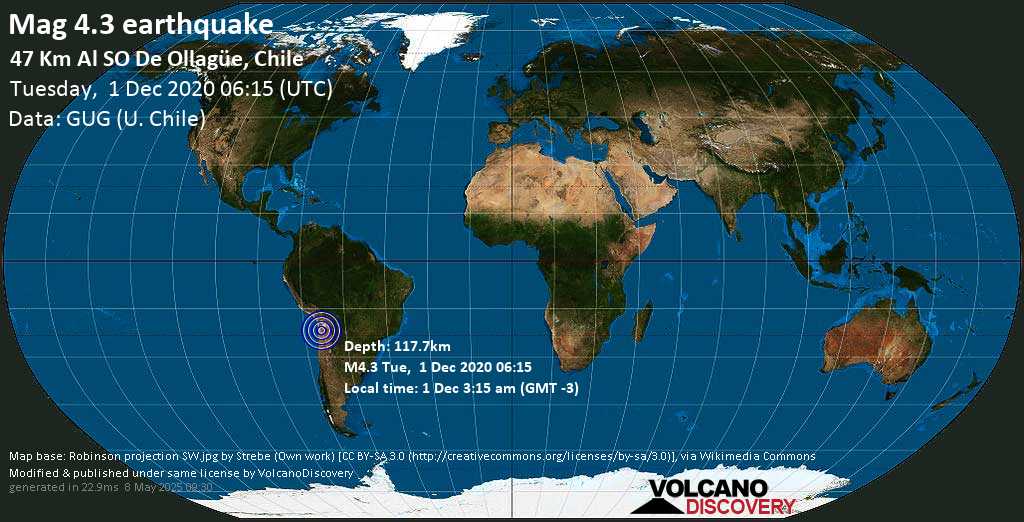 Light magnitude 4.3 earthquake at 118 km depth
1 Dec 06:21 UTC: First to report: GFZ after 6 minutes.
1 Dec 08:00: Now using data updates from GUG (U. Chile)
Update Tue, 1 Dec 2020, 06:39
Light 4.4 quake hits near Calama, Chile
4.4 quake Chile-Bolivia Border Region 1 Dec 3.15 am (GMT -3)
An earthquake of magnitude 4.4 occurred early morning on Tuesday 1 December 2020 at 3.15 am local time near Calama, Chile, as reported by the German Research Centre for Geosciences (GFZ).
According to preliminary data, the quake was located at an intermediate depth of 121 km. The strength of the earthquake may have been tempered by its relative great depth below the surface, which makes it feel weaker in absolute terms. The exact magnitude, epicenter, and depth of the quake might be revised within the next few hours or minutes as seismologists review data and refine their calculations, or as other agencies issue their report.
A second report was later issued by the European-Mediterranean Seismological Centre (EMSC), which listed it as a magnitude 4.3 earthquake.Towns or cities near the epicenter where the quake might have been felt as very weak shaking include Calama (pop. 143,100) located 98 km from the epicenter.
VolcanoDiscovery will automatically update magnitude and depth if these change and follow up if other significant news about the quake become available. If you're in the area, please send us your experience through our reporting mechanism, either
online
or via
our mobile app
. This will help us provide more first-hand updates to anyone around the globe who wants to know more about this quake.
Earthquake details
Date & time
Dec 1, 2020 06:15:41 UTC
Local time

at epicenter

Tuesday, Dec 1, 2020 at 3:15 am (GMT -3)
Status
Confirmed
Magnitude
4.3
Depth
117.7 km
Epicenter

latitude / longitude

21.547°S / 68.554°W (Provincia de El Loa, Antofagasta, Chile)
Antipode
21.547°N / 111.446°E
Shaking

intensity

Very weak shaking
Felt
0 reports
Primary data source
GUG (U. Chile)
Nearest volcano
San Pedro (44 km / 27 mi)
Nearby

towns and cities

108 km (67 mi) NNE of Calama (pop: 143,100) |

Show on map

| Quakes nearby
148 km (92 mi) WSW of San Cristobal de Lipez (Potosí, Bolivia) (pop: 75) |

Show on map

| Quakes nearby
156 km (97 mi) NNW of San Pedro de Atacama (pop: 2,000) |

Show on map

| Quakes nearby
180 km (112 mi) ENE of Tocopilla (pop: 24,500) |

Show on map

| Quakes nearby
216 km (135 mi) SW of Uyuni (Antonio Quijarro, Potosí, Bolivia) (pop: 10,300) |

Show on map

| Quakes nearby
218 km (136 mi) SW of Colchani (Potosí, Bolivia) (pop: 12,000) |

Show on map

| Quakes nearby
223 km (138 mi) SE of Iquique (Tarapacá) (pop: 227,500) |

Show on map

| Quakes nearby
269 km (167 mi) WSW of Santa Barbara (Potosí, Bolivia) (pop: 2,430) |

Show on map

| Quakes nearby
301 km (187 mi) NE of Antofagasta (pop: 309,800) |

Show on map

| Quakes nearby
Estimated

seismic

energy

released

1.8 x 1011 joules (49.4 megawatt hours, equivalent to 42.5 tons of TNT) | about seismic energy
Data for the same earthquake reported by different agencies
Info: The more agencies report about the same quake and post similar data, the more confidence you can have in the data. It takes normally up to a few hours until earthquake parameters are calculated with near-optimum precision.
| | | | |
| --- | --- | --- | --- |
| Mag. | Depth | Location | Source |
| 4.3 | 118 km | 47 Km Al SO De Ollagüe, Chile | GUG (U. Chile) |
| 4.3 | 115 km | ANTOFAGASTA, CHILE | EMSC |
| 4.2 | 118 km | 106 Km NNE of Calama, Chile | USGS |
| 4.1 | 118 km | Chile-Bolivia Border Region | USP |
Seismograms
Seismic station: Las Campanas Astronomical Observatory, Chile (LCO/IU network)
| Distance from quake: 857 km / 533 mi |
Show on map
|
Station Info
Seismogram (vertical component) around time of quake. Thin dotted red line indicates time of quake. Seismic waves arrive some time later, depending on distance. Source:
IRIS Buffer of Uniform Data (BUD) webtool
User reports for this quake
There are no user reports for this quake.