Moderate mag. 5.0 earthquake - Coral Sea, 94 km southeast of Lata, Solomon Islands, on Tuesday, 29 Dec 2020 7:03 am (GMT +11) -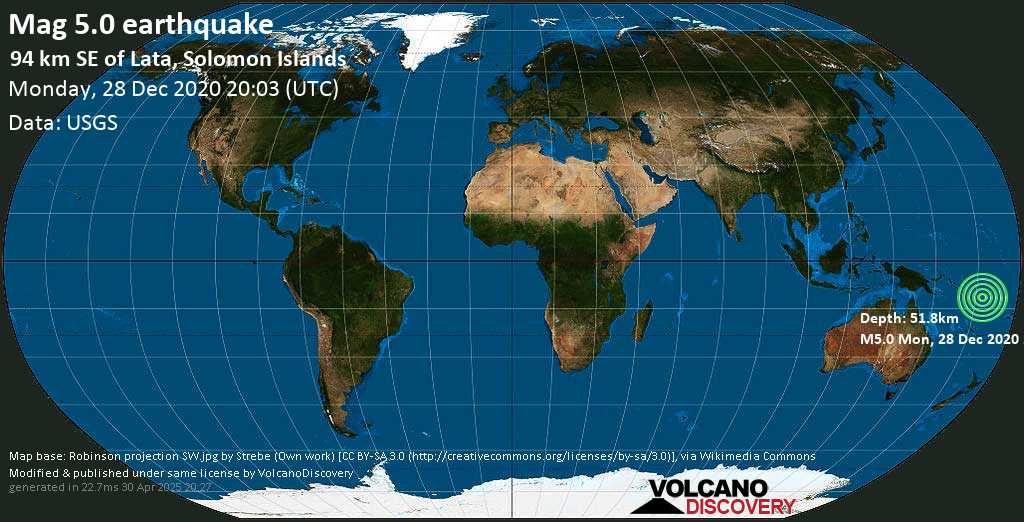 Moderate magnitude 5.0 earthquake at 59 km depth
28 Dec 20:22 UTC: First to report: USGS after 19 minutes.
28 Dec 21:46: Hypocenter depth recalculated from 64.6 to 58.6 km (from 40 to 36 mi). Epicenter location corrected by 2.5 km (1.5 mi) towards NW.
Update Mon, 28 Dec 2020, 20:27
Significant 5.0 quake hits near Lata, Santa Cruz Islands, Temotu Province, Solomon Islands
5.0 quake 29 Dec 7:03 am (GMT +11)
The United States Geological Survey (USGS) reported a magnitude 5.0 quake in the Solomon Islands near Lata, Santa Cruz Islands, Temotu Province, only 24 minutes ago. The earthquake hit in the morning on Tuesday 29 December 2020 at 7:03 am local time at a moderately shallow depth of 64.6 km. The exact magnitude, epicenter, and depth of the quake might be revised within the next few hours or minutes as seismologists review data and refine their calculations, or as other agencies issue their report.
A second report was later issued by Geoscience Australia (GeoAu), which listed it as a magnitude 5.0 earthquake as well. A third agency, the European-Mediterranean Seismological Centre (EMSC), reported the same quake at magnitude 5.0.
Based on the preliminary seismic data, the quake should not have caused any significant damage, but was probably felt by many people as light vibration in the area of the epicenter.
Weak shaking might have been felt in Lata (pop. 550) located 96 km from the epicenter.
VolcanoDiscovery will automatically update magnitude and depth if these change and follow up if other significant news about the quake become available. If you're in the area, please send us your experience through our reporting mechanism, either
online
or via
our mobile app
. This will help us provide more first-hand updates to anyone around the globe who wants to know more about this quake.
Earthquake data:
Date & time: 28 Dec 2020 20:03:27 UTC -
Local time at epicenter:
Tuesday, 29 Dec 2020 7:03 am (GMT +11)
Magnitude: 5
Depth: 58.6 km
Epicenter latitude / longitude: 11.3958°S / 166.3213°E
(
Coral Sea
,
Solomon Islands
)
Nearest volcano:
Tinakula
(129 km / 80 mi)
Nearby towns and cities:
94 km (58 mi) SE of Lata (Santa Cruz Islands)
(pop: 553) -->
See nearby quakes!
306 km (190 mi) NNW of Sola (Vanuatu)
(pop: 1,170) -->
See nearby quakes!
195 km (121 mi) N of North Island
(pop: 269) -->
See nearby quakes!
Weather at epicenter at time of quake:
Overcast Clouds
29.3°C
(85 F), humidity: 67%, wind: 4 m/s (7 kts) from N
Primary data source:
USGS
(United States Geological Survey)
Estimated released energy: 2 x 10
12
joules (554 megawatt hours, equivalent to 477 tons of TNT)
More info
Data for the same earthquake reported by different agencies
Info: The more agencies report about the same quake and post similar data, the more confidence you can have in the data. It takes normally up to a few hours until earthquake parameters are calculated with near-optimum precision.
| | | | |
| --- | --- | --- | --- |
| Magnitude | Depth | Location | Source |
| M 5.0 | 59 km | 93 Km SE of Lata, Solomon Islands | USGS |
| M 5.0 | 59 km | SANTA CRUZ ISLANDS, Solomon Islands | EMSC |
| M 4.8 | 67 km | Santa Cruz Islands, Solomon Islands | GeoAu |
| M 5.0 | 52 km | Santa Cruz Islands, Solomon Islands | GFZ |
User reports for this quake
There are no user reports for this quake yet.
If you felt it
be the first to report it
!
Aftershocks
More info
Recorded aftershocks, latest first (0 quakes):
So far, no aftershocks have been registered.
Earlier earthquakes in the same area since 1900
Hint: Click on Date/Time to show latest first

Date / time UTC

|

Mag

|

Depth

|

Age

|

Distance

| Details

06 Feb 2013 01:12

|

8.0

|

29km / 18mi

|

8 years ago

|

148km / 92mi

| Coral Sea, Solomon Islands

17 Jul 1980 19:42

|

7.9

|

33km / 21mi

|

41 years ago

|

133km / 83mi

| Coral Sea, Vanuatu

07 Oct 2009 22:18

|

7.8

|

35km / 22mi

|

11 years ago

|

125km / 78mi

| Coral Sea, 616 km N of Port Vila, Shefa Province, Vanuatu

31 Dec 1966 18:23

|

7.8

|

55km / 34mi

|

54 years ago

|

81km / 51mi

| Coral Sea, Solomon Islands

17 Dec 1957 13:50

|

7.8

|

124km / 77mi

|

63 years ago

|

120km / 75mi

| Coral Sea, 617 km N of Port Vila, Shefa Province, Vanuatu

07 Oct 2009 22:03

|

7.7

|

45km / 28mi

|

11 years ago

|

180km / 112mi

| Coral Sea, 561 km N of Port Vila, Shefa Province, Vanuatu

21 Apr 1997 12:02

|

7.7

|

33km / 21mi

|

24 years ago

|

138km / 86mi

| Coral Sea, Vanuatu

18 Jul 1934 19:40

|

7.7

|

10km / 6.2mi

|

87 years ago

|

93km / 58mi

| Coral Sea, 32 km S of Vanikoro Island, Temotu Province, Solomon Islands

29 Jul 1900 06:59

|

7.6

|

unknown

|

121 years ago

|

212km / 132mi

| South Pacific Ocean, 119 km NW of Lata, Solomon Islands

06 Feb 2013 01:23

|

7.5

|

10km / 6.2mi

|

8 years ago

|

153km / 95mi

| Coral Sea, Solomon Islands

Show all
Map of earlier quakes