Strong mag. 5.7 earthquake - 3.0 Km S of Hella, Iceland, on Wednesday, 24 Feb 2021 10:05 am (GMT +0) -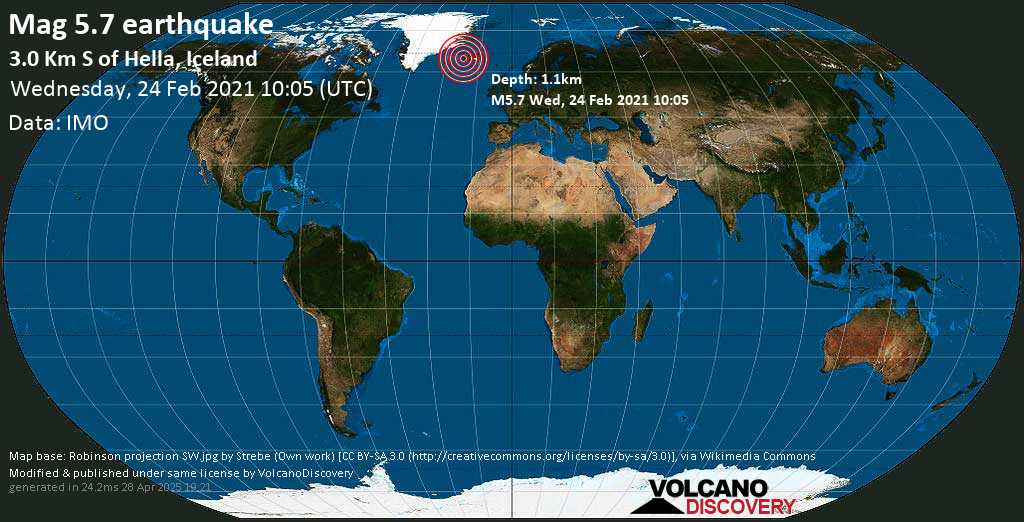 Strong magnitude 5.7 earthquake at 1 km depth
24 Feb 10:08 UTC: First to report: VolcanoDiscovery after 3 minutes.
24 Feb 10:12: Magnitude recalculated from 5.4 to 5.3. Epicenter location corrected by 71 km (44 mi) towards SW.

24 Feb 10:29: Magnitude recalculated from 5.6 to 5.7. Epicenter location corrected by 89 km (56 mi) towards W.
Update Sun, 28 Feb 2021, 03:06
Deutsche Welle (DW) reported that according to geological experts from the US and Iceland, this 5.7 quake also sparked an increase in the volcanic activity of Mt. Keilir. Although no eruptions have been experienced yet, the IMO raised aviation warnings over the Krysuvik volcano system. This action by the IMO was most likely taken to avoid similar disruptions caused by the 2010 six-day eruption of the Eyjafjallajokull volcano in south Iceland. The eruption caused massive disruption to international air travel and affected as many as 10 million travelers
Update Wed, 24 Feb 2021, 14:40
Strong earthquake hits Iceland Capital City: aftershocks felt right after.
Figure 1. Map of Iceland showing earthquake locations within a span of 48 hours (source: IMO)
Figure 2. Graph of earthquake magnitudes through time. (source: IMO)
A strong earthquake shook the capital of Iceland earlier today, 24 Feb. 2021. The quake, with the epicenter located at about 29 km from Iceland's capital city of Reykjavik, was situated at the Reykjanes Volcanic Belt in the Reykjanes Peninsula. This is where the rift zone between the North American Plate and the Eurasian Plate occurs. According to the Iceland Met Office (IMO) there have been earthquake swarms since last week totaling to more than 500 imperceptible quakes. However, at 10:05 am local time today, a 5.7 earthquake hit and caused several felt aftershocks within a span of an hour.
Our monitoring service received multiple user reports describing moderate to strong shaking. A few of them reported at least 4 aftershocks within half an hour following the quake. IMO stated that residents from southwest Iceland can expect continuing earthquake occurrences for a while as "It can take time for the earth to release this much energy." They also noted that this recent earthquake swarm had high intensities which they have never felt before.
No reports of damage have been received by the IMO. The mayors of Fagradalsfjall and Reykjavik also reported no significant damage or injuries.
Figure 1 above shows the map of recorded quakes during a 48-hour period. Figure 2 shows in detail the number of occurrences, time, and their magnitudes. On the morning of Wednesday, 24 Feb. 2021, we can see a spike in magnitude pertaining to this 5.7 quake. Following that are swarms of quakes with magnitude higher than 3.0.
A similar spike in magnitude occurred in October 2020 at almost the same area. It was a magnitude 5.6 quake with more than a hundred aftershocks recorded. Some of these shocks have been felt by nearby towns. No damages were reported then. This past quake was most probably related to volcanic activities in the Reykjanes Peninsula.

Earthquake data:
Date & time: 24 Feb 2021 10:05:57 UTC -
Local time at epicenter:
Wednesday, 24 Feb 2021 10:05 am (GMT +0)
Magnitude: 5.7
Depth: 1.1 km
Epicenter latitude / longitude: 63.917°N / 22.208°W
(
Greenland Sea
,
West
,
Iceland
)
Nearest volcano:
Reykjanes
(47 km / 29 mi)
Nearby towns and cities:
11 km (7 mi) SE of Vogar (Southern Peninsula)
(pop: 1,030) -->
See nearby quakes!
14 km (9 mi) NE of Grindavik (Southern Peninsula)
(pop: 2,860) -->
See nearby quakes!
21 km (13 mi) SW of Hafnarfjordur (Capital Region)
(pop: 26,800) -->
See nearby quakes!
24 km (15 mi) SW of Garðabaer (Capital Region)
(pop: 11,400) -->
See nearby quakes!
26 km (16 mi) SSW of Kopavogur (Capital Region)
(pop: 31,700) -->
See nearby quakes!
28 km (17 mi) ESE of Sandgerði (Southern Peninsula)
(pop: 1,550) -->
See nearby quakes!
29 km (18 mi) SSW of Reykjavik (Capital Region)
(pop: 118,900) -->
See nearby quakes!
37 km (23 mi) SW of Mosfellsbaer (Capital Region)
(pop: 8,650) -->
See nearby quakes!
45 km (28 mi) S of Akranes
(pop: 6,610) -->
See nearby quakes!
70 km (44 mi) S of Borgarnes
(pop: 1,760) -->
See nearby quakes!
Weather at epicenter at time of quake:
Broken Clouds
2°C
(36 F), humidity: 93%, wind: 5 m/s (9 kts) from NNE
Primary data source:
IMO
(Icelandic Met Office)
Estimated released energy: 2.2 x 10
13
joules (6.22 gigawatt hours, equivalent to 5351 tons of TNT or 0.3 atomic bombs!)
More info
Data for the same earthquake reported by different agencies
Info: The more agencies report about the same quake and post similar data, the more confidence you can have in the data. It takes normally up to a few hours until earthquake parameters are calculated with near-optimum precision.
| | | | |
| --- | --- | --- | --- |
| Magnitude | Depth | Location | Source |
| unspecified | n/a | Iceland | VolcanoDiscovery |
| 5.7 | 1.1 km | 3.0 Km S of Hella, Iceland | IMO |
| 5.6 | 10 km | Iceland | GFZ |
| 5.6 | 10 km | ICELAND REGION | EMSC |
| 5.2 | 10 km | Iceland Region | BMKG |
| 5.6 | 10 km | 5 Km ESE of Vogar, Iceland | USGS |
| 5.6 | 10 km | Iceland Region | GeoAu |
User reports for this quake (216)
Aftershocks
More info
Recorded aftershocks, latest first (3952 quakes):