Light mag. 4.7 earthquake - Indian Ocean on Wednesday, Sep 15, 2021 12:54 pm (GMT +5) -
Updated: Sep 17, 2021 06:04 GMT -
I felt this quake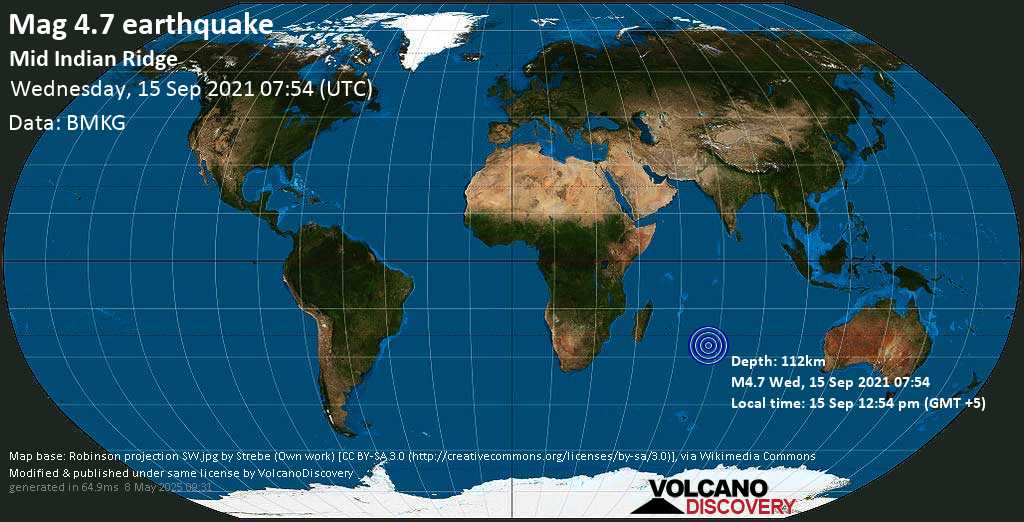 Light magnitude 4.7 earthquake at 112 km depth
15 Sep 08:25 UTC: First to report: BMKG after 31 minutes.
I felt this quake
I didn't feel it
Date & time:
Sep 15, 2021 07:54:31 UTC -
Local time at epicenter:
Wednesday, Sep 15, 2021 12:54 pm (GMT +5)
Magnitude: 4.7
Depth: 112.0 km
Epicenter latitude / longitude:
26.27°S / 71.4°E
↗
Antipode:
26.27°N / 108.6°W
↗
Weather at epicenter at time of quake:
Overcast Clouds
18°C
(64 F), humidity: 69%, wind: 4 m/s (8 kts) from E
Primary data source:
BMKG
(Meteorological, Climatological, and Geophysical Agency of Indonesia)
Estimated released energy:
7.1 x 10
11
joules (197 megawatt hours, equivalent to 169 tons of TNT)
More info
If you felt this quake (or if you were near the epicenter),
please share your experience and submit a short "I felt it" report!
Other users would love to hear about it!
If you did NOT feel the quake
although you were in the area,
please report it
! Your contribution is valuable to earthquake science, seismic hazard analysis and mitigation efforts. You can use your device location or the map to indicate where you were during the earthquake. Thank you!
Data for the same earthquake reported by different agencies
Info: The more agencies report about the same quake and post similar data, the more confidence you can have in the data. It takes normally up to a few hours until earthquake parameters are calculated with near-optimum precision.
| | | | |
| --- | --- | --- | --- |
| Mag. | Depth | Location | Source |
| 4.7 | 112 km | Mid Indian Ridge | BMKG |
User reports for this quake
There are no user reports for this quake yet. If you felt it be the first to report it!
Try our free app!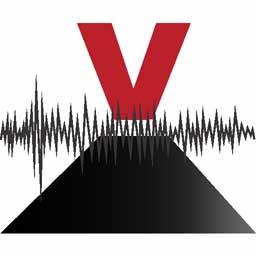 Earlier earthquakes in the same area since 1900
Hint: Click on Date/Time to show latest first

Date / time UTC

|

Mag

|

Depth

|

Age

|

Distance

| Details

26 Mar 2009 06:14

|

5.7

|

10km / 6.2mi

|

12 years ago

|

231km / 143mi

| Indian Ocean

03 Apr 1998 15:22

|

5.6

|

10km / 6.2mi

|

23 years ago

|

185km / 115mi

| Indian Ocean

25 Jun 2020 06:08

|

5.5

|

10km / 6.2mi

|

1 year 12 weeks ago

|

52km / 32mi

| Indian Ocean

26 Oct 2001 14:09

|

5.5

|

10km / 6.2mi

|

20 years ago

|

53km / 33mi

| Indian Ocean

09 Jul 1984 13:27

|

5.5

|

10km / 6.2mi

|

37 years ago

|

170km / 106mi

| Indian Ocean

03 Oct 2015 09:43

|

5.4

|

10km / 6.2mi

|

6 years ago

|

54km / 33mi

| Indian Ocean

02 Dec 2002 02:00

|

5.4

|

10km / 6.2mi

|

19 years ago

|

60km / 37mi

| Indian Ocean

23 Aug 1987 07:35

|

5.4

|

10km / 6.2mi

|

34 years ago

|

103km / 64mi

| Indian Ocean

08 Aug 2008 14:43

|

5.3

|

10km / 6.2mi

|

13 years ago

|

163km / 101mi

| Indian Ocean

22 Oct 1987 00:04

|

5.3

|

10km / 6.2mi

|

34 years ago

|

32km / 20mi

| Indian Ocean
Map of earlier quakes